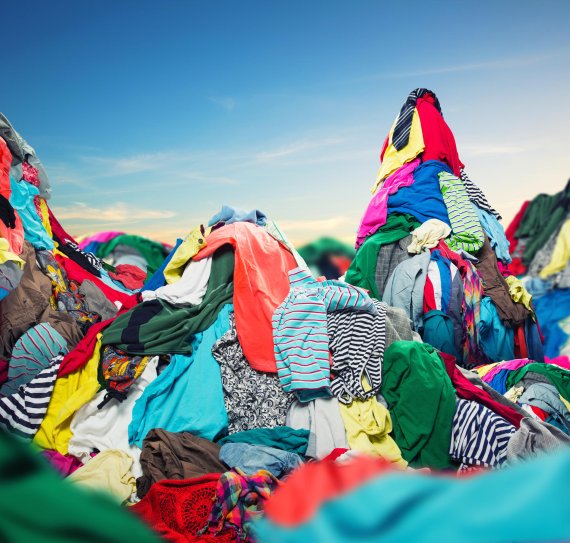 The three Rs, reduce, reuse, recycle are fast becoming a mantra in everyone's lives from domestic living through to industrial processes and no more so than the textile industry. With much development focused on the synthetic side, from recycled post consumer and post industrial waste in the form of nylon and polyester yarns, becoming the main focus other aspects are being incorporated to recycle and reuse. 
You want to get to know all the fashion and textile trends for the upcoming seasons? Check out ISPO TEXTRENDS right here >>>>
When Old Becomes As Good As New
What is key to the new generation of recycled synthetics is that they are becoming as good in performance and function as their virgin counterparts. Cordura EcoMade, made from recycled polyester, is a case in point, with Cordura renowed for its high tenacity, the recycled alternative is specifically engineered to meet the fabric performance and durability specifications of the Cordura brand. Plain, dobby and rip stop weaves based on 600 denier yarn count can be incorporated, working perfectly for backkapch and day packs. The process to make Cordura EcoMade fabric reduces energy consumption and extends the use of the polyester.
Recycled Made Good
Patagonia has been diverting resources from the landfill since 1993 when they made the first fleece from recycled plastic bottles. Today they are using more recycled materials in in their collection without sacrificing performance or quality. This season saw the launch of  the recollection – styles made with all sorts of recycled materials, including 100% recycled down, 100% recycled wool and 100% recycled polyester with 85% recycled polyester labels, 80% recycled zippers and 50% recycled buttons. This is radically resourceful clothing, built to keep you warm, and they're ready to be recycled again when the time comes.
Read here: Cleaner and Greener: Sustainability in the Textile Industry
Full Circle Natural Fibers
But while recycled synthetics dominate the sportswear market, natural fibers are also coming through. Filatures du Parc has just created a new yarn made from recyclable and recycled fibers  created with the patented manufacturing system. The French company makes yarn from recyclable and recycled fibres. The recycled fibres are made from post-consumer jeans, collected through European partners. The jeans are selected and sorted on shades, like clear, medium and dark jeans. Filatures du Parc transforms the jeans fabrics into fibers and blends them with PET, which is recycled fiber polyester from plastic bottles. 
The commonly used shredding system for fibre-recycling damages and shortens the fibers. As a result, the pilling quality is bad. The new fiber recycling process maintains fiber length which results in good quality yarns. Consequently this new type of yarn has the same characteristics - sometimes even better - as yarn made from original fibers, particularly when it comes to breaking strength, elongation, abrasion, pilling and color fastness.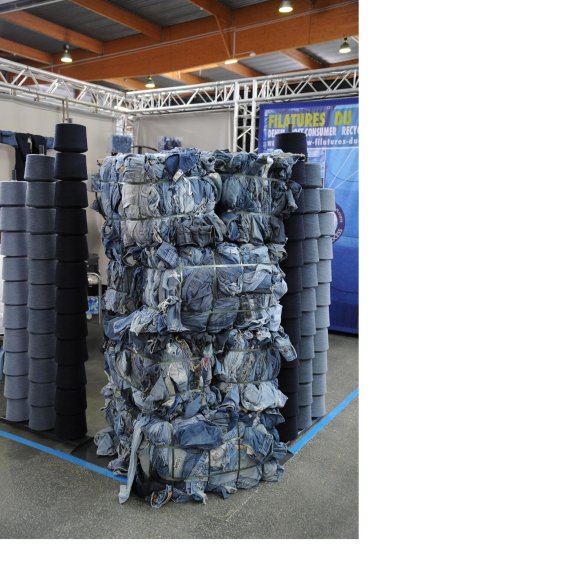 Using new synthetic and cellulosic fibers requires large amounts of water and energy in the production process. This has a big impact on the environment. Using recycled fibers reduces the environmental impact of the production process. The patented yarn spinning process of Filatures du Parc also reduces dye pollution.
Tessile Fiorentina have created a technical wool collection made out of reclaimed wool garments. Based in Prato, Italy, the company collects garments that they shred and spin into a recycled wool fiber. By sorting into colors prior to spinning, the recycled fiber does not need to be dyed, saving water, it also allows the opportunity to play with different color ways in one yarn in creating something unique. The performance collection is woven in 100 per cent wool fabrics or blended with synthetics for added performance.
Down Revived  
As traceable down becomes a staple part of the industry, it is recycled down that is gaining interest. Sofileta New Life Down is a 100 per cent recycled down. The raw material is collected from used bedding products guaranteeing no new animal input. The technical challenge for Sofileta to offer a good and consistent quality down suitable for the garment industry, starting from irregular raw material. This is achieved through a sophisticated washing sterilization and sorting process.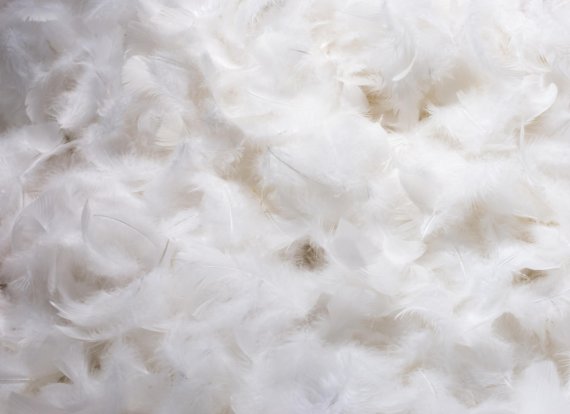 Sofileta's vision of sustainability is based on local sourcing, limiting transport pollution and protecting European jobs. The raw material used for New Life Down is bought from charity organizations that collect the used bedding products all over Western Europe.
The final New Life Down product, is perfectly clean, very soft and provides an optimal thermal protection, with the sanitary quality guaranteed by a veterinary certificate.
Take-Back-Systems – Retailers Taking Responsibility
Patagonia is one step ahead of the retail pack by offering a worn wear repair service to its products, ensuring a longer life cycle to the consumer. Additionally, it is one of the brands to offer a take-back system for unwanted clothes and footwear, with more retailers pushing this closed-loop philosophy, reducing landfill of unwanted garments. But what happens when you take your old kit to the store, where does it go and how is it processed? I:Collect, part of the Soex Group, is an international provider for collection, reuse and recycling solutions for clothing and show, with national subsidiaries in Germany, the United Kingdom, Japan and the United States. Its take-back system and worldwide partner network, the company is able to both directly reuse clothing and pre-process the key ingredients before returning them to different production cycles.
Read here: Worn Wear: Initiative for Sustainability by Patagonia
The I:CO take-back system offers the retail industry the capability of assuming product responsibility by companies taking back clothing and shoes directly at their points of sale for reuse and recycling purposes. Consumers in more than 65 countries can deposit clothing and shoes conveniently at one of the many I:CO trading partners. In return the receive a voucher for their next purchase All the collected items are transported to sorting and recycling centers where every piece of clothing is sorted by hand and categorized for its best possible use.
Clothing that can still be worn, which account for up to 60 per cent of the total returns is preserved and sold according to quality aspects. The remaining 40 per cent is stripped and processed into different end products from recycled yarns, in particular garments wool and cotton, through to insulation materials. Buttons and hard materials retrieved from the shredding of garments are sorted out for use in the metalworking industry.
Avoiding Landfill 
The benefits of recycling garments is quite dramatic on the whole scale of things. When you take into account the production of cotton accounts for 25 per cent of the global usage of pesticides and insecticides, reusing a T-shirt can also save around 6,000 liters of water needed to manufacture a new one.
According to the US Environmental Protection Agency, an estimated 12 billion kilograms of post-consumer textile waste find their way in to landfills every year, solely in the United States.
Make-To-Waste Is No Longer Acceptable For Brands
In a retail hungry society combined with the frenzy of disposable fashion, brands and retailers are taking more responsibility in the principles of an end-of-life product. In addition, more and more consumers are asking for more transparency from their retailers, as forecast at ISPO TEXTRENDS for Autumn/Winter 17/18 as one of the Mega Trends, Blind Faith.
The textile industry is taking note, and this will be highlighted at the ISPO TEXTRENDS forum at ISPO MUNICH in February. Now it is time for brands and retailers to follow suit in achieving a complete closed loop on recycling in enhancing their sustainable credentials.