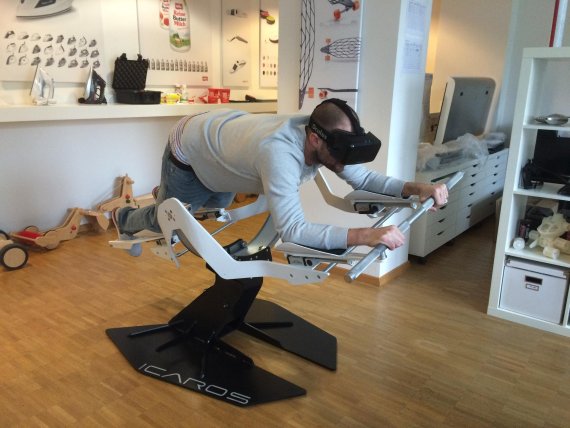 ICAROS is a futuristic frame made from glossy metal on which the athlete/gamer/pilot winds his way through a virtual sky – much like with a PlayStation or an Xbox – while almost incidentally working out and toning up. The user has to steer using his muscle power, which is incredibly tiring – as I found out.
First things first, I do a dry run. With the plastic controller in hand, I test out how the flying device reacts to my input. Up, down, round a few corner and slowly I begin to increase my flying speed. In the virtual reality, everything runs like clockwork – and yet I'm still standing with two feet firmly on the ground.
The challenge of virtual reality fitness
But then I climb onto the ICAROS. This is the second prototype, which in comparison with number three still has no restrictions on the axes. I find out what that means pretty quickly.
Firstly, I try to figure out how to keep my balance while on the ICAROS. For smooth reactions, smooth movements are required. The metal device, on which I kneel face down, responds to the slightest movement and transmits my input to the controller directly onto the screen of the virtual reality goggles.
So far, so good. But now the ICAROS starts to show its true colors. High above a virtual glacier, I try to perform a smooth descent to get a good view of the programmed canyon.
Descending with the virtual reality goggles
But without restrictions to the axes, the smooth descent becomes a breakneck nosedive, and instead of an elegant balancing act, I hang upside down in a split second of panic, my face just above the ground, stuck on the ICAROS, and need to be "saved" by the Sebastian Scholl, the inventor of ICAROS.
On my next try, I decided to take it a bit slower and avoid sharp movements. Despite that, my flying maneuvers were still inaccurate and jerky after a good ten minutes. There was only one reason for it: I simply did not have the strength.
So much for virtual sport – Exhausted as if I'd been in the gym for two hours
Exhausted and sweaty, as if I'd been in the gym for two hours, I disembark, and I have to admit that the virtual flight felt very real. Should Scholl and the ICARO team manage to develop the planned drone opponents and the multiplayer mode in the same way that they've developed until now, ICAROS could soon be enjoyed by many people.
That is, until the following day; even though adventures in the virtual world aren't actually happening, the sore muscles afterwards are very real, and very painful.