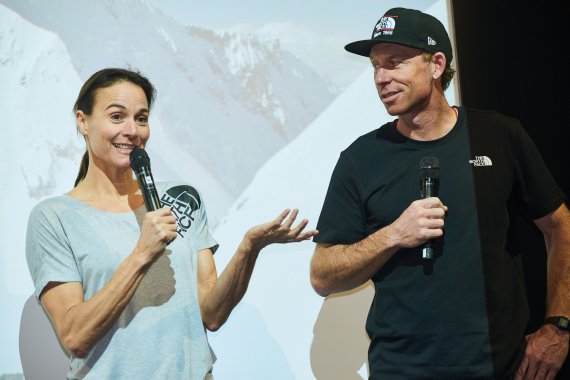 Hilaree Nelson and Jim Morrison became heroes of their sport when they conquered ans skiied the Lhotse. But the way to the Everest's neighbouring mountain was long and led one year earlier over a very special mountain: the Papsura in the Western Himalayas.
ISPO.com spoke with them at ISPO Munich 2019.
Hilaree and Jim, all superheroes have their Origin story. Batman's parents were murdered, so he became a hunter, Spider-Man was bitten by a radioactive spider. How did you become superheroes of ski mountaineering?
Hilaree Nelson: I'm a total late starter. I lived on an island in the Caribbean for a long time and wanted to become a marine biologist - the exact opposite of a ski mountaineer. One day I climbed up a hill there, not 15 meters high. Up there, I imagined the clouds to be mountains. Suddenly I knew I had to go to the mountains. That was in my early 20s.
Jim Morrison: I grew up near the Sierra Nevada in California. Even as a little boy I hardly enjoyed anything more than climbing. Only jumping down was  more fun. I jumped off rocks, I jumped off roofs, I jumped off trees.
What is your special superpower?
Jim: Logistics. I am a good planner and can anticipate exactly what will be necessary to reach a summit. Maybe even more important: what you can leave out. Keyword: weight.
Hilaree: Endurance. My trick is that I can eat well, even at 6000, 7000, 8000 meters. They don't all make it, and then they fold. Superpower naturally requires a lot of energy.
Every superhero needs a bad guy. Hilaree, is your opponent the Papsura? You failed several times at its summit.
Hilaree: Yes, it is. That mountain's got a real personality. And it can be mean. I first saw it on a picture when I was 25. I was obsessed with defeating and skiing it ever since. But I had to give up several times. Yet the Papsura never let go of me.
The mountain is appropriately called "Peak of Evil".
Jim: I find it particularly interesting that the Papsura is part of a twin formation. The other summit is called Dharamsura, translated "Peak of Good".
Good against evil - the eternal battle.
Jim: Yes, the mountains have apparently been of different heights over millions of years, depending on the movement of the earth's crust. Sometimes the good summit was higher, sometimes the bad was.
Hilaree: At the moment, it's the bad part. After I had been on Everest and met Jim, it was time to finally wrestle down the Papsura.
You just said it: you haven't always been on the road together. When did you get together, as the avengers of ski mountaineering, so to speak?
Jim: That was in 2015. We quickly realized that we were a good match.
Hilaree: In every way.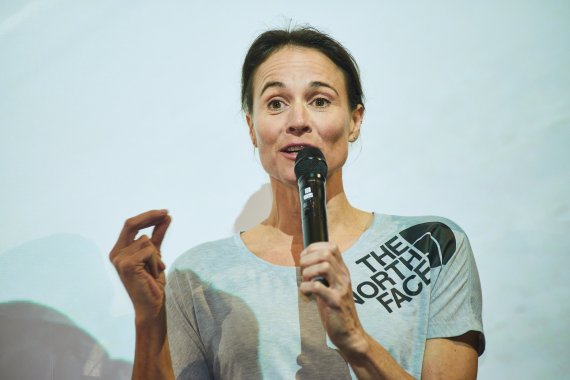 Were your combined superpowers logistics and endurance crucial to finally defeat the Papsura?
Hilaree: Absolutely. We're the perfect team. It was an indescribable feeling to finally be on top. Surreal. But you have to know that I love extreme mountain air. It transports me into another world that I call Neverworld.
Jim: For Hilaree, air on an eight-thousander is like an elixir of life. I love that too. On the way to the summit of Everest, for example, I was alone for quite a while, without oxygen. I swear I wasn't alone. There were a lot of people with me. People I've lost.
Last year, you also conquered the Lhotse together, a neighbouring mountain of the Everest, and you were the first to ski it.
Jim: The Lhotse resisted too. We were only 300 meters away from the summit when we sank into the snow up to our hips. No superpowers would help.
Hilaree: We had to decide whether we wanted to reach the summit without oxygen or ski it. We couldn't do both. So we decided on oxygen and descent.
What evil mountain awaits next?
Hilaree: The script is not finished yet.
Jim: We ski mountaineers have a huge advantage over pure alpinists: There may not be many peaks left, but there are still enough downhill runs.