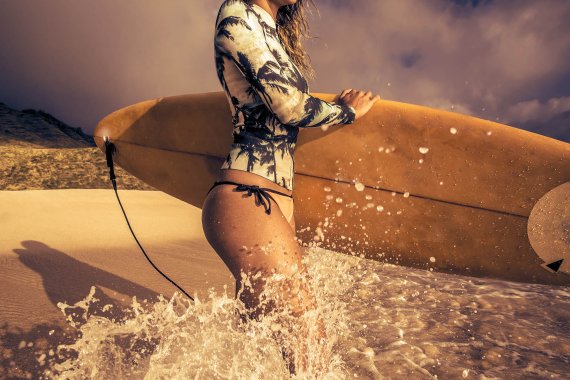 Millenials, are the experience-seeking generation who are incredibly social media-savvy, to them, sports are part of their lifestyle, not an extra curricular event. This is having a big impact on textile development right through to apparel and product design, as through their social media existence they are well versed on what is available.
This hyper-connected generation is demanding, they are also time-strapped, and this links in with a new efficiency that is featuring throughout the sports and outdoors sector. One key area is the added value that want from their brands. What can brands offer that is going to entice their disposable income? With their internet based lifestyles, the millennial is demanding and incredibly knowledgeable, they will research in advance to ensure that brands are sustainably compliant teamed with what extra benefits that can get from the final product.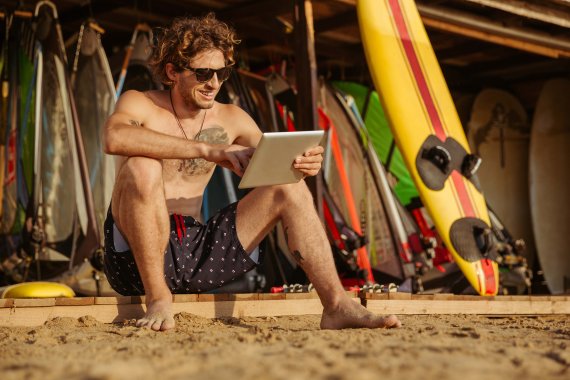 Transitional pieces are an important factor in purchasing at retail, as a new sense of multi functionality comes in not just through textile composition but through garment design. For Spring/Summer 2020 there will be a big push in sports apparel that crosses boundaries, having dual or multiple end uses for different occasions. A seamless transition for quality products to be used in a much more efficient manner.
One area to hit the spot on this new efficiency, is beach to street, where garments required for beach and water-sports easily transcend into streetwear use. Leading denim mill ISKO recently collaborated with O'Neill to launch the first denim boardshorts. A multifunctional product in terms of performance within the denim composition and fabric finishing, ensuring they are lightweight, quick dry, hydrophobic and look as good on a surfboard as they do on the sidewalk.
Beach and surf-wear is a key contender in pushing this efficient design direction further, enabling consumers to get a more efficient wearability from their brands. Rash-guards, in particular for the women's market, are set to embrace a stronger sense of styling for Spring/Summer 2020, without neglecting the high level performance, especially of protection in the base fabric.
UV protection, quick dry, core stability and soft touch feature, as do recycled nylon and polyester, an area where today's consumer understands the importance of recycling. The performance factors required for the original end use can easily fit in active living, getting more and more from our garments, and delivering a more efficient life cycle of a garment.
No other generation has been so involved and concerned in environmental issues, so brands need to ensure they are using the best sustainable solutions when sourcing fabrics and trims. Recycled and conventional yarns that adhere to a cleaner processing are key. In addition, performance has to be delivered, key functions for Spring/Summer 2020 include UV protection, cool touch, moisture management, anti-odor, quick dry and lightweight. Circular and warp knits feature in this active living direction, with woven coming through in super light qualities, to deliver the multi functional elements required for today's active lifestyles.
Two key recycled synthetics fit perfectly into the beach and water-sports category. Econyl, recycled nylon is produced from old fishing nets, while Seaqual is a recycled polyester derived from plastic waste found at the bottom of the ocean. The story these recycled yarns can tell, resonates with the consumer embracing the beach and surf lifestyle, the fact they are wearing products that have helped clean up the ocean is a definite plus. But for brands, this story isn't enough, we need to push it further in offering a higher level of diversity for the garment's end-use. Board shorts to the boardwalk, rash-guards from the surfboard through to looking as good teamed with jeans for a night out.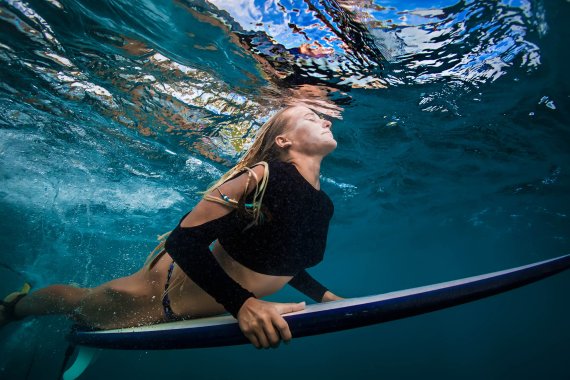 Surf apparel is growing, but also multi functional swimwear. Reversible fabric applications and double knit neoprene-inspired fabrics provide the perfect fabrics that can be incorporated into swimsuits and tankinis, that can cross into a lifestyle offering of camisole tops and bodies.
This efficiency movement stems from the success of athleisure, when gym and yoga workout pants crossed over into street. ISPO Textrends incorporated a new category three years ago, Street Sports, in a bid to highlight this crossover tendency and in anticipation of the growth of this sector. Packed full of performance, fabrics that have featured in the Street Sports sector have a higher level of style, ticking all the boxes for fashion and functionality.
Another sector to emerge is gym-to-swim, offering high performance sports bras and bottoms that function in the gym, with moisture management, anti-odor, quick dry, core stability as the norm, but for brands sourcing from textile mills who switch the conventional spandex to a super chlorine resistant quality, this allows for neat sports bra tops and bottoms to be used in aqua fitness and swimming for long times in chlorinated pools for a longer time. For the consumer, it is 2x1, in terms of having to buy kit, both sports are catered for in one application, highlighting how brands can go that little bit further in delivering efficient performance and added value to the consumer.