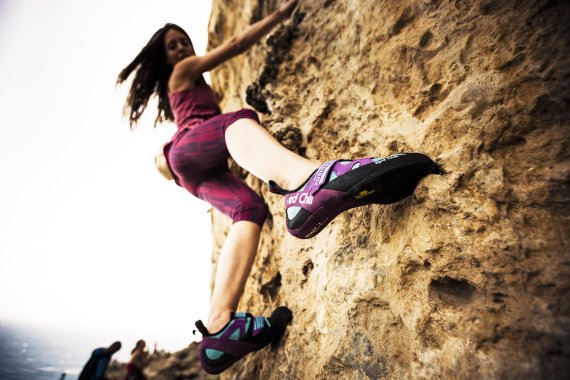 Above all, climbing originally meant one thing: getting as close to nature as possible that you got lost in it. Nowadays, the activity has moved into halls and climbing gardens. Whereas earlier the durability and robustness of products was at the forefront, climbers nowadays are always happy to see new, innovative products and evolutions of classics like safety gear. A new sense of fashion is supervening in the scene. All in all, more is being consumed – and produced. How is the industry adapting to this?
Durable products, implementing sustainability standards, and new production processes: How do companies make sure that it's not just an empty phrase when they talk about sustainability? ISPO.com asked five industry experts which standards they're implementing in their production:
Black Diamond: Stephan Hagenbusch, Vice-President of International Sales
Edelrid: Thomas Hodel, Brand Manager
Mammut: Andres Lietha, Head of Business Unit Hardware
Petzl Germany: Christoph Driever, Country Manager
Red Chili: Stefan Glowacz, co-founder
Black Diamond Equipment is a manufacturer of climbing, skiing, and mountain sports equipment headquartered in Utah. The company was founded in 1954, and also maintains global subsidiaries in Innsbruck, Austria and Zhuhai, China.
"Both in production and when choosing materials, we follow a strict code of conduct at Black Diamond. Moreover, we also focus on the durability of our products during development. Last but not least, we get involved with training climbers, organizing clean-up events, and fundraising at and for climbing resorts throughout the world."
Edelrid is a German manufacturer of climbing and mountain sports equipment with headquarters in Isny im Allgäu, Germany. Founded in 1863, Edelrid has been part of the Vaude Group since 2006. The company has 160 employees.
"Sustainability is an essential part of our company philosophy. We've been working towards sustainability for years now, and want to carry this on in the future too. Edelrid was the first rope manufacturer to successfully manage to adapt its rope production to the strict 'bluesign standard.' Others then followed our example.
This year, with the 'Swift Eco Dry,' we have unveiled the first PFC-free rope which fulfills the UIAA water repellent standard. Currently, we are working on a new climbing iron for tree and mast climbers, whose plastic parts are manufactured from recycled rope. Furthermore, we are ensuring shorter transport routes with our production 'Made in Germany' (currently, 60% of our sales come from products 'Made in Germany'), and therefore are trying to keep our C02 output as low as possible."
The Mammut Sports Group AG is a Swiss manufacturer of mountain and trekking equipment with headquarters in Seon, Switzerland. The company, which has 465 employees, was founded in 1862.
"An ethical, environmentally- and animal-friendly production is the main thing for us as a Swiss premium brand. In order to guarantee this within our global supply chain, we're work together with leading standards such as bluesign, the Fair Wear Foundation, and the Responsible Down Standard. We also endeavor to continue to reduce the carbon footprint of our products, for example with the choice of resource-friendly production processes, materials, and components. Sustainability is also becoming an increasingly important subject in the area of innovation – with the aim of developing scalable solutions that combine the sustainability of our products with our performance claim."
Petzl is a manufacturer of climbing equipment, cave equipment, work tools, and headlamps headquartered in Crolles (near Grenoble), France. The company was founded in the 1970s by cave researcher Fernand Petzl, and employs 700 workers.
"The issue of sustainability is massively important to us. We produce a majority of our products in our own factories in France. All of our production and manufacturing processes undergo strict quality controls. We sell personal protection equipment (PPE) to protect against the danger of falling and obviously have no room for compromise at times, and so unfortunately cannot always use more ecological materials. But in general, a durable product is also always a sustainable one And all of our metal hardware products, such as carabiners, pickaxes, and climbing irons, have an unlimited lifespan, provided they pass the regular PPE test."
Red Chili Climbing is a German company that produces climbing boots and climbing apparel. Stefan Glowacz is its co-founder. In 2017, Red Chili merged with Edelrid.
"Sustainability is an issue that is taken very seriously at Red Chili and Edelrid. We regard sustainability as a matter of course and don't use it as a marketing tool."