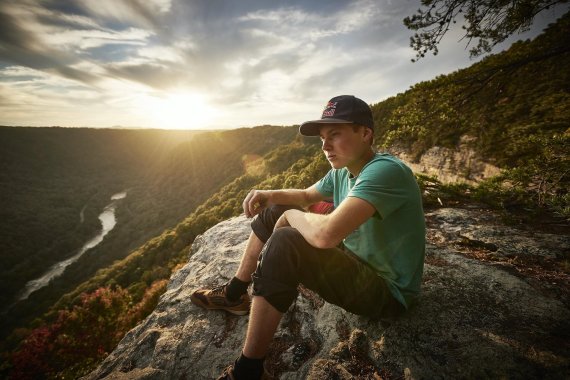 In 2013, 24-year-old Alex Megos from the town of Erlangen in Germany became the first person in the world to ascend a route with a 9a difficulty level on the first go, or "onsight." The following year, he climbed "Action Directe," probably Germany's most famous rock climbing route. Since then, he has been adding a series of the world's most difficult routes to his résumé, one after the other — and Megos still doesn't seem to have reached his limit. 
Around the world with the help of climbing and sponsors
ISPO.com: South Africa, Spain, the United States — you've been to quite a few places with climbing recently...
Alex Megos: True, I was recently climbing in South Africa for four weeks, three weeks bouldering near Cape Town and one week rope climbing near Johannesburg. That's the third time I have been to South Africa. I have been to Australia twice, four or five times to the USA, and I've also been to Japan and Canada — and of course I'm constantly in Spain, France, Switzerland and Austria. In Europe, there's a greater concentration of climbers compared to other continents.
Travelling around is fun but costs money. How did it come about, companies supporting you with climbing?
A climbing friend of mine is sponsored by Patagonia, and they're also one of my sponsors. So I ended up with him in Canada, in Canmore in the Banff National Park. At the start of the year, I was invited to tournaments in Japan and Santiago de Chile — and I tacked on another two weeks.
It sounds as though you're living your dream...
You could say that.
Did you plan to go into this career or did it just happen to you?
I would not have planned things this way at all; I just kind of stumbled into it accidentally. Five years ago, I did my high school diploma. I wanted to go on to study, but first, I wanted to go travelling for a while and go climbing. If someone had said to me then, "In five years, you'll be a professional climber and still travelling around," I would have said, "You're crazy." At this point, though, the studies have become unnecessary for the time being.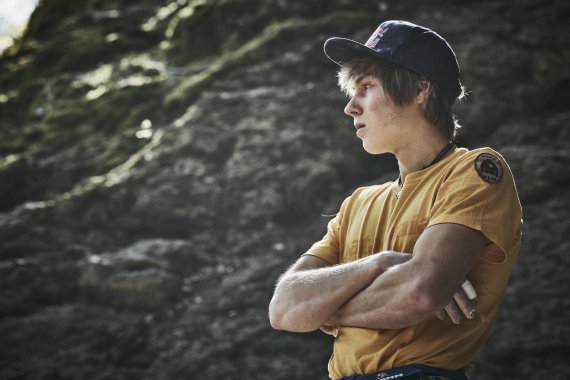 Alex Megos: "I won't be a professional climber forever"
What is it like, this fantastic career that you're now pursuing?
It's a great privilege that I can live my life as I do right now. I can definitely appreciate that. There are not many people in the world who can make a living off climbing. I don't just take it for granted. I'm aware that it's something special and won't go on forever.
I won't be a professional climber forever, because it's not physically possible, and I wouldn't even want to do it forever. But at the moment, I don't get the feeling that I've achieved what I would like to achieve yet as a professional climber, and therefore I don't see any reason to stop.
You've only just turned 24 but already have a portfolio of sponsors that many would envy. List them, in fact!
The main sponsors are Red Bull and Patagonia, climbing shoes from Tenaya, snap hooks and climbing material from the English manufacturer dmm, as well as a rope sponsor, one for the climbing chalk, the climbing app Vertical Live Climbing, and my climbing center supports me too.
Well done! And they all approached you?
That was the case with most of them. At Red Bull, though, Stefan Glowacz got me in. He called and said he would put my name forward there.
Onsight route changed everything
Was he a role model for you?
He was one of the best climbers in the world and arguably the best-known German climber ever. In that respect, he is definitely a role model. But when I started climbing in 1999/2000, the peak of his climbing career was already behind him. I got to know him through his expeditions as an extreme sportsman instead. Someone who enters the jungle and toils away. I can do that when I'm old too, when I'm 40. I'm still too young for that at the moment.
Describe how your career has developed.
At 19, climbing was just a hobby. It soon became clear to me that I was relatively good, but I didn't think I was good enough to climb professionally. I was also very suspicious of this professional climbing; I really didn't want to do it. I just kind of slipped into it step-by-step — and then, at some point, I thought: "Hang on, I am a professional climber now, and I didn't even realize it!"
In other words, your market value has increased with every extreme route you've completed?
Correct. The turning point was when I onsighted a route in Spain in 2013, which means I climbed it without previously knowing anything about the route. That was the 9a level of difficulty — and nobody had ever climbed a 9a onsight before.
With that, I went from being relatively unknown to world famous in the climbing scene overnight. That's when the sponsors started calling. Sponsors I already had tried to hold on to me, and my market value increased. Before I knew it, I had received so much money from sponsors that I could live off it.
Getting used to new fame
How did you deal with this sudden fame?
Badly. Because I wasn't used to it. I thought: "What a load of crap! Now I have got so much work on top of me. Really, you just wanted to go climbing with your friends in Spain!" I wasn't aware at all of what effect that would have.
Today, I look back and think: "That was the best thing that could have ever happened to me," but at the time I had to learn to deal with the situation, to be in public, to answer interview questions. You can't just behave in any kind of manner but instead have to make sure you don't stand there like a dork.
That you don't embarrass the sponsor.
Right. It also became clear to me that you can't go nuts; you have to keep yourself under control.
Public life is something very different from a harsh rock face out in the middle of nowhere.
But they're mutually dependent, especially if you want to live from it. That is why you have to be willing to make compromises. Of course, it would be awesome if I completely had my privacy and yet could still live off climbing. But I know that is not the case.
The sponsors also want something in return. And in fact, I've searched for sponsors who attach less importance to being in public the whole time. For them, it is about quality, not quantity. I don't have any requirements from sponsors saying that I must post x number of times a week.
My effort is minimal. The whole social media thing is all well and good, but at the end of the day I am a professional climber and not a professional social media man. Most sponsors understand that.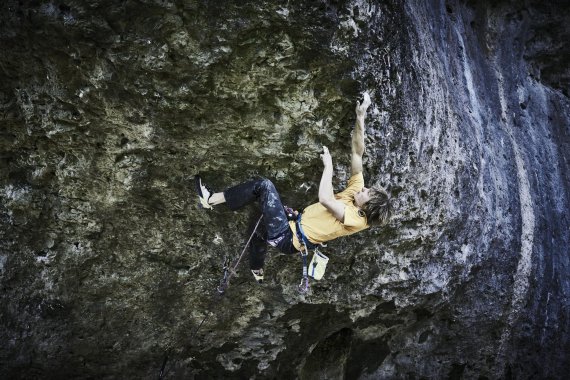 Red Bull has the fewest requirements 
But an entertainment company like Red Bull, for example, has a tendency to go for extravagance. Are there any expectations for an extraordinary sportsman like yourself?
The funny thing is, most people have a false image of Red Bull sponsoring. I had the same impression before, and when Stefan Glowacz came along with his suggestion, I didn't want to accept it at all at first. It was like, no really, after you.
I had the impression that Red Bull's marketing was very aggressive, and so I thought the sponsoring would be exactly the same. Then I was completely surprised by what they offered me. I have the fewest requirements from Red Bull. They never say, "You have to go with this athlete here now or to this or whichever competition."
If an organizer, for example the one in Chile, is sponsored by Red Bull and wants to invite climbers, I get an e-mail from my manager: "Do you care to take part?" If I say no, the response is: "Doesn't matter, no problem." And if I accept, all the planning is done for me. Everything is fairly easy.
What Red Bull would actually like is for the athletes to come up with their own ideas. If I say, I would like to climb a route here or there but I need a VW bus or a photographer, then they are more than happy to support me.
You took part in the Boulder World Cup in Munich, even though you usually use the center only for training.
I am a pure rock climber, but I participate in competitions every now and then, mostly competitions I'm invited to, or things that are just for fun. Munich was a world cup. I ended up there by chance, because the Deutsche Alpenverein had asked whether I want to come back to the competitive side of things. I said, "Actually I'd not too keen on it," but I didn't know then how it felt to participate in a world cup. So I participated in Munich at the center and in Arco with rope climbing.
I know that I have little chance against the world cup athletes in bouldering, because the difference between rock climbing and indoor climbing is so large. A completely new style of competition has been developed there. Competition bouldering is now very different from actual climbing. If you rarely train in this particular style, you have little chance. I just want to see whether I enjoy it, whether it is worthwhile doing something in that direction.
What concerns Alex Megos about the 2020 Olympics
Sport climbing will finally become an Olympic discipline in 2020...
I believe that's why I got the invitation from the Alpenverein. But at the moment, it is still too far away to say anything with certainty. At the moment, I'm somewhat disinclined to take part, because the format at the Olympics is total nonsense.
In what way?
Well, there are two disciplines: bouldering and lead climbing — and a few years ago, they came up with a third: speed climbing. But 99 percent of all climbers have no interest in speed climbing.
At the Olympics, however, there is a total rating based on these three disciplines — and so you have all of these athletes who have to do at least one discipline that they want nothing to do with in reality. The funny thing is, there's never been a single competition with these three disciplines scored together.