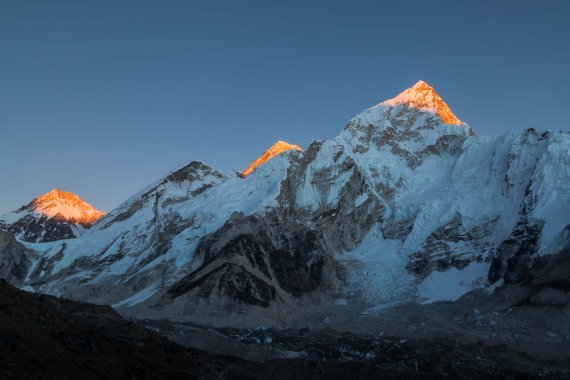 Pasang Lhamu pursued her passion for mountains since adolescence and successfully conquered numerous mountains such as Mount Blanc, Cho Oyu, Yalapic or Pisang Himal. But she was most addicted to Chomolungma, the Goddess Mother. She climbed the Everest, so called by the Sherpas, for the first time in 1990, two more unsuccessful attempts followed. It was not until April 22, 1993, that she succeeded in reaching the 8850-meter summit via the South Col and the southeast ridge route. But triumph turned to tragedy, as Pasang did not survive the descent to the south summit.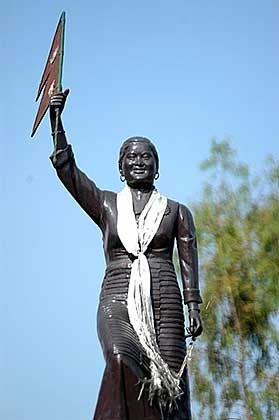 "Men are considered heroic [for climbing] while women are called irresponsible."
From an early age, Pasang Lhamu wanted to do the same as her male family members and climb the peaks of the mountains. But for women this was still impossible, because their culture dictated that they had to perform domestic duties. Despite all obstacles - she had no school education and belonged to an ethnic as well as religious minority - Pasang pursued her dream and fought for her rights as a woman. In one of her last conversations she told her brother, Dorjee Sherpa "If I can climb Everest - if I can complete my dream - young women can do it too."
Every child in Nepal knows Pasang Lhamu. Not only because her story lies like a myth over the country, but also because her face and her name decorate many things. From stamps, to schools, to the 117 km Pasanglhamu Highway from Trishuli to Dhunche. In Kathmandu, a life-size monument watches over the place. And a special honor for the mountain lover: In 1996, even a mountain, the 7350 high Pasang Lhamu Chuli (Jasemba) was officially named after her.
The will moves mountains, doesn't it? In Pasang Lhamu's case, it certainly does, because ironically, the Mount Everest conqueror was probably not a particularly fast climber. On her first attempt in 1990, she accompanied Marc Barard, a French climber, and his group. Batard and the rest of the team were certain that Pasang was too slow and not strong enough to reach the summit, so Batard recommended that she turn back at 8,000 meters.
This attracted scandalous attention because when Pasang Lhamu returned, her husband filed a formal complaint with the Ministry of Tourism for a foreigner not allowing a Nepali woman to climb a Nepali mountain.
Together with her husband Lhakpa Sonam, they founded their own company. Named after Mount Thamserku, which Lhakpa Sonam had already climbed, they launched Nepal's largest and most successful expedition agency - Thamserku Expedition. To this day, the agency helps mountain lovers to the highest peaks in the world - with a turnover of 2 million annually. Thus, Pasang Lhamu's passion still lives on in others.
For Lhakpa Sonam, 2023 is an exciting spring ahead. He has already climbed 6 peaks from 7 different continents and plans to complete the list with Mount Everest this year.
After Pasang Lhamu Sherpa reached the summit of Everest in 1993 Everest summit in 1993, she inspired numerous women, especially Nepalese women, to do the same. One of them is Pasang Lhamu Sherpa Akita, who not only shares the love of the mountain with the national heroine, but was even named after her. And she lives up to her name. At 19, she became one of the first students of the Khumbu Climbing Center, completed formal climbing training, and became the first female mountaineer in Nepal. In 2016, she was named Adventurer of the Year by National Geographic.