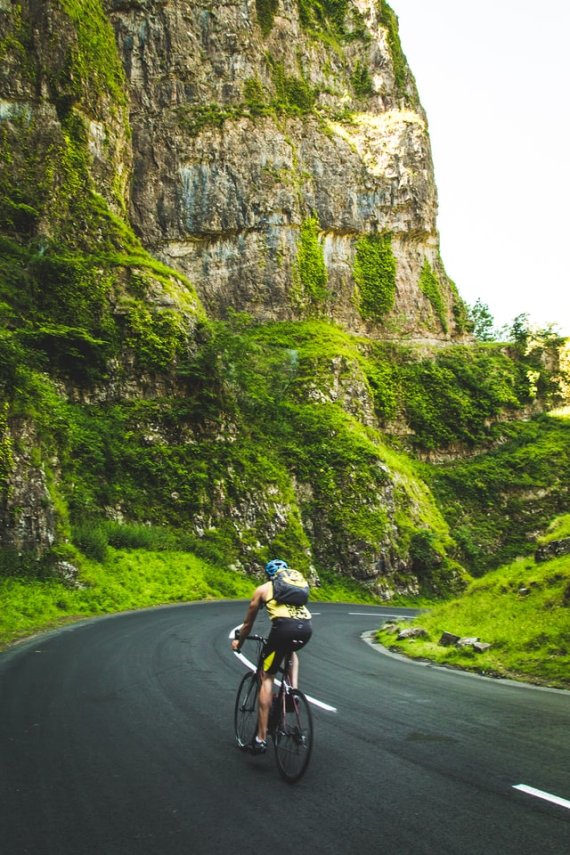 The asphalt road winds seemingly endlessly over hills and valleys. What could be better than moving through nature using only your own muscle power? No other bike variant rolls as smoothly over the asphalt as the road bike and offers the rider an almost floating ride feeling. The aerodynamic and feather-light design, combined with the perfect posture, enables extremely high speeds. Addiction factor: extremely high. Whether ambitious road bike freak or hobby biker - the road bike is as popular as ever. Ten reasons to buy the speed bike.
In the speed rush: One of the main reasons for buying a racing bike is probably the high speeds that can be achieved on the narrow bike. With its narrow tires and a weight of seven to a maximum of ten kilograms, top speeds of up to 60 km/h are possible on straight stretches - downhill speeds of almost 100 km/h are even possible.
In addition to the high fun factor, road biking is ideally suited to get the cardiovascular system going. The big advantage is that when you're on the bike, you can concentrate fully on riding. The fact that you can also train your fitness and do something for your health is a welcome side effect.
The speed bike is a great way to get rid of excess fat. Pedaling is a real calorie killer and is also much easier on the joints than other fitness or endurance sports such as jogging. However, it is important here to dose the load and intensity correctly so that you don't get into overtraining.
The road bike can only really show off its advantages on winding roads such as switchbacks. If the road surface is also suitable and not too rough, it is a real pleasure to lie down in the curves and feel the wind in your face. Those who love the speed rush on the bike, however, should not forget one thing: Safety. A helmet must not be missing.
Whether you're traveling by car, bus or train, whenever time is of the essence, traffic jams, cancellations or delays seem to pile up. Those who are on tour with their road bike smile about such problems. Anyone who has good control of their road bike is as nimble as a weasel, especially in city traffic, and also protects the environment.
One reason for liking a speed bike in particular is the lack of bells and whistles of any kind. Suspension forks, lights, mudguards - all of these really just get in the way of handling. In contrast to mountain bikes, BMXs and the like, the road bike represents the wire bike in its most rustic form.
Is your job stressing you out and your everyday life getting on your nerves? Then it's time to get a clear head again. Get on your racing bike and pedal hard. At the latest when the soft whirring of the tires sounds in the ears, the tormenting thoughts fly away as if by themselves.
Another advantage of the road bike is that long distances can be covered in a relatively short time. With a certain basic endurance, city trips are also possible - simply leave the car behind and get to know a completely different way of traveling. At the same time, fitness and health are strengthened.
Whether it's soccer, basketball or track and field - those who enter the "quieter" years in these sports are quickly counted as old iron. Not so with road cycling: Even as a spry retiree, you can still pluck up the saddle and deliver real performance. A good portion of endurance does not disappear with age.
Dawn - 6 o'clock in the morning: While everything is still asleep, you take your speed bike and pedal - destination unknown. Once you've set off on your road bike completely alone, you won't want to miss this feeling of independence and freedom.
With a road bike, you enjoy the freedom to the fullest and engage in sports at a high level. After just a few weeks on the speed bike, you will achieve your first successes in terms of endurance and weight and have fun on further tours.
Below we answer the most frequently asked questions about racing bikes.
Road bikes are bicycles which were made to drive fast on paved surfaces.
The key meassure to figure out your road bike size is your saddle height. A general formula says: measure the inside of your leg and multiply the result by 0.885. Another good way to measure it is to look for a professional store to be sure.
An average speed of 20 - 25 km/h is normal for beginners. At more than 30 km / it goes in the advanced direction. Professional road cyclists, including, for example, participants in the Tour de France, ride faster than 40 km/h on average.
If you know your own (speed) limits and protect yourself well with a helmet, you have nothing to fear. Especially beginners should ride mindfully at the beginning to develop a feeling for the road bike.