We want to get to know you better! Just take a bit of time (max. 6 minutes) and let us know what you expect from your digital magazine, which content and formats are of real added value, what you find exciting and inspiring. For participating in our ISPO.com reader survey we have also come up with a special incentive. As a megatrend, sustainability is moving the sports and outdoor industry, and sustainable and responsible social action is becoming increasingly important in general. Therefore, we raffle among all participants of our survey ten annual packages by myclimate and take over the compensation of the annual emissions of CO2 caused by the leisure activities as an outdoor athlete for you and your sports friend.
To do this, we also looked at how much CO2 occurs during outdoor recreational activities. It may not come as a surprise that travel to and from the destination accounts for the largest share, with air travel and car trips making the biggest impact. 
We started from estimated values when calculating the annual emissions of an average outdoor athlete, which are based on the following key data:
Weekend trip approx. every other weekend with own car

 


20 x mid-size station wagon, 150 hp, diesel, there & back 250 km, two passengers = 

0,8t


 

1 x domestic continental air travel per year




Airbus A320, Economy Class, return & 4000 km, one person

= 1,50t




4* hotel, 8x accommodation in double room, two people

 = 0,4t




Rental car (mid-range, gasoline, 90 hp), 8 days, 500 km, two passengers 

= 0.08t


 

1 x summer vacation with own car per year




Mid-size station wagon, 150 hp, diesel, total distance: 2000 km, two passengers 

= 0.31t




10 x nights in AirBnB/apartment, two persons 

= 0.20t


 

1 x winter vacation with own car per year




Mid-size station wagon, 150 hp, diesel, total distance: 1200 km, two passengers 

= 0.11t




4* hotel, 5x nights in a double room, two persons

= 0,13t




4x days ski ticket for lifts 

= 0.05t
Total balance 3.58t/CO2 per year
Admittedly, this total balance of CO2 in tonnes as well as the topics of climate neutrality, CO2 footprint and compensation certificates for greenhouse gases are rather abstract. So how exactly does it work that we offset your CO2 emissions?
Generally, the climate compensation for one year does not mean to really let it rip and to jet around the whole globe. It is therefore not an absolution for all environmental sins, but is based only on a compensation of greenhouse gases triggered by the above leisure activities. The numbers are to be seen exemplarily, because one is not always to two in the car on the way, vacation periods and trip goals arrange everyone differently.
This compensation is made by supporting certified climate protection projects in developing and emerging countries. For example, forests are reforested and land and forest use projects are supported, which, in addition to their actual reduction of greenhouse gases, also contribute to social, ecological and economic development in the region.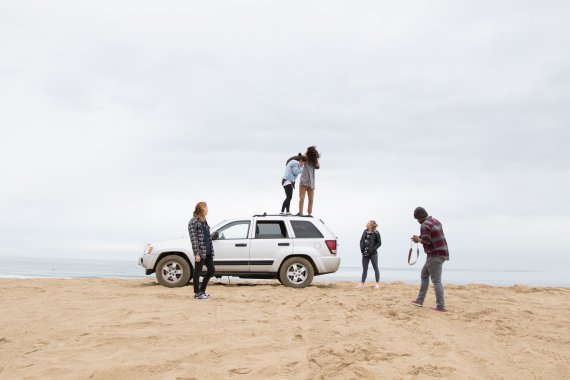 How large the personal CO2 footprint, calculated over a year, actually is,  can be found on myclimate.org quite easily. If you answer a few questions, the calculator already spits out an approximate value of how much was emitted in total over a year. The same applies to calculations of CO2 emissions on the last flight or car trip to the mountains.
However, it is of course clear: To do it right from the start, or at least to try, is better than leaning back and ironing things out afterwards as simply as possible with shortcuts. That's why it's always great to leave your own car behind on the way to the mountains and get into the car together or, even better, take the public transport. Or when the hole in the rain jacket is repaired instead of buying a new shell. Or foregoing weekend trips by plane and instead staying longer and working remotely. From transportation, to nutrition, to political or social engagement – there are many approaches.
While we are working together on solutions that may take some time or only have an effect in the medium term, offsetting one's own CO2 emissions can be seen as a bridging solution to do something for the climate now. Or as a measure to become more aware of one's own consumption of resources.