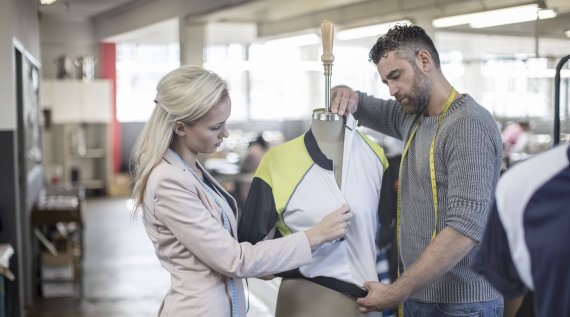 The HypoVereinsbank and the Bayerische Landesbank aren't sports addresses – but for Jan-Christian Dreesen, they were the stepping stone to the job of Chief Financial Officer in the soccer corporation of FC Bayern München. Even Kasper Rorsted was active in the computer and consumer goods industries before his debut as Adidas exec.
Two striking examples from the uppermost level, but lateral entry into the sports business also continues to succeed further "down" – when the applicants have the sought-after qualifications. This is because the sports industry is booming and can't cover its staffing requirements solely with specialists born and raised in sports. For this reason, chances for career changers are better than ever. If the aspiring newcomers follow some basic tips.
Completely legitimate and proven in practice: Those who highlight their experience in areas that are interesting for the sports business have better chances when applying. For example, a resume may describe a position at a fashion manufacturer in more detail if applying to a sportswear company.
And on platforms that are visited by recruiters and headhunters (Xing and LinkedIn), I can describe an internship at a concert organizer with lots of details if I'm looking for a job in ticketing for a club. And for these business networks, under "I am looking for," I have to enter: Entry into the sports industry. And under "I offer": High affinity for the sports business! That is, keywords used by recruiters in their searches.
Because fewer and fewer skilled workers can be found via job advertisements, the sports industry is also increasingly using personnel consultants – commonly referred to as "headhunters." They approach candidates at other companies directly and browse platforms such as Xing and LinkedIn. However, these consultants usually also include proactive applicants ("job hunters") in their database, who may be sought after for the next customer order.
You can find some specialized headhunters by searching for "personnel consultant sports business" on Google. Here, it's worth contacting these industry experts in order to make a selection in a search with suitable requirements (which is often enriched with lateral entrants who bring a "fresh eye"). For this, potential lateral entrants need a pointed profile (first point above). And in the conversation with the headhunter, above all, bring an understandable enthusiasm for the industry. Also helpful here is the specialized sports job portal by ISPO, where new sports jobs are posted.
Five new sports will be launched at the 2020 Olympic Games in Tokyo alone: baseball/softball, karate, skateboarding, sports climbing, and surfing. So it doesn't always have to be soccer. If you want to use your experience in business administration, marketing, or PR in sports for the first time, you have better chances with the up-and-coming sports and their associations than with the established ones. Because, to put it quite simply, there just aren't that many experienced employees there yet and the need for them is growing.
The hottest tip right now is eSports. In addition to pure gaming providers, established clubs also increasingly need experts in this field. IT experts above all, but also marketers and a whole new generation of fan representatives. That's why tradition-steeped Bundesliga club and current Champions League participant Schalke 04 has taken a pioneering role in founding its own eSports department. Other clubs will and must follow. Whoever first applies to the beginners' clubs with "nerdy" expertise – even if it's a private passion – has the best chances.
Professional experience in the industry and/or a career in competitive sports and, of course, a degree in sports management are hard to beat. But there is also a second way that's not much less promising: sound knowledge including a degree in business administration, market research, medicine, psychology, It, or languages – and short but highly concentrated advanced training to prepare you for the sports business on top of that. Many clubs, associations, and manufacturers are open to experts in a field like finance or PR who have acquired the right "pedigree" through an additional qualification. There are many providers for such academy diplomas. Comparison portals like www.sport-studieren.de/fernstudium/ or www.studieren-berufsbegleitend.de can help with making decisions.
One continuing education example is the cooperation of the sports business medium "SPONSORs" with the WHU – Otto Beisheim School of Management's private university, the Sports Business Academy by WHU SPOAC in Düsseldorf. Here, professionals looking for a career in the sports business can further their education. Lateral entrants as well. Likewise in Düsseldorf is the IST University of Applied Sciences, which offers correspondence courses with attendance phases on Certified Sports Manager (IHK), including DOSB Club Manager B-License from the State Sports Association of North Rhine-Westphalia. SPORTBUSINESS CAMPUS GmbH in Düsseldorf, Fürth, and Wolfsburg has offerings including further education as an eSports manager.
Not very popular, but therefore an opportunity for career changers: a step down the career ladder. That is, from team leader back to manager,  from manager to the humble clerk or sales employee. With the option, of course, to get out of this "dent" and start again. And in the dream industry of sports, at that. More and more, larger sports companies are employing people from other industries, who already had management and budget responsibilities there (especially in smaller companies) in lower positions.
A classic are employees from startups, who quickly climbed the career ladder there and acquired a broad horizon in a short amount of time. In established companies, with their highly sought-after expertise – in digital transformation, for example – they can also enter the market at higher levels. But that's not the usual case. If you don't have especially sought-after experience, such as being "only" responsible for a call center at the startup, you'll have to take a step down at the sports giants. But you can expect faster progress in the next promotion rounds, because previous management experience or budget responsibilities are taken into account.
At any rate: Don't let it scare you off! Recruiters at sports companies assume that only 80 to 90 percent of the application requirements will be met. There is almost never an absolutely suitable candidate. That's why anyone who fulfills multiple requirements can apply – with the exception of industry experience.
An article by Gunther Schnatmann, personnel consultant (schnatmann media), application coach, and media trainer (topcom academy)