Hectic everyday life, stressful job - to pay attention to the fitness training and a healthy diet is not always easy. Especially in the morning it usually has to go fast, so that a nutritious and healthy breakfast often falls by the wayside. Yet the first meal of the day is particularly important - it forms the basis for an energetic day. But what to do when there is simply too little time to chop, fry and cook? The solution: smoothies.
The fruit classic - banana, kiwi, apple and orange with coconut water
Lots of energy: Filling as a healthy breakfast with coconut milk
For fitness fans - protein bomb
The spicy - pointed cabbage herb smoothie
The green - spinach field lettuce kale smoothie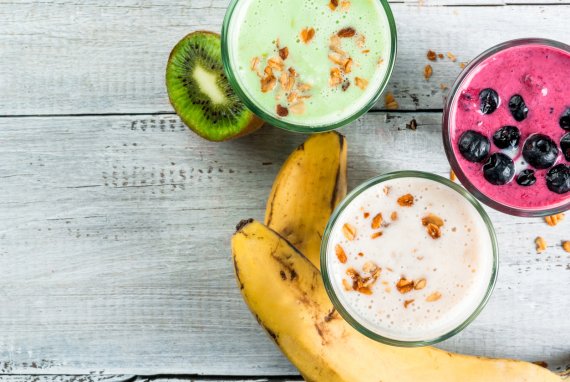 There's no need to spend what feels like an eternity preparing, because with a smoothie everything is very quick - just throw the desired ingredients into the blender and a healthy breakfast is ready. You also save time setting the table and eating, because the smoothie is drunk in no time at all. But does the liquid food provide enough nutrients for a healthy breakfast, does it fill you up and more importantly, is it tasty?
Yes, yes and yes again. Of course, it depends on the selection and quality of the ingredients - but if you choose the right ingredients and know how they harmonize with each other, you'll have a tasty drink that's ideal for our health in no time. Healthy breakfast made easy - 5 top smoothie recipes at a glance.
If you prefer light food in the morning and want to have a real vitamin bomb at the same time, the classic fruit smoothie is the perfect choice. The breakfast drink is quickly made and provides us with all the necessary vitamins and minerals already in the morning - perfect for a healthy diet. Simply peel and chop a banana, a kiwi - golden kiwis are best - an apple and an orange and put them in the blender. Add about 300 ml of coconut water and puree. In principle, the whole thing also works with still water. However, the coconut water makes the smoothie particularly creamy. In addition, coconut binds the fruit acid and gives the smoothie a particularly mild note.
For all those who have a busy day ahead of them and could use an extra portion of energy, the satiator is a great alternative. Peel a banana and half an avocado and puree with approx. 200 ml coconut water in a blender. Now add a handful of cashews, a teaspoon of honey and about 100 ml of coconut milk. Blend until the cashew nuts have combined with the mixture. Particularly hardy people can also add a handful of chia seeds.
The healthy fatty acids from avocado, cashews and coconut milk keep you full for a long time and provide lots of vitamins and minerals.
For fitness enthusiasts, there is nothing better than starting the morning with a proper workout. To ensure that the workout is a complete success, including personal records, the right nutrient supply must not be missing. A healthy breakfast is a must. In addition to carbohydrates, fats and vitamins, athletes need one thing in particular - protein.
With the protein bomb, healthy nutrition is guaranteed in any case: First, put a banana, 300 grams of Skyr (Icelandic cream cheese preparation), 200 grams of frozen wild berries and 300 ml of low-fat milk in the blender and puree until the berries are completely crushed. Now add 40 grams of instant oatmeal and 30 grams of vanilla protein powder and puree again. Ready is a real power shake with over 6o grams of protein.
If you like it rather spicy and savoury already in the morning, but pay attention to a healthy breakfast, you should try the pointed cabbage-herb smoothie. First, puree a banana, two apples, two handfuls of pointed cabbage and a small bunch of parsley. Now add two to three dried dates and a small piece of peeled ginger and blend the whole thing with some chili and vanilla powder. Add half a teaspoon of Himalayan salt and a dash of lime juice, blend briefly - done.
What many people don't know: Pointed cabbage is an excellent source of vitamin C, and the combination of Himalayan salt and lime juice lowers the rather high pH level in the morning - perfect for a dynamic start to the day.
The spinach lettuce kale smoothie is the detox drink par excellence. Not only does the green drink provide plenty of vitamin C, it also provides us with chlorophyll, which gives plants their green color and allows them to photosynthesize. Chlorophyll is also of great benefit to us humans, as the substance has a strong detoxifying effect, promotes wound healing and ensures optimal digestion.
Those who value a healthy breakfast should not do without the green plant substance in the morning. For the smoothie, blend 250 grams each of spinach, lamb's lettuce and kale with three peeled kiwis, a banana and about 400 ml of coconut water. Finally, add some agave syrup and a small piece of ginger - the detox drink is ready.