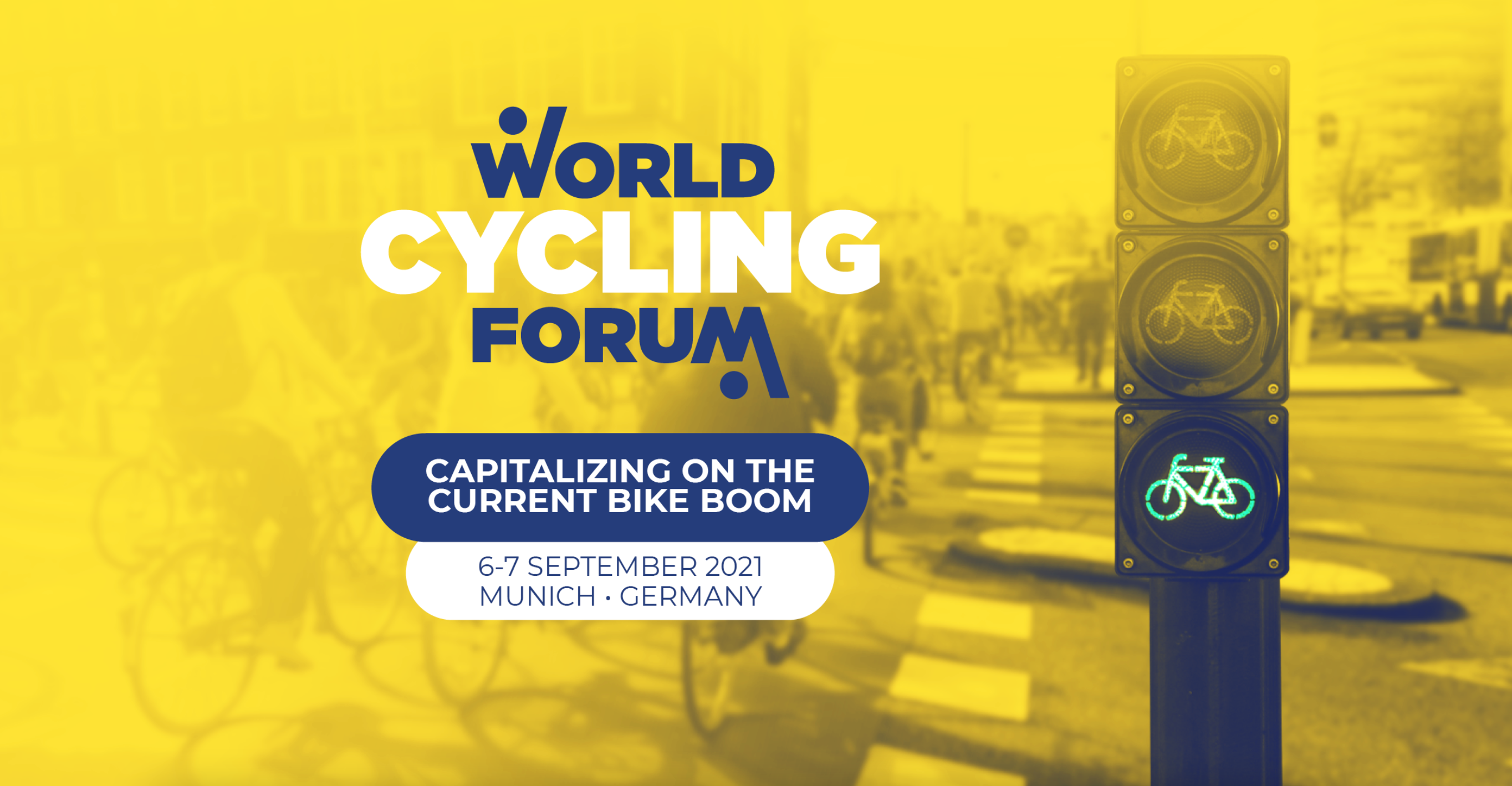 How is the online business developing, what are the advantages of traditional bike stores as opposed to web stores, or is there an urgent need for both? How do you ensure that consumers are addressed and supplied in the best possible way? And what are possible future scenarios in the bike business? The World Cycling Forum 2021 will address all these topics on September 6 and 7 in Munich. The conference program includes high-profile keynotes, interactive Q&A sessions, lunch, and networking rounds.
As a separate ticket category, there is now also the option of online participation in the World Cycling Forum 2021. A Livestream ticket to the two-day conference is available for the low price of 200 euros and gives online participants full access to the streaming platform for WCF 2021.
All keynotes will be streamed via the platform and are available in full length. In addition, the online format also offers the opportunity to exchange ideas with others, network, and ask questions to the speakers. For this purpose, the chat function can be used during the live talks, but alternatively, questions can also be submitted before the event. In addition, everything can also be viewed afterwards, should the live event be inconvenient due to different time zones.

In terms of content, this year's World Cycling Forum will focus on the unique circumstances the bike industry is in right now. Whether as an environmentally friendly and health-promoting means of transportation, as part of the mobility revolution, or in sports - bikes are in demand like never before. For the industry, the challenge now is to capitalize on this ever-growing popularity. With all these developments in mind, the World Cycling Forum addresses decision-makers from the bicycle and e-bike industry. It will address the growth and challenges of e-commerce, advantages that traditional specialty stores can make use of, as well as a changing retail environment. 
For an insight into the highlights of the World Cycling Forum 2021, see the following overview of keynotes:
Online Sales: How I Did It




Frank Aldorf, Chief Brand Officer, Internetstores GmbH, takes a look at how one company has benefited from the growth of online purchases in the bike sector. 

Limitations of the "Online" Channel in Times of New Mobility 




Thorsten Heckrath-Rose, owner, and Markus Diekmann, CEO of ROSE BIKES try to break down in more detail the challenges that online retail brings to a complex product like bicycles.
Market comparison




To understand influences, you have to think outside the box. Jason Huntsman, President, Serial 1 Co. of Harley Davidson provides insights to show how another industry has dealt with challenges from retail in transition. 

 

Consumer behavior and the impact of the lockdown on the European retail industry.




Philipp Rossner, CEO SIGNA Sports United takes a look at the very specific changes caused by COVID-10 restrictions and temporary consumer closures.
Government initiatives in cycling




Adam Tranter, founder and CEO of Fusion Media and co-founder of The Running Channel provides insights into how various government initiatives have impacted the cycling market in the recent past. 

European Green Deal




What does the European Green Deal mean for cycling and how do we ensure the cycling industry benefits? Tony Grimaldi, Chief Executive Officer of Cycleurope AB and President of Cycling Industries Europe (CIE), asks and answers these questions in his keynote. 

Leaving no one behind: Cycling as a development tool




Kristina Jasiunaite, Managing Director World Bicycle Relief Europe, presents in her keynote the impact bicycles can have: Whether it's in achieving the Sustainable Development Goals (SDGs) or how cycling programs are helping people break the cycle of poverty and move into a resilient future.
Andrew Love, Global Brand Protection Manager, Specialized Bicycles, provides insights into the counterfeit market. He shows how big the problem is and what can be done to address it.
Hyper personalised customer experience




Simon Summerscales, Head of Marketing and Brand, CANYON BICYCLES shares his omnichannel vision: how the best bike brands are serving future customers in the right channel at the right moment.

Customer Service




Serving existing and future customers is imperative. How can we ensure best practices in customer service? Here's what Steffen Fuchs, technical service manager at SRAM Corporation, talks about. 
Growth Markets




Do new markets need new products or is growth more about making existing products interesting for new customers? Raymond Gense, Director of Policy and Future Technologies at PON, explains how the bike industry is managing to solve this crux.  

From tiny wins to a circular revolution




Erik Bronsvoort, innovation manager and co-founder of Circular Cycling, presents a vision for true sustainability in the bike business using a revolutionary business model. 
Jan Stoeckel, Associate Partner, and Nicolas Grimm, Senior Manager of Porsche Consulting show a case of how a non-cycling brand entered the bicycle market and became successfull.
What does the future hold for the bicycle industry? Revolution or evolution of products? What will buying behavior and access to technology look like? These are the questions posed by Maks Giordano, Strategic Business Consultant, Creative Marketeer, and Futurist.
In addition, many other highlights await as well as networking opportunities, Q&A sessions and a joint visit to the IAA Mobility. For an overview of all speakers and the full agenda of the two-day forum, visit worldcyclingforum.org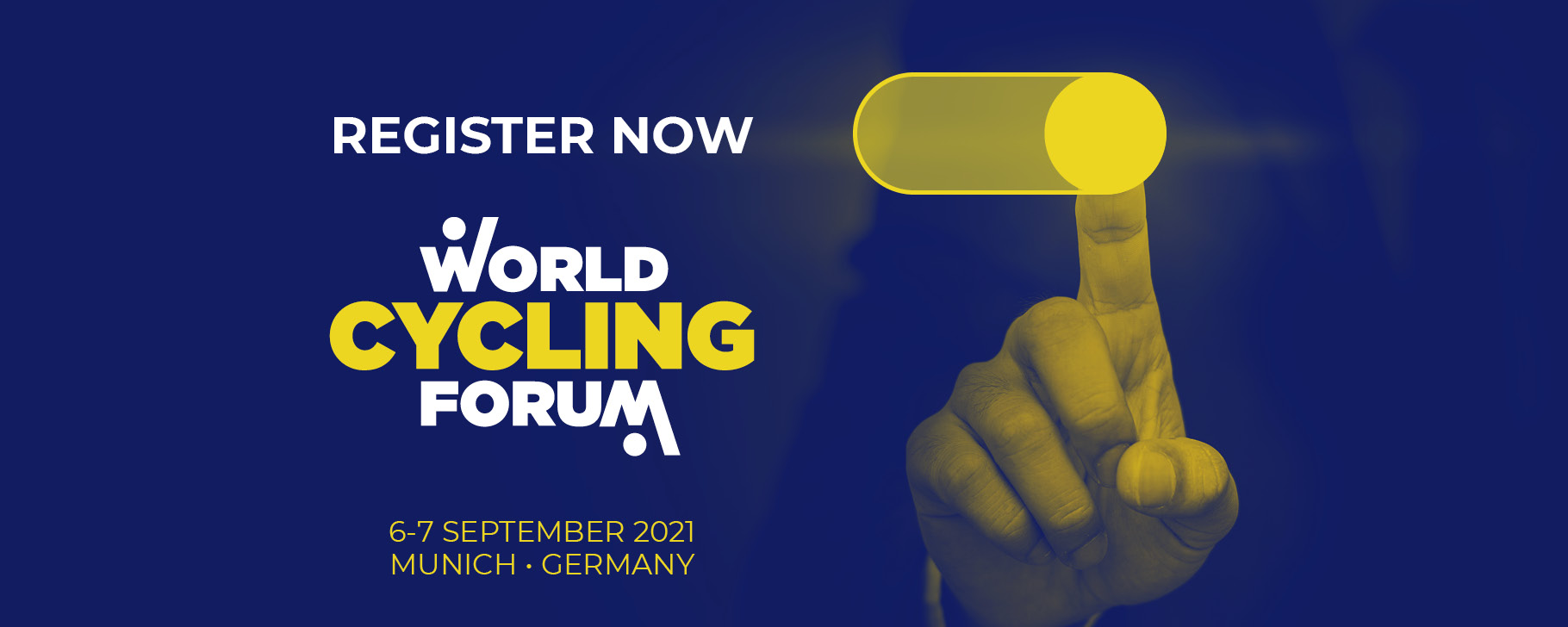 For those who just haven't made it to register yet: On-site tickets for the WCF 2021 would also still be available. And since the World Cycling Forum 2021 will take place this year for the first time in the direct run-up to the IAA Mobility in Munich, a ticket to the major mobility trade show will be included for free.

On a personal note: We will also be at WCF 2021, providing insights into ISPO.com's strategy as a sports and outdoor magazine that is oriented towards the major megatrends of our society. Our Brand Strategist Consumer Goods & Product Owner of ISPO.com, Christoph Beaufils, will give insights behind our scenes, both conceptually and strategically. 
ISPO.com is also a media partner of IAA Mobility, highlighting topics such as mobility and sustainability from a sports perspective. Interested in working with ISPO.com as well? You can find all the important info here.
Want to be part of the World Cycling Forum 2021? Then get your ticket and enjoy it online or offline!