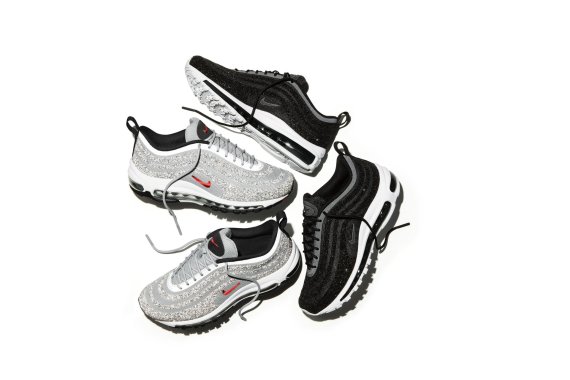 To ensure this collaboration, a team of Nike staff travelled to the Swarovski headquarters in Wattens, Austria, to take a look at the jewelry manufacturer's advanced crystal formula. This visit turned into a joint project.
"In terms of innovation it was such a fantastic project," sais Marie Crow, Nike Material Design Director at Nike Women. "We want to combine glitz and durability. We fell in love with the rugged sparkling of the crystal fabric that will help to reinvent an already iconic shoe."
Swarovski's crystal fabric holds around 1.71 million Swarovski crystals per square meter. At this rate, a Nike Air Max 97 Swarovski shoe in size 7 (EU: 37.5) comes to around 55,690 crystals.
"Swarovski has a proud tradition of innovative and creative collaborations," says Markus Langes-Swarovski, member of the board at Swarovski. "We are pleased to have created this unique design with Nike. The Air Max 97 has an iconic 360 degree silhouette that let us dream about when speed meets light."