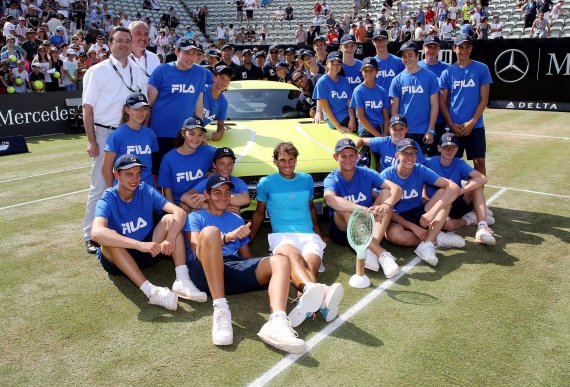 Ms. Raidt, you organize the Mercedes Cup in Stuttgart. A renowned ATP tournament in Germany where even Roger Federer plays. How many employees do you have in the background?
Nadine Raidt: I myself work at the agency e|motion sports gmbh germany, which is a subsidiary of emotion management gmbh , headquartered in Austria. There they have approximately 25 employees, while we in Germany are a core team of eight people who don't work on the Mercedes Cup exclusively, but do work on it the whole year. That begins with the classic tasks like hospitality, accounting, ticketing, sales, marketing, and so on. The closer the tournament then gets, the more we do: At the beginning of the tournament we have about 250 people collaborating at the facility.
That then includes all employees, from the sausage stand up to the referees.
In total, we have 75 ball boys and girls, 50 line umpires, 30 hostesses, a guest service desk with about 60 people, and many more. But it also includes people, for example, who have to cover the grass court when it starts to rain. That has to happen with eight to ten people within 20 seconds per space. And there are many more: such as towel and drink services for the players.
The organizer has run the Mercedes Cup since 2007
However, most jobs are on a volunteer basis.
Of course, everyone gets an expense allowance. It has to be said, though, that the introduction of the statutory minimum wage has made a lot of things more difficult and brought about a big bureaucratic burden for us. The entire tournament started with volunteers from the Tennis Club Weissenhof, which originally started the tournament as its license holder. As an agency, we've been organizing the tournament since 2007 now. Now everyone has to be formally employed, as stipulated by the law. We no longer work with volunteers, and everyone has to fill out their time sheet.
Who then can participate in a tournament like the Mercedes Cup? Can anyone do the job of a ball boy?
There are various eligibility criteria there. With ball boys, we mostly draw from active players from the Tennis Club Weissenhof and the tennis clubs from the surrounding region that are sifted through in the preliminary stages. For ball boys that's a total expenditure of four to five days, but is portioned over several weeks.
The referees and line umpires are definitely subject to even tougher review.
Of course, there isn't an open pool where anybody can register. The referees are selected by the ATP itself, and we select the line umpires, as we know the people who are qualified.
Jobs at the Mercedes Cup: Qualifications will be requested
How can someone become a part of the tournament, then?
We consistently get inquiries from outsiders who'd like to work with us. We then ask which qualifications these people bring with them and which professional and private experiences they have to be able to help us. Then there's a corresponding application process with interviews.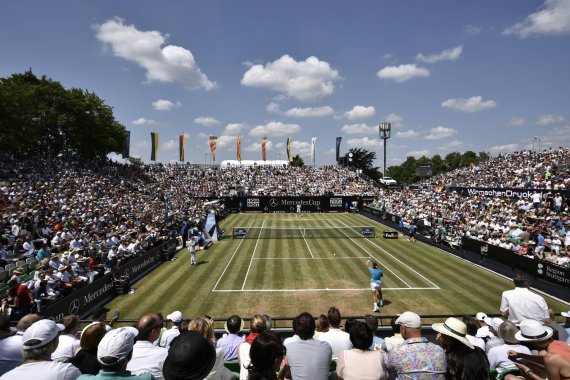 What then do I have to be able to do if I want to give Roger Federer, who's starting in 2016, his towel between games?
There, too, we draw on people who are very much associated with tennis. Through the same background, but also the same goal, namely to organize a great tournament, arises a very positive dynamic that binds everyone together. We also have a large pool of people who've moved away and come back just for the tournament, to help out.
But there's definitely a squabble about who gets to look after Roger Federer.
We've actually never had that before, since everybody at the tournament is focused as a whole. It's also clear that we'll need more people at the beginning of the week, because we have much more games. For example, the ball boys are evaluated in each game and then the best come back, up to the final. But most of them we then also distribute according to their schedules with school, university, or work. So their distributions are mostly done themselves. Sure, Roger Federer is an incentive, but in the end everyone wants the tournament to go off perfectly.
Over sports studies back to tennis
Generally speaking: How difficult is it then to get a job with a sports background, if one doesn't have a professional background like you do?
I played in the youth sector on the youth national team, and at age 16 wanted to go pro. Nevertheless, I was prohibited from doing so due to injuries. After that I studied sports in Stuttgart, in order to then get back to tennis. The tennis world is relatively small, and many people who now work as coaches or managers, for example, are people I've known from training camp for 10 years already.
So someone without a sports background doesn't have a chance?
That's not true. Even though many people definitely do have such a background, not all of them were professional athletes. If you understand the events, bring emotion for the sport with you, or even an affinity, then there's always a chance. Lots of people are needed in the administrative sector. You shouldn't just focus on one sport. For example, I did an internship with 1. FC Köln before I came back to tennis.