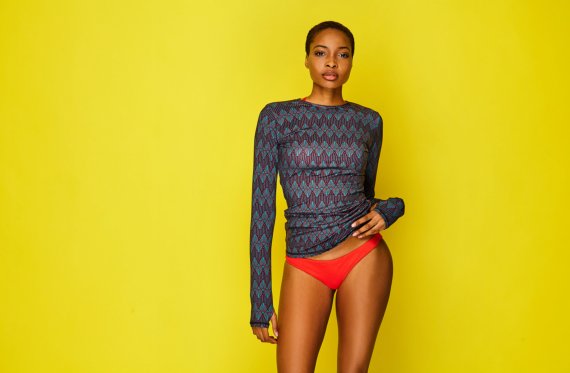 The market potential of water sports actives has been highlighted at both the recent ISPO Munich and ISPO Shanghai through the Water Sports Villages, with water sports defined as one of the hottest sports trends for Summer 2018. 
Experiencing the Moment
The interest in water sports activities is set to continue, highlighted in the mega trend MOMENT, featured in ISPO Textrends, sums up the consumer mood for Summer 2019, where experiences count more than personal possessions. The consumer is set to embrace travel, whether is getting in the car and heading to the nearest coast, or going to more exotic locations to participate in water sport activities.
As a result there has been a push in technical fabrics for this sector combined with an increased interest from swimwear brands in developing sports-inspired collections. This particular development is reminiscent of the way brands, in particular lingerie brands moved into the athleisure market with the development of sports bras, taking their existing know-how and applying to a new market application.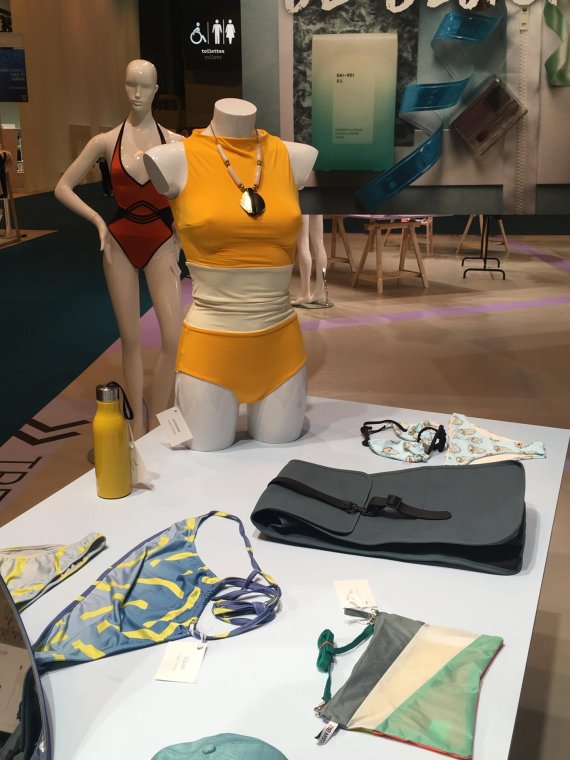 Swim Collaborates with Ski
Cardo Paris, a swimwear brand geared towards the fitness sector delivering truly chic and stylish swimwear and accessories, has launched a high-end collaboration with skiwear brand Fusalp. The result is a capsule collection of four sports-chic swimsuits with molded injection zippers, figure flattering compression fabrics, a nod to the soft-shell of the fitted ski pants
Tested and approved by Claudia Riegler Dénériaz, alpine ski champion and Clementine Lucine, world champion in water skiing, the range combines visual impact and technical features.
Sustainability: From Natural Ingredients to Recycled Plastic Bottles
Sustainable applications for the aqua sports sector is on the increase, pioneered by Patagonia leading the way with eco-friendly, neoprene-free wetsuits. The R3 Yulex neoprene-free wetsuit, that received an ISPO AWARD Gold Winner for 2016/2017, uses a FSC-certified rubber blend that is durable and flexible.
The plant-based Yulex rubber lessens the dependence on petroleum and reduces C02 emissions in manufacturing by at least 70 per cent. For the last eight years, the company has pioneered the use of natural rubber in wetsuits. Surfers and manufacturers can now choose plants over petroleum. Received an ISPO AWARD Gold Winner for 2016/2017.
Performance textiles are now following a more sustainable route with the launch of a collaboration between Unifi, a recycled synthetic supplier that transforms recycled plastic bottles into a fiber called REPREVE, and Finch swimwear brand.
Finch's swimwear for women, men and kids is made exclusively from REPREVE yarn with fabrics used offering natural UPF 50+ UVA and UVB sun protection, with no added chemicals.
Finch signature prints are repeated season after season for Finch Designs is a new recipient of the Project JUST Seal of Approval and is the first-ever China-based brand to receive the distinction, which is based upon the company's commitment to transparency and building a sustainable supply chain. Finch Designs is one of only three brands to win the Seal of Approval in the swimwear category, out of more than 115 nominations.
The Complete Package
While hardware is becoming a growth area in its own right from boards to kayaks, the opportunity for enhanced styling in swimwear, beach/urban wear and accessories has potential growth too. Brands that featured at MODE CITY PARIS and INTERFILIERE, the intimate apparel and swimwear show, highlighted this direction with sexy styling and technical fabrics, through to coordinated collections of accessories that define the complete look.
Brands are looking to push the sporty styling with an element of sexy appeal. Mesh inserts and zippers team with technical fabrics in creating a strong look as seen with up and coming brands Triggerfish Sport Couture and Ekena Bay.
Accessories are also key with Susan Bijl delivering a new range of nylon bags and backpacks specifically for the beach, an extension of her signature nylon shopping bags. Adidas has seen the potential of this market too, with fashion merging with function with the Primeknit pull-on sock shoe that looks as good pounding the pavements as it does heading to the beach.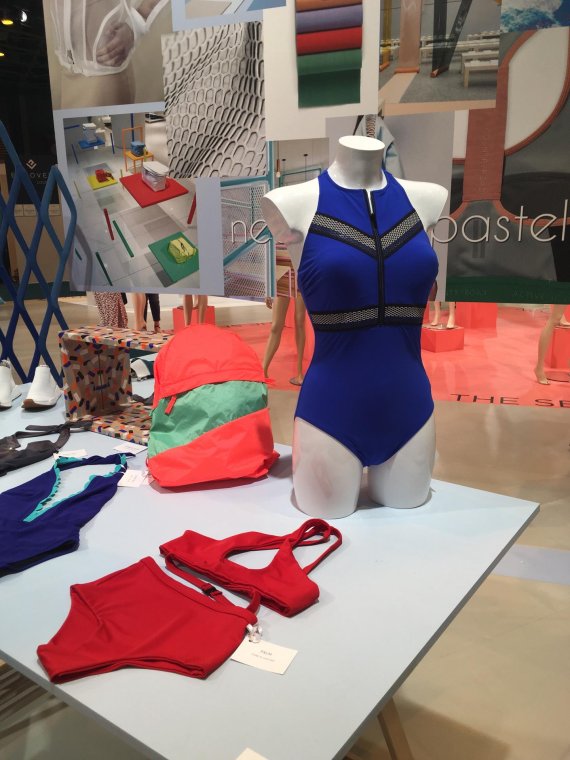 It is clear that swimwear fabric suppliers are shifting from fashion swimwear fabrics to a combination of the existing fashion designs but with the added value of performance ingredients. Meanwhile swimwear brands are embracing the increase in water sports combined with the  sporty lifestyle aspect and high level performance.
The consumer is keen, whether it is for participating in aqua sports or just looking the part at the beach bar, swimwear is mirroring the effect the athleisure lifestyle trend had on activewear.
Enhanced Flexibility and Fit in Swimwear Fabrics
High compression fabrics in both warp knits and woven fabrics feature, offering hybrid garment styling where core stability is key and UV protection is key. Protection from the sun isn't just appealing to the adult market, for kids it is a crucial function too.
UV resistance can be achieved through the compact structures of the fabrics through to innovative yarns and finishes in protecting from the harmful UV rays.  Protection is also inspiring swimwear silhouettes as long sleeved rash guards inspire and prints feature.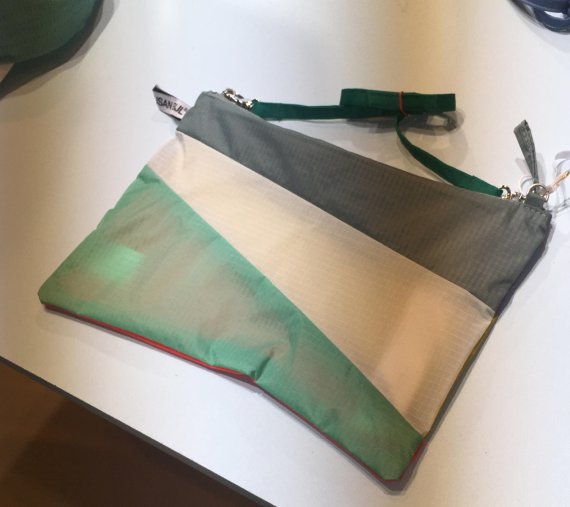 What is clear is that the sports swimwear sector is taking on a new lease of life, embracing the key ingredients in the market from super chlorine resistant spandex through to recycled synthetics and UV protection, but most importantly with a stronger style.
Fitness Swimwear and Sporty Fashion
It isn't just high-level performance swimwear that is embracing performance textiles, resort swimwear, aqua fitness and surfer beach looks with a sports-inspired accent are pushing through.
Expect to see this market grow as the consumer becomes as interested in doing yoga on a surfboard board as on a yoga mat and switching cycling and running for supping during the summer season.