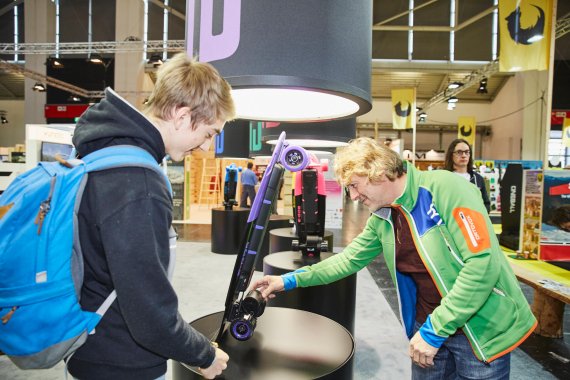 Have you always wanted to know how the trend sport of paddleboarding works? You can now learn one-on-one at our new Water Sport Village from 10-10:30 am. At the same time in Hall C3-411 (10-11am), the focus is on how to gain a foothold in the textile market with climate neutral products. The textile trends for the autumn/winter season 2017/2018 will be presented in the same place from 12-1 pm. Even just these examples show exactly how full of highlights the opening day of ISPO MUNICH 2016 is.
From Pechstein to Ralf Bauer: Celebrities at ISPO MUNICH
At this year's trade fair, it's like having celebrities on tap. Speed skating legend Claudia Pechstein will make a guest appearance at the Rockwell booth. And Roland Trettl will be taking to the stage to cook in Hall B4. At 2:30 pm, the same stage will be taken over by famous actor and yogi Ralf Bauer, who will be presenting Tibetan yoga. Anyone in search of a little excitement should head to the presentation of a worldwide innovation: The world's first inflatable piece of windsurfing equipment will be presented at 12 pm in Hall A6-126. An hour later the focus turns to water safety with Restube rescue equipment.
And of course some awards will be presented on the first day as well. ISPO AWARD for Asian Products and Action will be presented at 11am in Hall B5-132. ISPO AWARD Ski will then follow at 3 pm. Award after award: At 5:30 pm in Hall A2-125, the Scandinavian Outdoor Award will be presented. A press conference will be held with trade fair director Klaus Dittrich and the European Outdoor Group (EOG) in the west press center at 1 pm. It will present current findings from EOG studies and surveys on the situation in the outdoor market and will show which products have developed in which ways.
We look towards the future starting at 12:30 at ISPO ACADEMY at the east entrance: Bernd Mayer from Serviceplan will report on the sporting goods industry 4.0. The issue of money will be tackled in the same location at 5 pm, when the topic will be "What does a sports manager earn?"

Parties at the conference center and in the city

Get-togethers and parties kick off on the first day of ISPO MUNICH 2016 as well: There will be a students get-together from 3:30-6:30 pm at ISPO ACADEMY. And ISPO after-work party, famous in the industry, will start at 5:30 pm in Atrium A1-B1. And there's even more ISPO partying to be done in the city of Munich itself: For example, on Sunday you can attend the Völkl Party at the MMA at Königsplatz (9 pm), the Pleasure Party at P1 (10 pm) and the O'Neill Party at Strom (10 pm). The perfect end to a perfect first day in Munich.