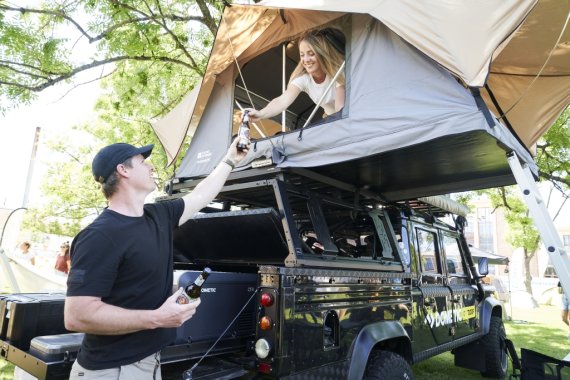 Nina Eibel recently posted a few pictures of a tour with her car roof tent on Instagram. The reactions were overwhelming: "An insane number of people wrote to me about how cool they thought it was. Including some who have usually always stayed in a hotel."
The Corona pandemic has changed the attitude of many people. Instead of pure (hotel) luxury - which you have to fear for because of lockdowns and constantly changing rules in different countries - freedom is the number one issue for more and more people. And with a car including a roof tent, you are completely independent. At the Outdoor by ISPO in Munich, this topic was particularly in focus - right at the entrance to two exhibition halls there were vehicles with roof tents.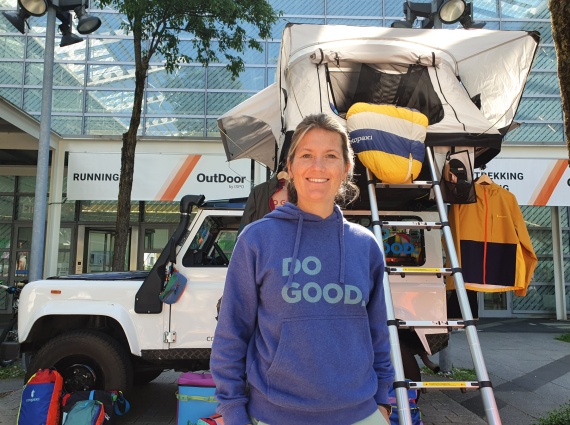 "The topic of VanLife is trending big time on social media, with more than ten million hashtags. But not everyone can buy a camper for 60,000 euros or even much more. That's why more and more outdoor-minded people are discovering the rooftop tent as the ideal solution. This trend has really exploded," Marc Perrineau tells ISPO.com. He is Territory Sales Manager at Dometic, an outdoor company that offers customers not only comfortable rooftop tents but also other smart solutions for car trips into nature.
Rooftop tents are so hip right now, however, that they're downright scarce. "Every rooftop tent from every brand is practically sold out," Perrineau tells us. Nina Eibel, a freelance sales representative in Austria who distributes various brands such as Cotopaxi, has similar stories to tell. Because of the flourishing sales, a whole container of 50 Tenturi roof tents, which she also uses privately, was ordered. And also the renting offer for car roof tents runs dazzlingly: "Per day that costs so 30 to 40 euro and the whole summer is as good as fully booked."
Anyone who wants to buy this rooftop model has to put about 2000 euros on the table. "But for that it fits even on any car. We even built it on a small Mini. You can then simply drive off with it and spend the night somewhere you like," says Eibel. The only requirements are a roof railing and commercially available roof racks on the car. The tent, which is stored in a sturdy case for the trip, is attached there and can be set up in a few minutes. The mattress is with Tenturi the mattress is already included in the tent, so all you need are sleeping bags and off you go to sleep on the roof of your car.
But there are also somewhat more luxurious variants on the market. Dometic has two roof tents in its range - one of which is conveniently set up with a battery-powered air compressor. The presentations at Outdoor by ISPO regularly had many spectators. "In less than two minutes, the rooftop tent is up," Perineau says. And folding up the rooftop tent for the return trip doesn't take any longer either, because of the rocket-fast outflow of air, and is done in a few easy steps. For this model, you pay about 2800 euros.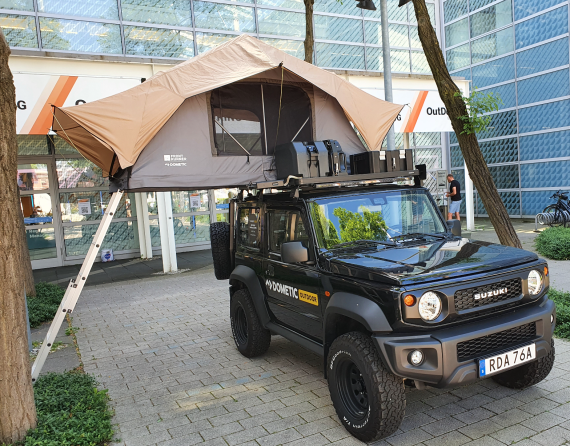 Another advantage to "normal" camping: water from below the ground is not to be feared with the roof tents. The models are of course waterproof and, according to Eibel, you can also pack them in "for a few days when it's wet: The whole thing with the roof tents is simply practical: So you no longer have to go to big hotels, but can spend the night in the middle of nature."