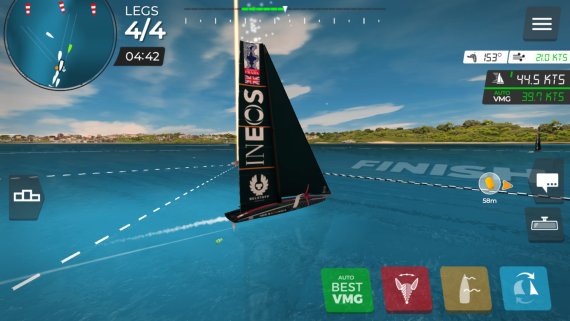 With this years ISPO Digital there are some tournaments running – NBA2K, eFootball and Rocket League are well known eSports titels.
But there is a new rising Star for the engagement with the sailing target group – ISPO invites the best international eSailing Teams into a Team Race invitationals in the game Virtual Regatta Inshore – presenting it to the worldwide B2B and B2C audience.
2nd of February 19.00 UTC 4 teams will start the battle for glory. Club Nautico Sevilla (ESP) vs. Team Scotland (GBR) and Team VIT (INT) vs. MCES Italia (ITA). A battle where top sailors and esailors a competing on Virtual Waters. Meet eSailing World Champion 2019 Filippo Lanfranchi (ITA), Olympic 49er Sailor Bart Lambriex (NED), four eSailing Nations Cup Winners leaded by Mke O'Donnovan (GBR) and the eSailing Vice World Champion 2020 Ramón Parejo Palop (ESP).
All teams has been battle for their spot into the Semi-Finals against 4 other teams, where we saw a supricing lose for Team LDLN (ESP) with the eSailing World Champion 2020 and SailGP Grinder Joan Cardona (ESP) and for Team DWNWIND (INT) with eSailing Legend Kaan Mazlumca (TUR) and the National Champions from Denmark and Germany. 
The format for the Semi-finals is a Best of 5 (BO5) team races:
5 v 5 | Laser
4 v 4 | J70
3 v 3 | F50 (SailGP)
2 v 2 | J70
1 v 1 | Star
First team to win 3 races qualifies to the Grand Final.   
2nd of February 19.00 UTC – 22.00 UTC | Semi-finals and Finals 
Streamed on Esailing TV channels – the whole tournaments on these channels:
The curated public stream with Marcus Meyer from Force of Disruption and Dan Ram takes place on the ISPO channels:
Drop in and get an Experience on the next rising Star in virtual Sports and eSports. The Story of eSailing is really impressive. Thomas Björn-Luthi is one of Evangelists in eSailing Broadcasting with his company ESAILING.TV - and he knows best how the story is told.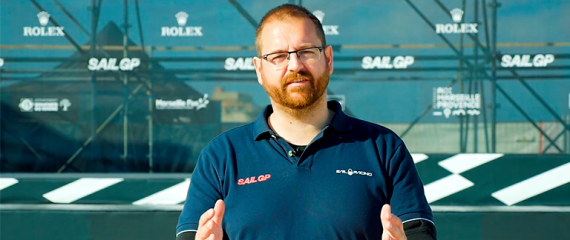 London May 2018, World Sailing launches the first eSailing World Championship. The first official collaboration between a game and an international sports federation. It sees World Sailing given partner status of a game developer's assets. It was a collaboration that would lead to eSailing becoming the first eSport shown live on the Olympic Channel.
"A Sport and a Game grow by using the same mechanisms and elements"
What we are going to describe now sounds so easy but is incredibly hard to achieve.
There are 3 important overall elements that need to be developed:
A co-operative structure

The community

Visibility
1) The co-operated structure is the strategy made by the International Federation and its members.
A way to grow the game and make its members support it and play it.
There are 3 basic overall steps to succeed:
To make the members interact with the game




Example World Sailing needed to have active sailors around the world to have fun with the game. To have Member Nations supporting the work and game. And to have special events adopting the game as part of their brand.

Create a tournament structure and official rules




People are motivated by curiosity, the ability to grow own skills and to be social. This is the same in sport, so it is important to create various tournaments and competitions. World Sailing started by creating a World Championship. But that did not grow the game. What made the difference was when players could win official National Championships and represent their nation, then it started to grow.




Another huge part of the success is to create rules for the events and the game. In a sports game the rules need to be as close as possible to the real sport.

Support of Nations and clubs




Over time the game grows. The same persons will win or qualify to the big official events. A demand is created and suddenly national and local events will grow. A demand for creating talent environments around the corner. 




If one of the steps fails, the strategy does not support the transition from a sport to an esport. The game will not grow and athletes will not support the game. Interest in participating in the big official events will wane.
2) The Community is the heart and foundation of the game.
No community = no game = no competition = no eSport
But how to work with community? And how does it work?
A community is like members of a sports club. The difference is that a community does not pay membership to a club and are not officially registered in the cooperated structure. Their membership/loyalty is towards the game.
This means that you can't control or put structured rules on a community. But you can lead them and work together with them.
It is like a group of members in a volleyball club who do not want to play 6 versus 6 but only 3 versus 3 to practice. After some time they want to play a match against other members or clubs, so they start to invite in competitors. If the club says they are not allowed then there's a big chance that they will stop playing volleyball.
So how can you support a community that is not members of your official structures?
This is actually the game's biggest task. But to be able to create a sport into an eSport the international federation is crucial, but it must also change mindset. This is because if you push away non-members from the community, you do not listen to them or you try  to control them, then the community simply creates its own structures to be able to have fun, grow their own skills and to be social. Once this happens there's little the federation can do to engage.
Working together with the gaming community is to work with the members in your federation. The community is the resource that will help the federation to succeed and organize tournaments. They are also your experts.   
3) Visibility
Marketing and content of the game and the co-operative structure is important, you need to tell the story and show your activities. But in the long term it is the visibility of the players and the community that will continue to grow the game. The interaction between game, players and community is the key to success.
Creating and supporting streams, broadcasts and content that the community can watch, share and re-watch again and again is the key to make the game grow.
An element Esailing TV is working with is to be part of the community while we also work with big clients. That is why we also create community streams where we show a random tournament, regatta and players that might not be at the highest level – we make sure our coverage is democratic.
Sports simulators are played by people who already have a connection with the sport, are fans of the sport or are active doing the sport in real life. The target group is often more mature and focuses on content, rules and structure.
To succeed in creating an eSport from a sport, you need to be able to build and maintain a structure and at the same time relinquish control of the community. You need to be able to work in a world with thousands of opinions and a direct feedback on all elements you are doing, but one thing is for sure you all have a common interest in the game. You need to find a way to lead people you've never met before and gain their loyalty and support by first demonstrating loyalty and support to them.
Who is playing?
Virtual Regatta Offshore is played by 80% men and 20% females.
50 % sailors and 50% gamers
The average age is 35 years old.
 Virtual Regatta Inshore is played by 82% men and 18% females.
95% are sailors or have been a sailor and 5% are gamers.
The average age is 28 years old and the biggest group of players are between 40-50 although we are now seeing players as young as 14 joining the game.
Virtual Regatta
Virtual Regatta is a sailing simulator with two games. An Offshore game and an Inshore game. It is developed by Philippe Guigné, a former top sailor and gaming entrepreneur.
The Offshore game features elements, like the wind, that reflect real-life conditions. Users can race against the top sailors competing in the real race. One the best examples of this was the Vendee Globe race in 2020 which saw 33 real skippers racing solo around the world whilst 1 million gamers raced against them online in the same weather conditions. In offshore the races can take anywhere from 3 days to 72 days.
Virtual Regatta Inshore is a faster game, designed to mirror the sport's top regattas like the Olympic games, America's Cup and SailGP. Players must use the same strategies and tactics as they would on the water. There are different classes of boat such as the Laser, J-boat, 49er and Nacra17, all of them programmed to behave like their real-life counterparts.