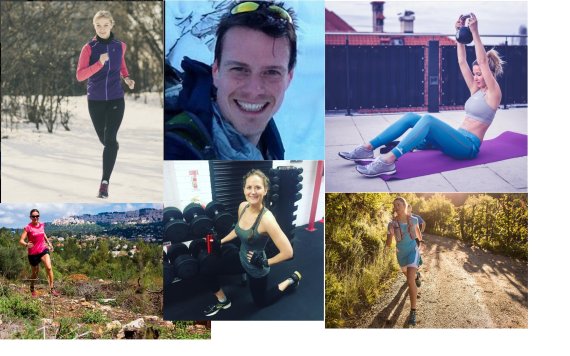 Sandra Mastropietro is a passionate runner, marathon runner, trail runner and a young woman whose enthusiasm and joie de vivre is simply infectious. As ASICS front runner and her role as the heart of Urban Runners in Munich, she brings the sweat to her running companions offline. Online, every one of her Instagram posts go out to 18,000 followers, each getting at least 1,000 hearts. In print, her book, Läuferleben (German only), has been on the Amazon bestsellers list for weeks and, together with her boyfriend, former German 10,000-meter champion Sebastian Hallmann, she has graced the current issue of Aktiv laufen magazine with the cover story, "Paare erzählen: Lieben und laufen" ("Couples Tell Their Story: Love and Running").
The ISPO MUNICH press registration site now offers bloggers their own page. Find all of the info here >>> 
Sandra is what people call an influencer. And so is Sebastian, who worked as a running coach for an app project for Freeletics and now works for the Munich Marathon. They'll be attending ISPO MUNICH together as influencers, appearing in the Running Shoe Symposium hosted by Runner's World editor Urs Weber (read about his 7 running trends for 2017 here) – plus they'll be at the new Influencers' Club Lounge to network and meet with other influencers accredited at ISPO MUNICH, as well as journalists and press representatives.

Bloggers and influencers can also get accredited directly at ISPO MUNICH: from Sunday, Feb. 5 to Wednesday, Feb. 8, 2017 between 8:00 am and 6:30 pm in the East and West Press Centers. 

Fact sheet for bloggers and influencers at ISPO MUNICH
– all the information at a glance
Meet up at the Influencers' Club Lounge: Networking at ISPO MUNICH
"This will be my first time at ISPO and I'm already looking forward to finally meeting people in person who I've only ever met 'virtually' or by phone, as well as meeting new people, of course. Entirely new synergies and ideas often emerge when people speak face-to-face, especially in an environment as exciting as ISPO MUNICH," says Sandra Mastropietro. Her tip for influencers? "With so much going on, time is tight. Anyone looking to engage in a productive conversation with (potential) partners should start by asking when would be a good time to talk."

Read here: How important ISPO MUNICH is for influencers – The Great Survey. >>>
Interesting events for bloggers and influencers:
Freestak PEAK Conference for bloggers:
- Sunday, February 5, 2017 from 1:30 pm to 3:00 pm in the East Press Center


Blogger Get-Together with light breakfast in the Influencers' Club Lounge, Hall B6
- Monday, February 6, 2017 starting at 10:00 am

Blogger tour through the ISPO BRANDNEW Village
- Monday, February 6, 2017, starting at 10:30 am.
- registration by email to press@ispo.com
-
Lindarella and Roxis Ecke: Influencers at ISPO MUNICH

Set appointments to visit brands interested in partnering with influencers – that's Linda Mutschlechner's advice, anyway. She blogs about sports, fashion and lifestyle at www.lindarella.de and has 85,000 followers on Instagram. 
Read more here: Bloggers at ISPO MUNICH: Tips for Budding Influencers
"I set appointments to meet with people," says Linda(rella), who already made a few contacts at last year's ISPO MUNICH. Roxana Strasser, who offers training, nutrition and motivational tips at http://www.roxisecke.de and reaches hundreds of thousands of people through her videos on YouTube, says the same thing. Roxi will also be there at the start of ISPO MUNICH.
Representatives from the international scene will be there, too
Lindarella and Roxi are real giants on the scene and have an enormous audience – as do their international blogger colleagues who will be attending ISPO MUNICH, including Charley Radcliffe of Digital Steak from France, and Sarah Ann Williams of Tough Girl Challenges from England.
Read here: Journalist and influencer Pit Gottschalk in an interview on influencers in the sports business – and at ISPO MUNICH >>> 
"ISPO MUNICH offers trends that make my life better"
ISPO MUNICH is a home game for Andrea Löw, a Munich-based trail runner, and Sandra Mastropietro, an Asics Front Runner. "As a passionate runner and as someone who loves mountains and the outdoors who gets to blog about all of that, I'm just crazy excited about new trends and products that will make my active life out there even better for me and my readers," says the historian, who blogs at www.runninghappy.de. "I've already scheduled so many meetings and received so many invitations, but I also want to get the chance to just wander around and gain some inspiration – it'll be very busy. And it's now becoming apparent to me that this will be tougher than any marathon. :)"
Marlen Franke, trail runner and "trail kitchen" running and healthy eating specialist, takes a similar view: "I think a day at ISPO should have 32 hours in it," says Marlen. "I've previously enjoyed working with PR agencies representing brands and products that interest me. Because of this, I'm really excited to meet market representatives in person at ISPO MUNICH. Blogging is not my full-time job, and I've worked quite closely with The North Face before. I'm incredibly interested in what innovations other outdoor brands have to offer, or what they're doing even better. That's why I've scheduled a few meetings as well."
ISPO MUNICH is nothing new to Kate Kö, who has been a successful influencer through her blog, Wild & Fit, for a long time now and who is involved with a number of brands – but this time around, she'll be taking in the trade fair with a whole new perspective. Kate is pregnant and created the hashtag #JuliBaby2017 on her Instagram account. 
She's back on the influencer scene of course, but will now be traversing the halls of ISPO MUNICH in search of any exhibitors offering products specifically for (expecting) mothers,
something Ingalena Heuck did last year as well. The former German half-marathon champion and spokeswoman for Odlo and Sport Scheck was always on the go as an influencer – she took on her new role as a brand representative for Thule at ISPO MUNICH 2016 two months before the birth of her son, Frederik (read more here: Ingalena Heuck and her 7 tips for running with a stroller).

Accredited bloggers at ISPO MUNICH – a selection