ISPO.com: Monsieur André-Benoit, FISE startet some twenty years ago as a kind of skater party in Montpellier – now it's part of the World Cycling Organisation UCI – what happened?
Hervé André-Benoit: You are right: FISE and my company Hurricane Action Sports started 1997, but for me, the story started in the 80ies. I began riding BMX, then started practicing windsurf – and I fell in love with freestyle and action sports in general. I studied at the university of Montpellier and we developed Phenix there.
Phenix? What is that?
A study project, between 1996 an 1997 to create an event, where I can present my sports to a large audience, to show the spirit of the different disciplines. For one year we tried to find a sponsor, we contacted some riders. 1997 was a good success, because we could create an event without entry fees and with a small budget: 10.000 to 15.000 Euro. The weather in Palavas, a beach resort next to Montpellier, was perfect as well, which is very important, if you have sports like wakeboarding or windsurfing with Robby Naish.
Where you successful?
Especially the BMX-riders helped me to push the community to come to the event. And the crowd was there as well: 100 riders and 35 000 spectators over three days!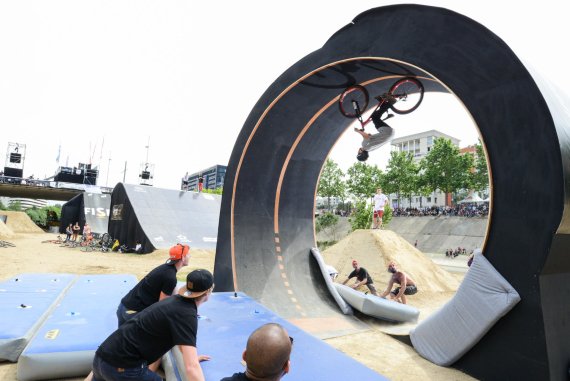 Good start, indeed. How did you developed the event further on?
I took a one year break from my studies, created my company in September 1997. I spent one year in my parents' room, with my fax and my computer to catch some sponsors. I could convince Adidas, Playstation and Orangina to arrive at the second edition in 1998. Two new disciplines are represented: Street and Kitesurf.

Those circumstances have probably changed by now?
18 years later we try to focus on the riders, to be able to give them the best conditions possible, to create some crazy set-ups. In 2005 we dug three pools, 15 meters long each one, for the wakeboarders: the biggest wakeboard event in the world, bigger than the american did. So the story grew each year: more and more riders, the level grew as well, FISE began to arrive to take a place in all the contests of the world. It began as a local event, afterwards it was a national event and now it's an international event.
An event, now spread over several countries...
Four years ago we decided to push FISE on a series. During all these years we organised different events in the world: in Tunisia, Algeria, Costa Rica, Dubai. Very international, but without a story. Then we made a bidding process for a tour in all the different sports. The first year of the FISE series took place in Montpellier, Doha, China and Malaysia. In 2016 we will be in Montpellier, Croatia, Canada, USA and China. That's a big success! It's very important for our sports to have a tour like that, to have sponsors, to bring more prize money in the contests, to let the sports grow. 
"BMX, Inline-Skating, Skate and Mountainbike"
How many disciplines are in the world series?
In BMX we have park, spine ramp, flatland and street, in Inline we have slopestyle and spine ramp, in Skate we have park and spine ramp, in Mountainbike we have slopestyle, we have Wakeboard and we will have Scooter in Montpellier and in Denver too, because we have a lot of riders from Colorado. 
Does Inline really fit in this program?
I know, that there are a lot of riders, who hate Inline. In my opinion it is a good opportunity for young people to start, to be part of the community. Or they may be can start with scooter, than go to skateboard or BMX. That's why we opened the door for Mountainbike eight years ago, which was not part of the program before. We were one oft the first events to do that – now it's a very important part of FISE. And when we can support new disciplines, we are open for that.
What is going to change with the cooperation with UCI?
Before we signed with UCI, we already managed to have the best riders at our events. In the world series we have 95 percent of the best riders. But since five or six years we think, we need to be closer to the federation. Because the federation is a key for the development. To push BMX to another level it's very important to be close to the UCI and add our power. FISE and UCI will give media exposure, more credibility and may be push BMX to the Olympic Games too.

What is important to you personally?
My first goal is: to make our sports more popular. Myself I do Judo and some other sports, but action sports helps you through all your life, in your family, in your job - because of the power, the energy, the decision how much risk you are going to take.
Correct, that the relationship between UCI and some riders used to be not that easy?
In the past there were fightings between riders and the national and the international federation as well. But I think that we need to have the control of our sport. With UCI it's clear: The rules are going to be our rules. UCI is really open to that. They know, that we have the knowledge, that the professional riders give us feedback all the time. And the riders are open to UCI as well. They know, that a world championship is important for the media and for sponsors. We try to do everything to make our sport better. That's why we decided to join UCI.
What about a possible cooperation with ISPO in the asian market?
Of course it's possible! It would be a pleasure! ISPO is the biggest sports fair in the world, a very big actor in action sports. I'm there since twenty years. A collaboration with ISPO would be perfect. We already developed two events in china. There is a huge potential to find new riders, new talents.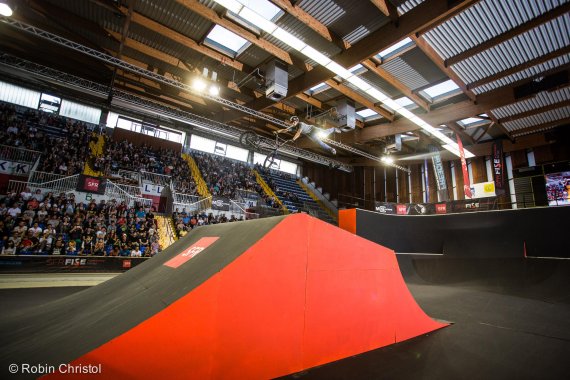 Sounds promising. So, the next event of FISE starts when and where?
May 4th till 8th in Montpellier, my home town. The entrance is free, we expect 500.000 people. The riders love this event, because of the weather, the infrastructure, the crowd - and because of the girls. This is our spirit! And tons of kids will start to ride after the event.
What about yourself? Still active on the skateboard?
I stopped practicing skateboard three years ago. Now I practice a lot of wakeboarding, five or six times a week. I have a small ramp in my garden. It's impossible for me not to try it.