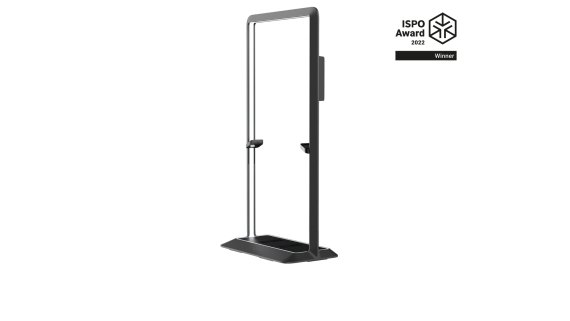 As we sportspeople know, training works best when you understand your body. That's where the mescan comes in and doesn't just check body data.  The mescan not only checks body data. It coaches you individually on the basis of the results. In this way, every user receives intelligent, tailor-made recommendations for training, nutrition and regeneration. "We are honored that the product was understood by the jury and that the added value for consumers and retailers was seen," says Dr. Marc Weitl, founder and CEO of cardioscan, the developer of mescan. "The mescan is designed to help people train effectively - with knowledge about their body data - to get the most out of themselves and stay motivated in the long term. The mescan is a real customer magnet because it makes it easy to see what we are made of. For retailers, the mescan is a sales aid that provides consumers with insights. Their own body data reveals what the consumer really needs for successful training." Dr. Marc Weitl is significantly involved in the development of the mescan. In addition, the development team was supplemented by sports scientists, medical engineers and software developers.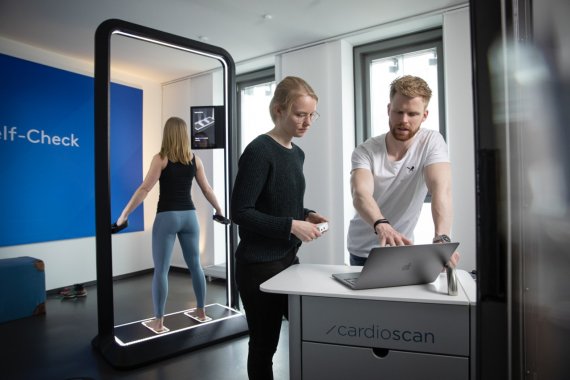 mescan measures heart rate variability, stress level, body composition and metabolism. The 360-degree view of body data ensures that training works without the need for time-consuming supervision by a trainer / store manager. The mescan is a self-service device for professional training monitoring and tool for individual upselling opportunities. The mescan is a real customer magnet. One reason is that it is easy to understand. Thanks to the mescan, it's easy to see what's inside. For retailers, the mescan is an additional sales aid by giving consumers exciting insights into their bodies. Their own body data reveals what the consumer really needs for a successful workout. In this way, the sports retailer can offer a service that is absolutely in keeping with the spirit of the times. And there is another advantage for the retailer: no personnel resources are required and, on the other hand, no appointments are necessary.
The innovative mescan solution from cardioscan is aimed at people who want to train effectively and want to know exactly what their body is capable of. "Training success can only come about with a holistic view of exercise, nutrition and regeneration. The mescan collects the relevant data to be able to influence all sub-areas," explains Dr. Weitl. "We want training to work. That's why we offer an ecosystem consisting of hardware, software and app that allows individual recommendations to emerge from body data. We are aligned with the megatrends of digital health, individualization and health."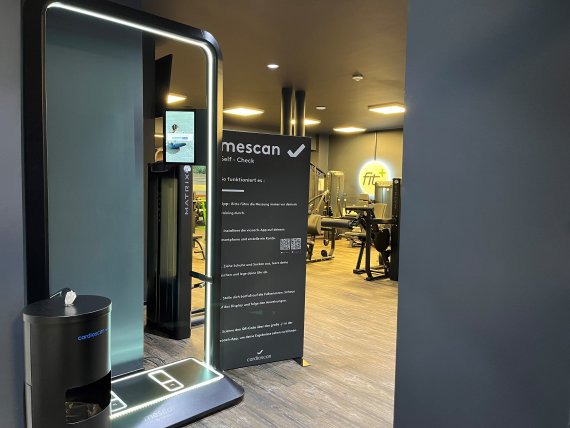 Coupled with the in-house cardioscan vicoach app, the mescan's body measurement data can be additionally extended for users. The app uses the measured data for individual recommendations on training, nutrition and regeneration. Designed with a 360-degree mindset, the app is an all-around partner for anyone who wants to change their lifestyle and cares about their health. To people who want to train effectively and not pi by thumb. The areas of application are diverse: gyms, sports clubs, physiotherapy, doctors, hotels, corporate health management and sports retailers.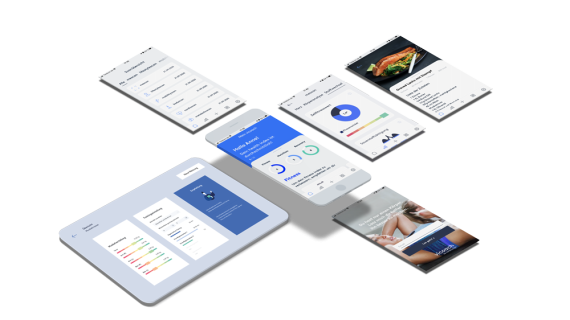 ""Health and fitness data have become a key factor in training. As a B2B solution, mescan offers added value in the gym. At the same time it provides athletes with a convenient way to optimize their training and have their performance data analyzed comprehensively."
ISPO Award Jury
fast and accurate measurement

all relevant body data are measured

easy usage

safe usage

data that everyone can understand
Product Specifications:
Available: since 2020 for fitness industrie & since 2022 for retailers and B2C
RRP: 39,90€ up to 99,90€€, depending on store purpose