The 22-year-old is a star on the MTB slopestyle scene and enjoys it. At Munich Mash, he was fourth two years ago and second last year – the Belgian is now logically aiming for the next step.
But in an interview with ISPO.COM, Genon – who will be on the starting line up at Munich Mash 2016 – talks about the downside of his career. He talks of the pressure to show off an even more insane jump every time. His openness is quite remarkable.
ISPO.COM: Mr Genon, when we're watching you on the course here at the Olympic Park, you seem to be having a lot of fun.
Thomas Genon: Yes, the course is so much better than last year! It's even good fun in training. It's really tough when you have to practice on a course that isn't any fun.

You have to complete ten jumps from start to finish.
Yes, that's right, and you need to show off a load of tricks too. And as many different tricks as possible.

Read more here: This is how the slopestyle contest works at Munich Mash 2016
Can you compare the course at Munich Mash with some of the other courses on the World Tour?
This course requires a lot of variety. And it is very compact. You don't have much time between jumps to think about what's coming next so you really have to stick to your game plan.

What's your favorite course on the World Tour?
The first stop on the tour in New Zealand is a fantastic course. But next on the list is this course here at Munich Mash. It's on a fun terrain, the course is cool and we're in a fantastic location – even if we're not in the mountains. That makes it a lot harder for any course designer.

What do you think about the Olympic Park?
The venue is great! There is a lot more space for the riders than at the FISE event in Montpellier, for example. There, you're always right in the middle of a huge crowd – you don't get a chance to chill out at all.

You can find the timetable and program for Munich Mash 2016 here
"Aged 19, pressure was new to me"
Until a couple of years ago, there used to be an event hosted here by the well-known X Games, but then the Americans suddenly decided against coming here again. Did that annoy you?
Well, the course wasn't great – it was really windy, which is pretty dangerous for us. There seemed to be a lot of limitations imposed on the course design. You couldn't build exactly what we wanted. And there seemed to be quite a lot of pressure from the organization.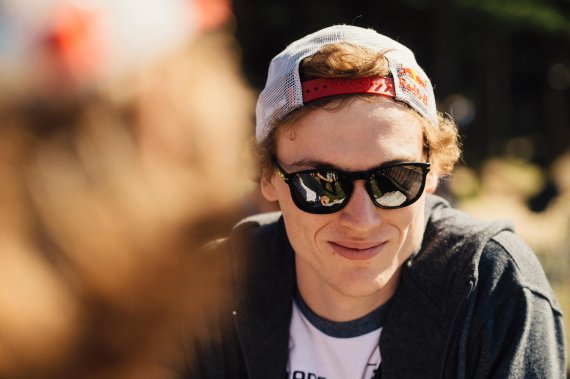 How were you getting on at the time?
I wasn't great, I'd only just qualified. I ended up in the final because of the wind but I didn't even make it to the start line. I was only 19 – I wasn't as mentally strong as I am now. Pressure was relatively new to me.

At 22, you're still one of the young ones now, aren't you?
Well, the youngest in the field here is 16 and the oldest is about 30.

Lyon is a slopestyle hotspot
How has the level changed in recent years?
It goes up every year. I'm even noticing it about myself: After five practice runs, I can finish my run better than I could last year. I thought to myself: "Man, I could have won easily!" But unfortunately everyone else is constantly improving too.
Do you practice by yourself or as part of a group?
I now live in Lyon, like many of my colleagues, and we practice together.

Genon's spontaneous forward somersault
Will we see a couple of new tricks from you?
You may do. But nothing crazy.

But, you're pretty much the only one with a forward somersault here at Munich Mash.
That was my first forward somersault in two and a half years! I'd actually taken it out of my repertoire. But as I rode the course, I thought: "Wow, this is the perfect place for a forward somersault!" I then just jumped, utterly spontaneously, without thinking.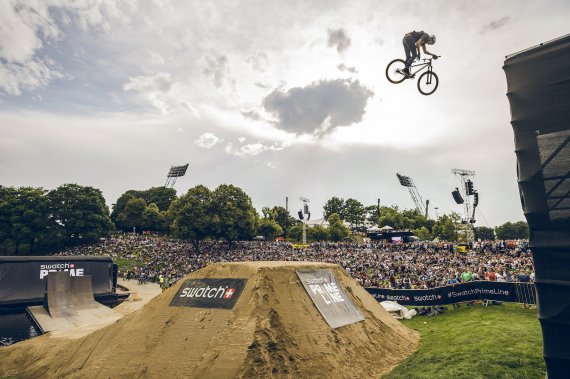 How did you end up on the slopestyle scene?
I previously did dual-slalom, downhill and BMX.

But I was particularly prone to injury. What have you already injured?
I've broken my shoulder and had a load of other minor injuries that should have only hurt for a couple of weeks but actually hurt for six months. That's part and parcel of it all. But I can still get out of bed in the morning!

When did you turn professional?
When I left school, I was 19. I had had a really good year, the sponsors were approaching me and I suddenly turned pro.

"Suddenly behave like rockstars"
How long can you earn money in this profession?
As long as your heart is still in it. Your body doesn't really come in to it because you can always train a bit more and eat a bit more healthily. Many people end up with mental problems after a while because we always have to take risks. There is a BMX rider who is over 40 and is currently mixing with the mountain biking scene – simply because his heart is still in it.

And how much can you earn?
Not loads, but it's enough. In this sport, we're all driven by passion, and it's an art to maintain that passion. Something changes as soon as money and sponsors come into it. Some riders start to think about their results and sponsorship commitments too much and get nervous. Some suddenly start behaving like rockstars. But you can't fully concentrate on your sport when you're playing a role. And lining up at the start isn't worth it if you're injured and covered in thick bandages – even if your sponsors are putting a lot of pressure on you. After all, we're normal people, not machines.