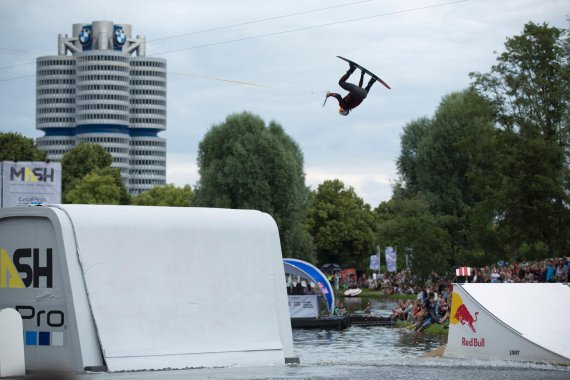 In an interview with ISPO.COM, he explains why he now prefers being on a wakeboard and why he is already thinking about his career coming to an end at the age of 26.
ISPO.COM: Mr Gührs, you started wakeboarding by accident. When you were ten years old, you wanted to buy a skateboard but the salesperson talked you in to buying a wakeboard. You're now a two-time World Champion and three-time European Champion – have you subsequently kissed the salesperson's feet?
Dominik Gührs: I went back to the shop at one point, but the salesperson no longer worked there. It was fantastic at the time. He showed me a wakeboard and said: "Hey, why don't you try this? It's only just come in. It's much cooler than a skateboard."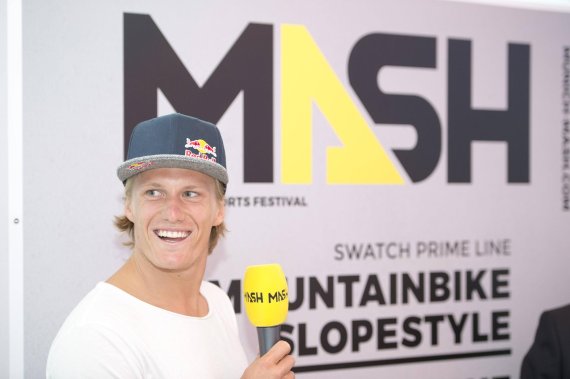 But they weren't wakeboarders?
They've tried it and could do it straight away, but decided it wasn't for them.

"Munich? The most beautiful city in the world"
What do you think of the facilities at the Olympic Lake?
It's amazing that there was a Big Air event at the Munich Mash in Munich! But the kicker could have been a touch taller. That means you can fly even higher. It's more of a step-up kicker.

That means that you don't have much time to show off your tricks in the air.
Exactly. But we all have to manage; the conditions are the same for everyone.
Your competition season runs from April to December, and you've also got video and photo shoots. How often are you at home?
I'm travelling for seven months of the year, but I really do think Munich is the most beautiful place. Every time I come back, I think: "It's amazing, I'm home at last!" I've been to so many places, but Munich is still the most beautiful city in the world in my eyes. You can just chill here.
Gührs also takes a break sometimes.
What's your favorite wakeboarding location?
I like going to the Thai Wake Park in Bangkok in winter and there are three cool facilities on Phuket – Thailand's just mega in general! I can just go to the island to relax for a few days.

Do you ever take a complete break from your board?
Yes, for two months. I only do fitness work during this time – and look after my joints.

Your sport isn't the best for your body, is it?
You can really slap down hard, and not on a steep bit like on this ramp – you're more likely to be landing on a flat bit. That is hard on your knees and back. But you get used to it.

Wakeboarding – not so harmless
You had it bad in 2003: a basal skull fracture.
Somebody rode over me. He thought that he could get passed me on a bend, but the wind pushed in my direction. We didn't wear helmets at the time because there were still no kickers.

Any other injuries?
A broken metacarpal bone and a few small things. Once when I fell, my foot was forced forwards in my binding, dislocating all my toes and rupturing my blood vessels. It took three months to recover from that one.

You've already mentioned video and photo shoots. Will they become increasingly important in this Go-Pro age?
Yes, absolutely. There only used to be competitions. But now it's really important to release great films and photos. You can just reach so many people via the internet.

But it's still good fun, isn't it?
Definitely! If I fall over when we're filming, I can simply do the trick again. Everything has to be perfect when I'm competing, and sometimes it just doesn't happen.

You work in some of the most beautiful locations in the world. Where have you been?
Florida, Thailand, Bali, Antalya in Turkey.

Read here why wakeboarding star Daniel Grant criticizes sponsors.
And now Munich! Is it a shame that the X Games don't come here any more?
It doesn't matter in the end because we've got the Munich Mash. I think it's great that Munich is a city where extreme sports are alive and live by the following motto: "If we haven't got the X Games any more, we'll do our own thing." The world's best athletes line up at the start line at Munich Mash. So it's not much different from the X Games.
Are the Olympics something that's discussed among wakeboarders?
There was supposed to be a demo competition in 2020, but that's not happening now. Of course, it would be nice.

That could be cutting it a bit fine for you.
I'm 26 and you tend to retire in your mid 30s.

"Monkey see, monkey do"

Do you have a favorite trick?
I like double somersaults. I've planned to do it here but I've not yet given it a go in training. It could be a bit tight but I'll certainly try.
How many tricks have you got up your sleeve in total?
Close to one hundred.

But at some point you'll have done every trick, won't you?
No, not at all. You often think that there's no more, but somehow you find a way. A rider comes and does a stray move and we all think: "I want to do that too!" I call that "monkey see, monkey do". It's never-ending. I'm excited to see where wakeboarding is in 20 years.

Do you often have to explain your job?
The sport is still in its infancy. It's growing but there is still a lot more to give. Many people ask me: "Wakeboarding? Is that the thing with a kite?" No, that's kitesurfing.

Have you got a skateboard now?
Yes, but I can't do it at all.

Really?!
Snowboarding and wakeboarding are really similar, but I can't do any kind of sport where I'm not fixed to the board. I probably just need to practice more. But I don't feel like it.