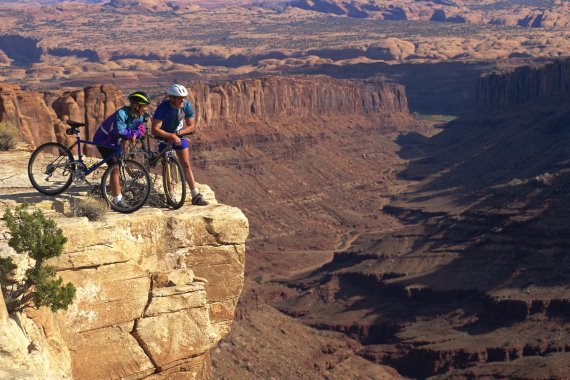 Whether stony mountain trails, dusty gravel roads or fast-paced downhill action - no terrain is too difficult for mountain bikers. As early as the 1970s, resourceful bike freaks in California tinkered with their bikes until they worked off the beaten track. A cult was born: To this day, the bike with the wide tires is a real blockbuster and enjoys great popularity among die-hard bikers and hobby cyclists alike. The clunky "cruisers" of the seventies gradually evolved into the ultra-light carbon bikes of today - suspension fork, gears, disc brake: the mountain bikes of today are technological wonders with which riding fun is guaranteed. But what is actually so special about mountain bikes? 10 reasons that speak for the off-road bike.
Sport provides a better quality of life. Mountain biking shows one of its greatest strengths in this aspect - fresh air is good for you and the physical activity contributes to better health. The focus here is not necessarily on physical health or staying fit, mental health also plays a role.
Mountain biking is not just for adrenaline junkies, but for everyone who likes to enjoy freedom and let off steam outdoors while cycling.
Hours of cycling on asphalt roads - boredom quickly sets in. It is more exciting and, above all, more varied to venture into unexplored terrain on a mountain bike. Whether in the mountains, forest or desert, off the beaten track the mountain bike can really show what it can do. Instead of monotonous continuous cycling, here it's along tight curves and steep descents over hill and dale. In addition to lots of fun and action, you'll also get to places in nature that you might otherwise never get to see.
Riding through the countryside has another advantage: the constant alternation between intense exertion and relaxed phases is ideal for metabolism, fat burning and fitness - the perfect workout. Researchers now agree: long-lasting, uniform endurance workouts are not the best way to lose excess pounds and increase fitness. However, the varied ride through the terrain is more like high-intensity interval training in terms of load and, unlike normal cycling on the road, is well suited to losing a few pounds and doing something good for your health.
Coordination, balance and reaction are also extremely demanding off-road. If you're going to race at high speed over rough terrain, dodge trees and jump over sudden roots, you need to have your body under control. So in addition to the positive effects for fitness and health, there is also balance and reflex training.
Disc brakes, 24-speed gears, suspension forks, carbon frames - for a long time now, the off-road bike has been more than just a simple wire bike with tires, frame and pedals. The latest bikes are high-tech devices, with suppliers constantly trying to outdo each other with technical innovations. For technology enthusiasts and tinkerers, these are paradisiacal conditions. When the market is booming, the supply is also huge - so anyone who enjoys screwing things together has long since ceased to be reliant on factory-produced models and can put together their own individual bike.
Bunny hops, drops or backflips - these peculiar terms are just a tiny excerpt from the bag of tricks that the mountain bike opens up. Unlike the road bike, the off-road bike is a recognized piece of sports equipment that even has its own discipline at the Olympic Games. No other type of bike offers such a wide variety of tricks and still gets you from A to B in relative comfort.
Admittedly, a new mountain bike is not cheap. Good bikes that do not show the first signs of weakness after a few kilometers are available from around 500 euros. If you now add the helmet, which should be mandatory, and possibly gloves and knee pads, you're looking at around 600 to 650 euros. Not exactly little, many will think. However, if you take care of your bike and know a few basics, you can use it for years without any restrictions and without having to plan for further expenses. In comparison, a gym membership costs around 400 to 500 euros after just one year.
Whether adrenaline-charged mountain bike pro or aged newcomer - mountain biking is suitable for all ages and performance levels. Especially in case of knee or hip complaints, cycling after different intensities even has a positive effect. The joints are spared and the musculature is built up. In addition, cycling is child's play to learn.
Unlike some other sports, mountain biking has another advantage: complete autonomy. What could be better than arranging a date with a few good friends and starting a joint ride through the terrain? Route, intensity, breaks - all this is determined completely independently. And if you don't feel like doing anything, a solitary tour is often an excellent pick-me-up.
The transport problem of the bike is now actually no longer one. Today's mountain bikes are compact and ultra-light, around ten kilograms is the guideline. In most cases, they can also be attached to the car in just a few steps.
In addition to its diversity and excellent handling characteristics, the mountain bike also impresses with another point: its appearance. A bulky frame, 26-inch tires with a fat tread and lots of technology on the handlebars - the look of the off-road bike is quite something. And at the latest when you hear the hum of the extra-wide tires on the asphalt, you know which bike variant you should choose.
Mountain bikes make your bike tours more flexible, you enjoy freedom and do something good for your health. The ten reasons from this article speak a clear language: mountain bikes are worth it!
Finally, we answer the most frequently asked questions about mountain bikes.
An entry-level bike with the appropriate equipment is already available from 500 to 700 €. A higher investment from € 1,000 is worthwhile, because a mountain bike is a one-time purchase and should meet quality standards.
For tires with inner tube, approx. 2.4 bar are ideal for the front and rear tire. For tubeless tires, 2.0 to 2.2 bar is sufficient.