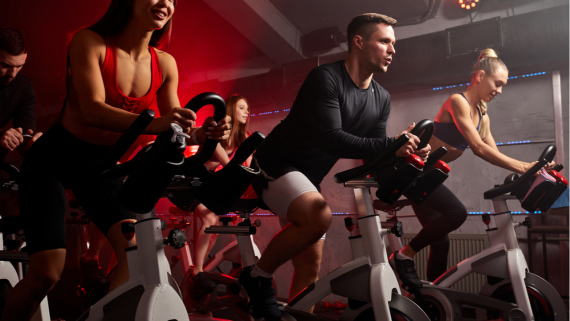 Spinning is on the rise. Millions of enthusiastic stand-up cyclists flock to fitness studios around the world every day to pedal hard. And not without reason: Spinning is not only a great way to pedal off unloved pounds and increase your fitness, it is also an excellent way to strengthen your heart health on an indoor bike.
Last but not least, training together to music is a lot of fun and helps to reduce stress. With around 200,000 certified spinning instructors and over 30,000 licensed spinning studios in 80 countries, the choice is huge - but how do you actually recognise a good spinning class?
Choosing the right spinning class starts with the intake interview. Before getting into the saddle, a detailed medical history and a well-founded performance check should be carried out - either by the studio staff or, even better, by the instructor himself.
Training condition, previous sporting experience, health complaints - all these points play a significant role in the subsequent training and should not be neglected for the sake of health. Only a coach who knows the individual condition of his course participants can also make the training efficient and low-risk.
Be honest with yourself when taking a medical history! Even minor males can be of importance.
How group members interact with each other is a telling indicator of the quality of the spinning class. Although everyone sits on their own bike when cycling indoors, the group dynamic plays a significant role in spinning. In combination with the music, the training with each other provides the necessary motivation boost. Those who feel well taken care of will stay on the ball for a long time. A friendly welcome, lively conversations between the participants and a dedicated coach indicate a lively exchange and thus also a good workout.
After the approximately ten-minute warm-up, a good instructor will design the training to be multi-layered and varied. So no one has to be afraid of monotonous kicking units. In addition, the coaches get the participants through the intensive phases with humour and motivating commands. Many a recreational athlete has been surprised at how quickly the training has gone by.
Done, the first spinning workout is over. If you now sit down on the bench in the changing room, feeling exhausted and thinking about pretty much nothing at all, you've probably done everything right. Paleness, nausea or heart palpitations even some time after the workout, on the other hand, indicate an overload - in this case, talk to the instructor.
You have been doing something for your fitness and health for a few weeks now and go to spinning regularly? Then you should not only notice a visual change, but also an increased performance in everyday life.
Of course, you shouldn't expect miracles - for a flat stomach and crisp thighs it takes a few months of training, depending on your initial condition. However, if you don't notice any difference when climbing stairs or carrying water boxes compared to earlier days, you should bring this up in the gym.