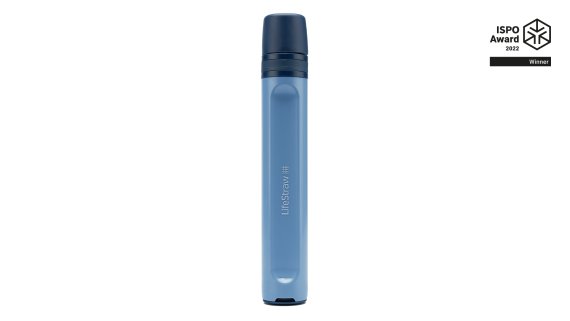 LifeStraw Personal Straw is a water filter designed as a straw with which you can extract drinking water from different water sources on the way. This saves you from having to carry a drinking bottle or another water storage system. The integrated membrane microfilter guarantees clean water quality for up to 4,000 liters of water that meets the "US EPA & NSF P231" standards. The product is made of BPA-free and leak-proof plastic. With a weight of 65 grams and a length of only 19.5 cm, the Personal Straw fits into most bags and pockets.
The straw is versatile, as the filter itself can also be integrated into any other water bottle or other LifeStraw Peak Gravity System. "Our goal was to check off every box with the Peak Series – versatility, durability, performance, and sustainability. Our engineering team really played with different densities and configurations to get something that was super optimal for performance in the backcountry against sand and silt and for flow rate, while trying to keep it as small and packable as possible. Sometimes air can get trapped in the membrane filtration systems, which can be mistaken for debris clogging the filter. So the Peak membrane system vents air out to keep flow rate strong.", explains Tara Lundy, Chief Brand Office LifeStraw.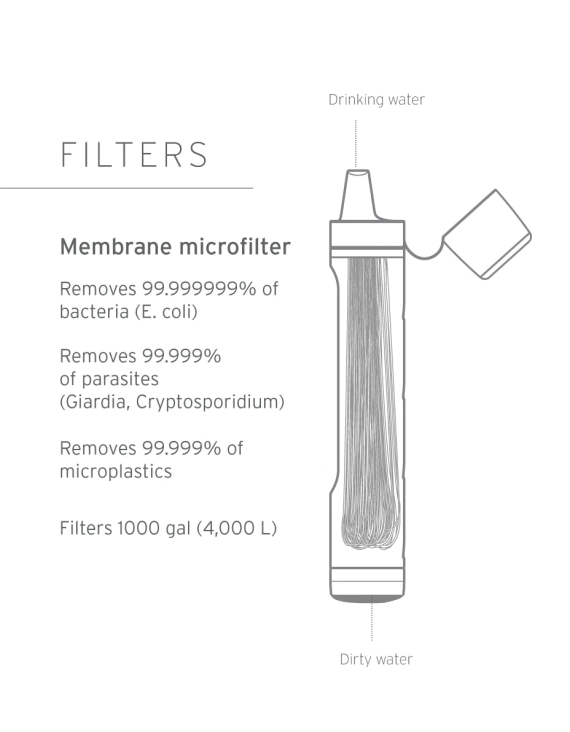 Easy, location-independent access to clean water without the need of carrying a bottle

cleans 99.99% of all bacteria, parasites and microplastic particles

ultra light and versatile –  can also be attached to water bottles and to standard gravity hoses.

made from high performance premium sustainable materials

no extra parts to keep track of

enhanced flow rate for easy sipping
"Drinking enough out and about without lugging around liters of water - LifeStraw's concept is, of course, instantly convincing. The Peak Personal Filter is lightweight and easy to use, whether you drink straight from a stream or screw it onto a standard bottle. Bonus is the good conscience that with each filter bought you're giving someone else access to safe drinking water, too."
Dr. Martina Wengenmeier, ISPO Award 2022 Jury Member & Editor ISPO.com
"All LifeStraw products are based on hollow fiber membrane technology. The membrane can be imagined as a bundle of straws with microscopic holes. They are so small that organisms such as bacteria, parasites and even dirt and microplastics cannot get through. Our filter is almost a state-of-the-art tea strainer," explains Tara Lundy.
To clean the water of chemicals and taste residues, LifeStraw uses a combination of various additional filter technologies. These technologies are regularly tested by independent laboratories and the company's own ISO-certified laboratory for their effectiveness in removing bacterial and protozoa in drinking water. This ensures that all LifeStraw filter systems comply with the quality and transparency protocols established by the US Environmental Protection Agency (EPO) and NSF International/ANSI. An important test criterion is the pore size of the microfilters membrane of 0.2 microns and compliance with the NSF/ANSI P231 standard to reduce 99.99% of all bacteria and parasites.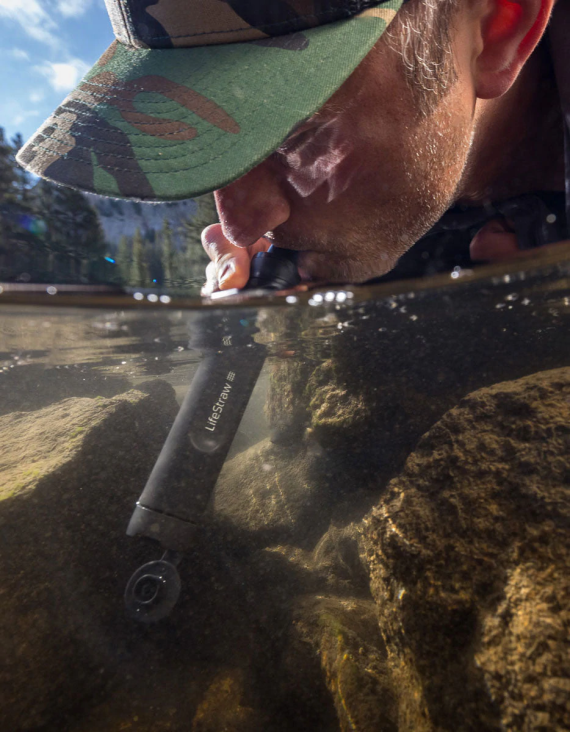 "For each LifeStraw product sold, a child in need gets access to clean water for one year. In addition, we have been a partner in the fight against the Guinea worm disease for 25 years and actively support those affected by emergencies and natural disasters with our products, which lead to water shortages all over the world."
Tara Lundy, Chief Brand Officer LifeStraw
Technical data
Dimensions: 3.2 x 19.5 cm
Weight: 65 g
Ingredients: BPA-free, FDA-tested, high quality materials
Filter Capacity: 4,000 l
Quality assurance: Meets US EPA and NSF P231 drinking water standards for the removal of bacteria and parasite