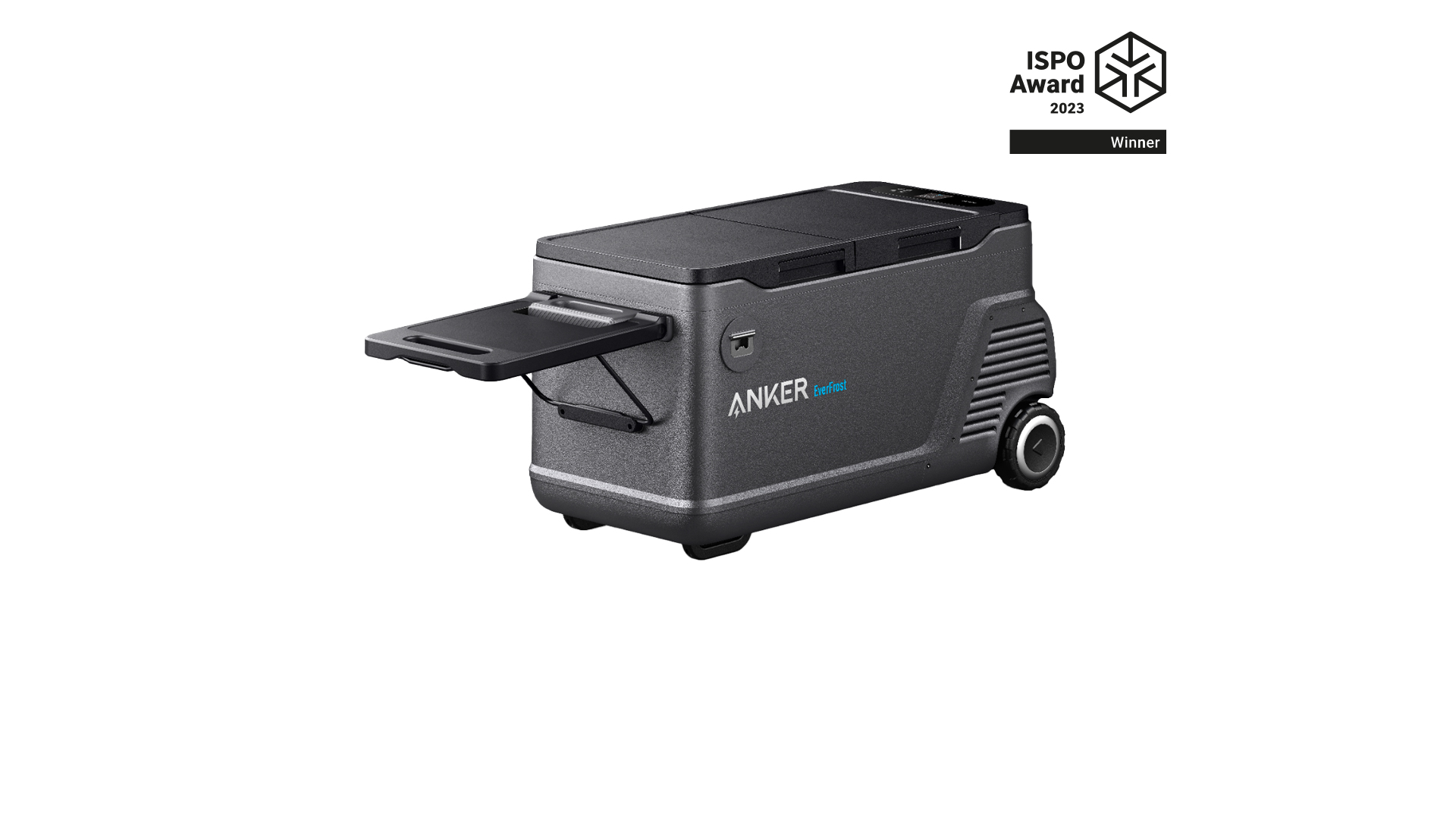 The EverFrost Powered Cooler by Chinese manufacturer Anker is a high-performance cooler designed to keep perishables fresh for longer periods of time when you're out in nature, making it perfect for outdoor enthusiasts, campers, picnickers, and anyone who loves to travel. The jury of the ISPO Awards 2023 rewarded the innovation with the coveted accolade in the second award round of the year.
The judges pointed out that this cooler is built to last, with a durable design that can withstand even the toughest outdoor conditions. It features an advanced cooling system that uses a powerful compressor to quickly and efficiently cool beverages and food. With a temperature range of -20 °C to 20 °C, the EverFrost Powered Cooler keeps them at the perfect temperature no matter what the weather is like.
One of the standout features of the EverFrost Powered Cooler is its battery life. The cooler is equipped with a high-capacity lithium-ion battery that can keep it running up to 42 hours when setting it at 4 °C with an ambient temperature of 25 °C. Its 100W solar input allows for convenient, lightweight, and eco-friendly outdoor charging. This makes it perfect for weekend camping trips or other outdoor adventures where access to electricity may be limited. Plus, the cooler also can also be used as transportation for special medicine that need to keep cool for a long time when users are far from civilization.
The cooler also has a number of convenient features that make it easy to use. It features a digital display that allows users to monitor the temperature of the cooler and adjust it as needed. It also has built-in USB ports that allow them to charge their phones, laptops, tablets, or other devices on the go. The spacious interior can hold up to 32 330-ml bottles or cans of your favorite beverage or a combination of food and drinks. It also has a removable basket that makes it easy to organize the items and keep them from getting crushed or damaged.
In terms of portability, Anker's EverFrost Powered Cooler is easy to transport thanks to its sturdy, suitcase-style handles and lightweight design. It also has four durable wheels that make it easy to move around even on rough terrain. An extended tabletop is designed to put everything you want and to enhance the outdoor camping experience.
Another advantage of the cooler is connectivity. Users can control it from near and far away with the Anker mobile app. The app remotely controls the temperature, battery power status, and the voltage protection level, and also allows users to turn the power of the cooler on or off.  
Overall, the ISPO Awards jury found that the Anker EverFrost Powered Cooler is a smart investment for anyone who enjoys spending time outdoors. Its advanced cooling system, long battery life, and convenient features make it an ideal choice for camping, picnics, and more. And with its durable design, the EverFrost Powered Cooler seems to provide reliable performance for years to come.
"This cooler is not only extremely robust and durable, its big battery capacity and the option of using it as a charger for electronic devices are also very convenient."
ISPO Award Jury
"Our Powered Cooler is designed as a high efficiency refrigerator compressor with solar panel features to be on the go independently and environment friendly. The insulation layer has improved insulation efficiency to keep your drinks and food cold or even frozen and the foldable table helps to carry the EverFrost around. We at Anker worked hard on the development of the combination of best design and portable solutions."
Nikita Weng, Industrial Designer der Anker EverFrost Akku-Kühlbox
Running time up to 42 hours

Versatile app control

Full charging in 4 hours, solar charging possible

Dual zone cooling

6-inch wheels and suitcase-style handle for easy transport
Key data:
2x USB-A and 1x USB-C ports

Sizes: 33L, 43L, 53L

RRP: € 999.00 (53L)