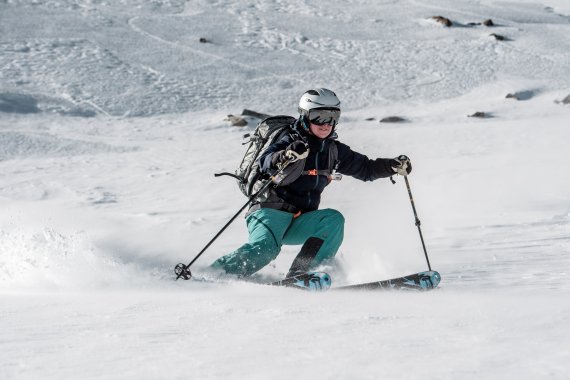 Eva Walkner, 38, has been big in the freeride scene for a long time. She's a two-time world champion on the Freeride World Tour (FWT) – and she loves the nature powder action off the prepared slopes. However, the proper risk management, detailed avalanche awareness, and of course the appropriate gear also goes with that. An avalanche backpack "is in my opinion, like for so many others, obligatory nowadays."
Eva Walkner has already experienced so much in her career as an athlete. First of all, she was a racer in the Austrian Ski Association, running World Cup races, but several injuries forced her to give up. She retrained – as a sports journalist. During this time, she discovered freeriding. She quickly rose to international heights and has been riding with the Freeride World Tour since 2010. In 2015 and 2016, Walkner won the world championship title. In total, she has stood on the FWT podium 17 times.
In an interview with ISPO.com, the ABS team rider explains which four items of equipment she always has with her when freeriding, how the avalanche backpack saved her freeriding colleagues' lives, and why the ABS-P.Ride system makes her feel safer when freeriding.
Which equipment do you always have on you for freeriding and ski tours?
Eva Walkner: When freeriding, you should always take the standard gear with you. That is:
Shovel

Sensor

LVS device

and ABS backpack.
The avalanche backpack for me, as well as for many other riders, is part of the standard gear nowadays. Then you can pack a first aid kit and a bivouac bag in, of course. I also always have a thick, but very small Primaloft or down jacket with me.
Should anybody get injured, I can donate a bit of warmth and we can make sure, for example, that the injured person doesn't freeze. A helmet and back protector are equally mandatory for me.
You say the avalanche backpack is crucial for you. Why are you so convinced of that?
I take a backpack with me when I go into the countryside anyway. Why should I take a normal backpack? The avalanche backpack only weighs a little bit more and, when I think of the worst-case scenario, I can reduce the risk of an accident with the avalanche backpack.
Of course it doesn't guarantee that nothing will happen. I don't say, "I have an avalanche backpack so I'm riding this slope. Without ABS I wouldn't ride it." That wouldn't be the right attitude.
But if I do decide to ride a slope, and something should actually happen, then I have a better chance of surviving with the ABS. Every freerider has to act responsibly and constantly undergo training. An avalanche backpack shouldn't change anything mentally; you shouldn't feel more capable as a result. The ABS is, however, another risk minimization.
Have you triggered your ABS before?
I've only tested it out up to now. Thank God, nothing's happened to me. Every freerider should aim to never have to release their ABS system. Therefore, every freerider or ski tourer should place great value on basic training and further training. During the test, it was actually really easy. You pull and the twin bags inflate right away.
It's definitely great if everyone can do a test, for example, shortly before the season. Then everyone knows how it feels, how hard I need to pull on the handle. We're always offering that at test events. The material can be my lifesaver, so it's very important to come to grips with the avalanche backpack and, of course, the rest of the safety gear.
ABS now has the P.Ride system. That means someone's partner can even release the avalanche airbag. This innovation has been developed because studies have shown that 20 percent of airbags were not released in avalanche accidents...
It's a fantastic innovation from ABS. A lot of guides now use the system, which means I, as a guide, can release the ABS from above or below. That's really cool in my opinion. During filming this year, I use the P.Ride, since there's a bit more of a risk when filming. I had a guide with me there, who 'could' have pulled it for me.
That's somewhat of a reassuring feeling, when I know that someone is standing above, for example, who will pull the chord for me if I really can't reach the release handle myself.
The aim should, of course, be to get all riders using the P.Ride system, then anyone can release anyone else's airbag.
Last year your close friend, freerider Matilda Rapaport, and snowboarder and freeride world champion Estelle Balet both died in an avalanche accident. Do you think they both would have survived with the P.Ride system?
For Estelle, being buried wasn't the problem, but instead falling through a ditch. With Matilda, I only know that it took an extremely long time before anybody found her. I've been told too many stories and versions here, it would just be speculation now.
But looking back on the ABS system, there are a really large number of positive stories where you can say: If they weren't wearing the ABS, it would have ended completely differently.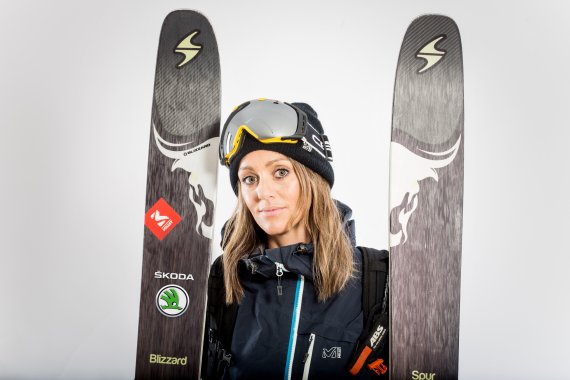 Which stories can you think of there?
There's the former freeride world champion Elyse Saugstad, for example, who was caught up in a big avalanche while freeriding in the USA. She says, "I owe my life to the ABS avalanche airbag." The pro-snowboarders Géraldine Fasnacht and Xavier de Le Rue also say that the ABS avalanche airbag saved their lives.
In an interview after the accident, Xavier explains that he stayed on the surface of the snow thanks to the ABS system.
A lot has already been done with the P.Ride. How much further will the ABS evolve?
I'd like to see special products for women. There is a difference, of course, between a 6'2" man weighing 198 pounds and a 5'5" woman at 121 pounds carrying the P.Ride. Overall, a lot of improvements have been made in the past few years when it comes to fit and lower weight, and ABS wants to go even further and reduce the weight even more. The new P.Ride Compact is yet another big step forward regarding use and fit.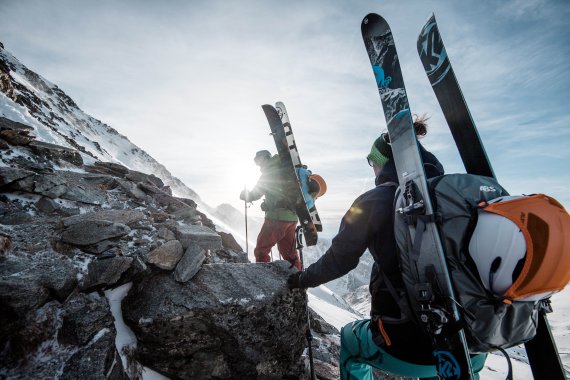 ABS has recently changed owners, the brand will also evolve outside of the area of avalanche airbags...
...Yeah, a lot of ideas have been concocted and developed there. It always sounds crazy exciting when I talk with those responsible at ABS. It would be great, for example, if ABS were also to offer all the rest safety gear. I think there are a lot of clever people there who will come up with a lot of surprises. I'm convinced that a lot is yet to happen and the opportunities are still far from exploited.