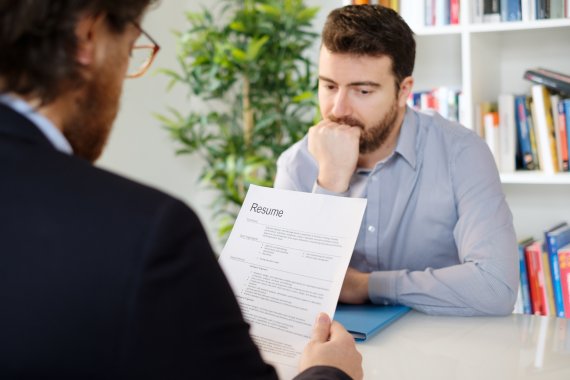 It's quite clear: In the sports business, an application can be "unusual" – those who come across casually instead of stuffy often have better chances. Ultimately, creative minds with a sense for brand spirit and a connection to customers' cool lifestyles are usually sought after.
But be careful! An application that's too flippant will quickly overstate your case – and end up in the recycle bin. Or the applicant will forget important basics because of all the coolness, without which they have no chance. The ISPO Job Market shows the five biggest no-goes for applications in the sports business. A compilation from the everyday life of staffing specialists.
What does a human resources manager look at first? The photo. It gives me a first impression of who I'm looking at. In the sports business, these may also be edgy types that get photographed in a T-shirt or with their unkempt beard. But please get a professional photograph done by someone who can do it: a photographer. If you think you can quickly attach a blurry cell phone photo of yourself doing outdoor sports, you're barking up the wrong tree.
Because those kinds of privately taken snapshots have too little depth of field, poor illumination, are over- or underexposed. Also fatal are "disguises" masked by sunglasses or a helmet. All this signals to the recipient: If you don't bother with your own application photo, you won't really work professionally in your job either.
For resumes, the trend is headed towards creative design: The text runs across the sheet in two columns; icons represent individual skills; arrows, colors, and unusual fonts turn the dry profile into a work of art. Especially those applying to the big sports brands like Adidas, Puma, Nike, etc. think they have to stand out from the crowd of applicants with a creative resume. That's partly true.
Then again: The more colorful and playful the application, the greater the risk that basic information gets lost in it. That's why creative CVs without clarity are an absolute no-go! The reason: First of all, it's not the Head of Marketing or Product Development looking at it, but a Human Resources employee. They want to know quickly how old an applicant is, whether you've completed your studies, and whether you have a good grasp of English. Nobody has time for a laborious search – instead, the application will find its way into the refusal pile.
Actually a matter of course – but again and again, applicants forget to mention their sports hobbies in their resumes. Either because they mistakenly think the "Hobbies/Interests" section is unnecessary, or because they've already mentioned their enthusiasm for sports in their cover letter and believe they don't have to "pile it on" in their resume as well. Wrong!
Personnel managers like to get an idea of your personality, and hobbies are an important point of reference. Your resume is often the first place they check to see whether you fit all the basic requirements – and only then will they read your cover letter. In any case, the absence of a sports hobby in the sports industry regularly leads to elimination from the application procedure.
Sounds bizarre, but because the motto "We'll take every highly motivated, creative mind" prevails in times of a shortage of skilled workers, it's becoming more and more common in the sports business: unsolicited applications without a clear indication of the desired field of work. For example, "I studied history, am enthusiastic about sports, and am open to any assignment because I think your company is great!"
In this case the HR manager is meant to replace the career consultant or, on the off chance, suggest an open position in warehouse management, which the historian will then indignantly reject. Nobody does this, of course, and accordingly these kinds of all-round applications don't have a chance. Instead, the applicant needs to at least roughly outline their application area – i.e. product development, marketing, or sales.
In many industries, the end consumer only plays a subordinate role – whatever is technically feasible is developed and sold. It's very different in the sports business, where trends and customer emotions play the leading roles. It's therefore extremely important to know the target group in all positions directly related to the products (so everything except for finances, back office, warehousing, etc.): either through similar professional experience to date, market research knowledge from university studies, or your own sports hobbies.
The applicant needs point this out high up in their cover letter, and it should also be mentioned proactively in the interview. Forgetting the target group reference or omitting it as "too unimportant" is a serious mistake, and will most likely lead to a rejection.
We see: Every applicant quickly falls into stumbling blocks. Especially if they put too much stock in superficial knowledge from the Internet. However, the working habits of the often-busy HR staff haven't changed as much as some advisors would have us believe.
Every HR manager still wants a quick overview, wants to know what a candidate is applying for, whether they've dealt with the company and the target group, and whether they practice the sport for which they're meant to later design or market products. If you know this as an applicant and take the no-goes to heart, you'll leave a good third of the (misguided) competition in the dust!
An article by Gunther Schnatmann, personnel consultant (schnatmann media), application coach, and media trainer (topcom academy)