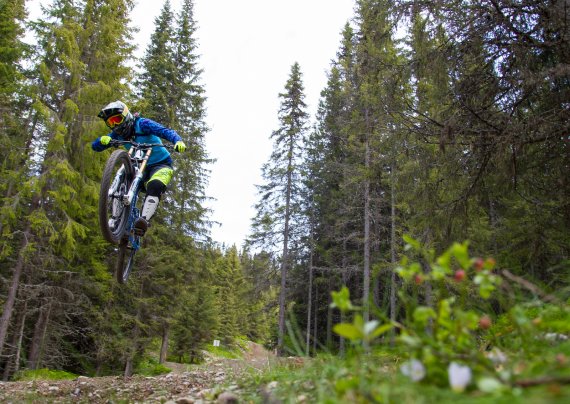 The region is already a freeride mecca for skiers and snowboarders in winter; in summer the bike park becomes a meeting place for downhill and freeride bikers from across Europe. That's no surprise since, with 14 trails, it never gets boring here. On top of that there are all sorts of jumps, trails that run over roots and at the end, a jump with an air mattress to practice on.
Key facts
Where? Mottolino Bike Park (Mottolino SpA)// Via Bondi 473 // 23030 Livigno // Italy

Trails: 14

Gravity Card: no

Opening times: June 9 till September 30, 2018

Lift pass: €38 

Lifts: gondola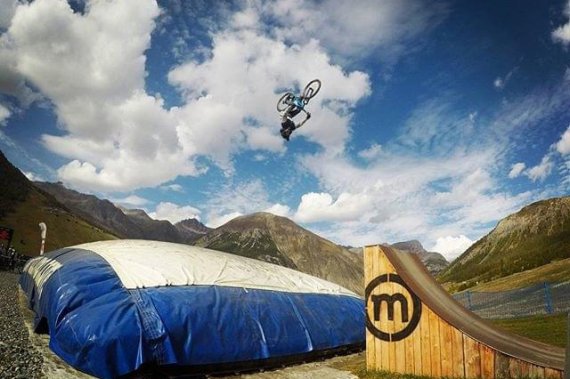 Pila is located in the midst of the beautiful Aosta Valley. If you want to get into the bike park, you first need to get to the hotel village of Pila via gondola. From there you take the chairlift to the park, which might at first seem small with only four trails, but the multiple alternative routes mean it has plenty to offer. Above all, the freeride route from Pila down to Aosta—with a descent of 1,800 meters—is an absolute thrill. The steep turns, nature trail sections and small drops can be addictive...
Key facts
Where? Pila Bike Stadium// Sede legale Fraz. // Pila 16  // Italy

Trails: 4 (plus 3 alternatives)

Gravity Card: no

Opening times: roughly June to mid-September 2018

Lift pass: €22

Lifts: gondola/chairlift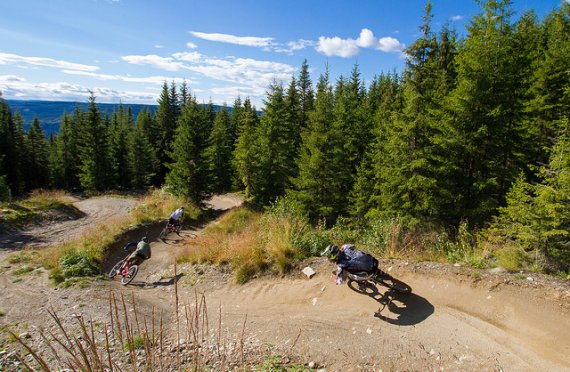 From the summit of Kronplatz there are 1,300 meters on the Herrnsteig trail to grapple with. That offers plenty of flow and loads of fun. You will still need to be an experienced trail rider, though, since the flow-inducing sections are followed by more demanding sections. AND: If you want to master Herrnsteig, you need to be in top condition – after all, it includes a five-mile descent! For beginners there's the Gassl Trail, which snakes along the east slope to the midway station of chairlifts Olang 1 and 2. New for 2018: Franz and Hans, two flow trails for advanced riders.
Key facts
Where? Kronplatz 2000 // Bruneck // South Tyrol

Trails: 6

Gravity Card: no

Opening times: generally from June 2 to October 14, 2018 (with restrictions: see updates on the home page)

Additional information: Messner Mountain Museum

Lift pass: €32

Lifts: gondola
Want to mountain bike the same way you freeride on a ski slope? No problem—the Chatel Bike Park is one of the biggest of its kind in all of Europe. Accordingly, you will be greeted by many downhill pros at the lift station – which helps explain the many extremely well-shaped lines of the park. But the really exciting part is the fact that there are two additional bike parks next to Chatel that you can also use. The lifts take you to Morzine and Les Gets too, both worthwhile parks—especially if you're planning a longer stay—that provide enormous amounts of variety.
Key facts
Where? Chatel Bike Park // Rue de Maison Chatellane 281 // Thonon/74390 Chatel/ France

Trails: approx. 21

Gravity Card: no

Opening times: generally from June 20 to September 2, 2018

Additional information: Connection to the Les Gets and Morzine regions

Lift pass: €27.50 (Portes du Soleil)

Lifts: Chairlift (Chatel) as well as gondolas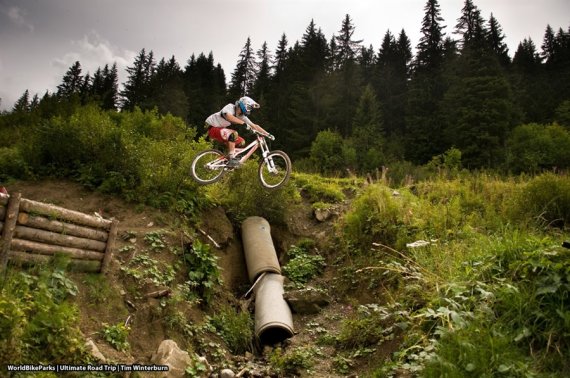 The Bike Park in Hafjell is described as Europe's answer to Canada's famous Whistler Mountain. Why is that? Because lots of World Cup racers train here, for one thing, and because there are also great trails for your average bike rider, for another. In particular, the Rollercoaster 8 – easily the best-known trail there – features countless doubles and other obstacles and is packed with an incredible fifty types of jumps.
Key facts
Where? Havjell Bike Park// Hundervegen 122 // Oyer Norge // Norway

Trails: 5

Gravity Card: members

Opening times: June to the beginning of October (partly restricted)

Lift pass: €75

Lifts: gondola/chairlift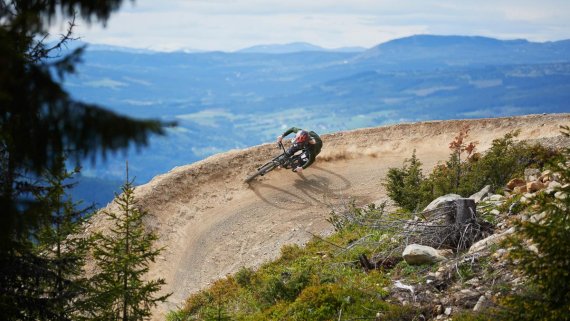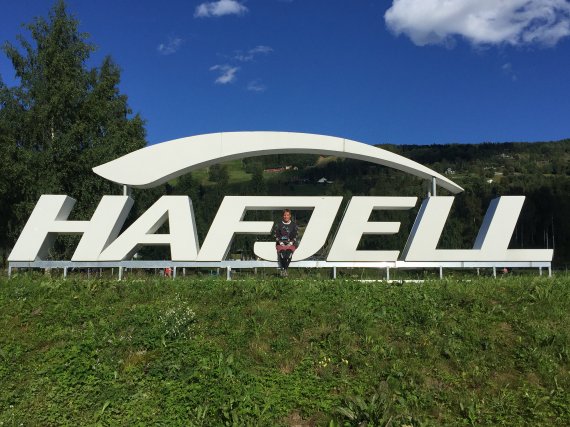 What Chatel Bike Park is for Europe, Åre in Sweden is on an international level. It is generally acknowledged that Scandinavia is ahead of the pack as regards bike parks. The trails are well-maintained, lovingly shaped, offer extraordinary variety and also feature scenery with serious wow factor. This is certainly the case in Åre, where breathtaking views and landscapes are found in the three different sections —the tracks over rock slabs and the quick single tracks higher up, the bike park trails in the lower mountain stage and the classic downhill trails from halfway up. The trails can get really challenging, especially the higher ones, when it gets too wet, which can happen very quickly in Sweden.
Key facts
Where? Are Bike Park// Kabinbanevägen 17 // 83752 Are // Sweden

Trails: approx. 34

Gravity Card: no

Lift pass: 140 Swedish krona

Opening times: June 21 to October 7 (restricted)

Lifts: chairlift, gondola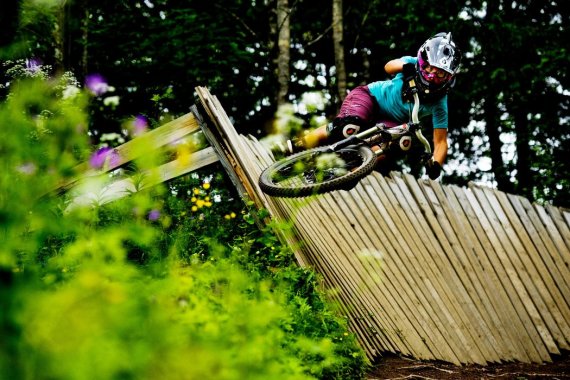 Even the approach is an adventure here, since La Fenasosa is situated somewhat remotely but is still located near Alicante in Valencia. You ascend on a cross-country track to a fairytale château. There are no lifts here—bikes and riders are taken together to the start of the trail in military trucks. There is then a selection of approximately ten downhill trails, which are suited more for experienced riders than beginners. An advantage: The bike park is open all year on weekends. Groups of ten and more can also use the shuttle during the week.
Key facts
Where? La Fenasosa // Sierra de Mariola // Alicante // Spain

Trails: approx. 10

Gravity Card: no

Opening times: All year on weekends & by arrangement

Prices: €16, plus €15 euro shuttle fee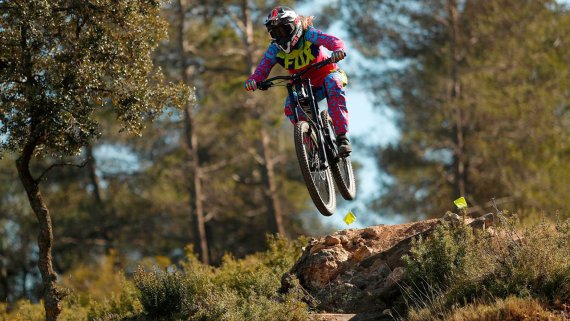 When you visit the Czech Republic, be sure to make a detour to the Bike Park Spicak. It truly offers something for every taste with North Shore trails, freeride trails and downhill fun, plus a skill center and single tracks for beginners. The trails lead partly through woodland and partly down slopes. Each one of them is filled with wooden obstacles and other special features.
Key facts
Where? Spicak Bike Park // Zelezna Ruda 04 // 182 Spicak // Czech Republic

Trails: approx. 4

Gravity Card: members

Opening times: June 2 to October 28, 2018

Lift pass: €26

Lifts: Chairlift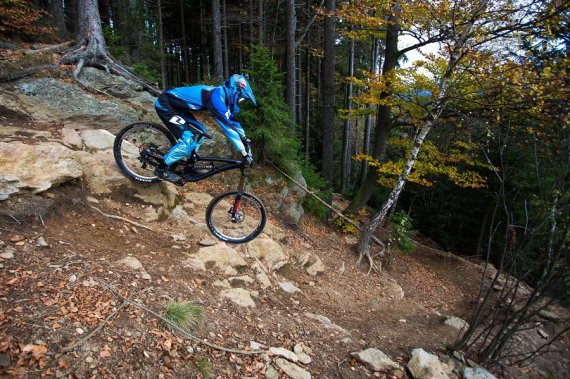 Kasina Bike Park is relatively new, having opened in 2017 in Poland. It is well worth a visit, however, since it is the biggest park in Poland. There are currently nine trails available with varying difficulty levels.
Key facts
Where? Kasina Bike Park//

Kasina Wielka 672 // 34-741 Mszana Dolna // Poland

Trails: 9

Gravity Card: no

Opening times: roughly April to October

Lift pass: 89 zloty (€19)

Lifts: Chairlift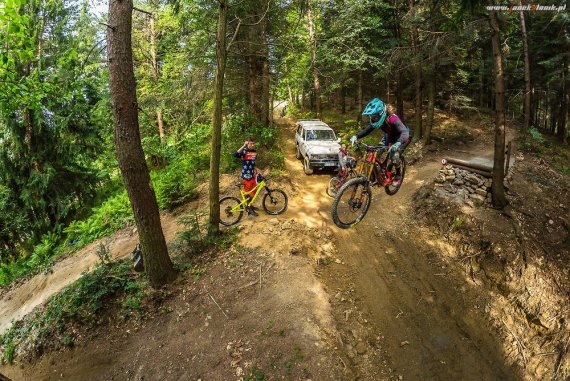 The Bike Park Ponte de Lima is located in North Portugal, in the middle of the fantastic scenery of the Serra D'Arga. There is a selection of cross country, downhill and enduro trails for beginners and more advanced riders. The founders of the park wanted to create a recreation area where you can train, improve and optimize your skills.
Key facts
Where? Ponte de Lima // Concelho de Ponte Lima // Frequesia de Estoraos e Cabracao // Portugal

Trails: 10

Gravity Card: no

Opening times: year-round

Lift pass: approx. €25