Experience eSports in a completely new dimension: with the Electronic Sports Competition - The new world Summit by ISPO Digitize. ES_COM is the new platform for the eSports and gaming community in Munich. 3 days. 5 Areas. 15,000 sqm. And you right in the center!
Show your skill level in the different eSports titles and inform yourself about all innovations in the eSports industry. In our five different areas and our livestream we will bring you closer to the entire spectrum of eSports. And best of all: Take a look over the shoulders of the eSports professionals and get to know your stars. Visit ES_COM as part of the ISPO Digitize Summit, the conference on digitalization in sports business.
When?
July, 5 - 7, 2019
Where?
ICM – Internationales Congress Center München
Messegelände/Am Messesee
81829 München, Germany
On 7.7 the biggest FIFA Offline Tournament with more than 1.000 participants will take place at ES_COM. For the tournament you only need a day ticket for ES_COM for 7.7.2019 and a buddy to play with. FIFA 19 will be played on Playstation 4 - the group phase starts at 10:00 am. Prepare yourself for the big winnings, the three winning teams will leave the hall with a total of 2400€!
Register now!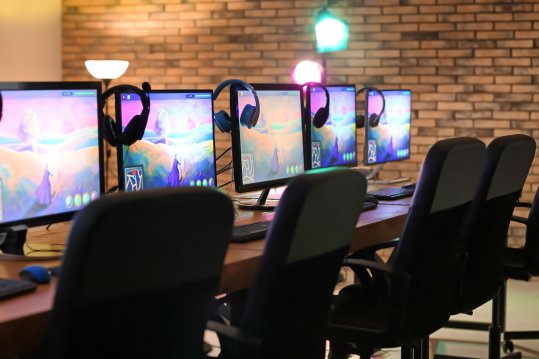 Challenge yourself against other players or look over the shoulders of the pros. The ES_COM offers superlative eSports tournaments - live on stage and in livestream. No matter if you want to participate in the biggest FIFA tournament in the world with more than 1000 players or if you want to compete in SIM Racing, Rocket League or Mario Kart tournaments - ES_COM will show you the whole spectrum of eSports on three days. Try out, play tournaments and simply exchange ideas - we offer you your eSports and gaming experience area on approx. 15,000 sqm.
Build your own game. With professional Roblox coaches you have the chance to build your first own game - alone or with your friends at one of the 50 workstations at ES_COM - without any programming knowledge. With the support of Disney, during the run-up to the film launch of "A Toy Story: Everything stops on no command" on August 15th we call for a GAME JAM competition - Your Toy Story gameplay can also win - Think of a cool gameplay idea with Forky or Ducky and Bunny and then take part in one of our introductory workshops on July 6th (11:00 am - 2:00 pm and 3:30 pm - 6:30 pm) - And build your own game. The workshops will be implemented with the company Roblox and the leading Roblox Educators in Europe, Code Kingdom from London.
How to register
eSports is the sport of the digital generation. From its former niche existence, digital sport has long since developed into a mass phenomenon that is followed daily by millions of viewers via livestream or in sold-out stadiums. For sports professionals and sports companies, entering this promising market is crucial. In dedicated workshops and panel discussions, ES_COM shows you how your company can get a foothold in this exciting industry and brings you closer to all the news and learnings from the industry.
All workshops at ES_COM