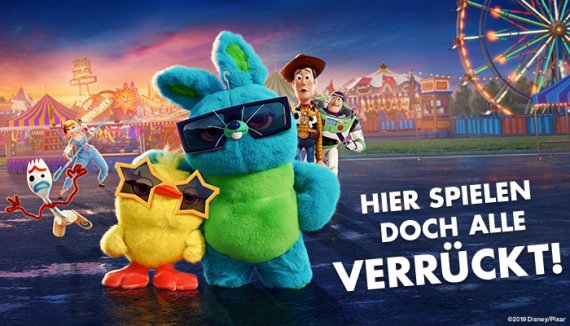 You can send us your gameplay idea under the following link:
This idea should be formulated as clearly as possible in a short text, maximum one DIN A4 page. You are also welcome to use pictures.
It is important that the new figures from the film appear.
With which new character from the movie do you want to build your gameplay?
Here we have Ducky and Bunny - one is small and yellow, the other big and blue-green, both are funny, plush and quite cheeky! And on the other hand Forky, a toy made out of garbage that always wants to throw itself away.
Take a look at the clips and think about how each character can get a leading role in your game.
Then think about which genre you want to serve - Adventure / Jump & Run / Arcade... There is no limit to your imagination. The idea should ideally revolve around the topic "cinema"!
If you are already experienced Roblox Creators, you can of course build your first assets for your game and send them to us with your application.
Now you have to enter your name, how old you are and you can send your application.
The influencers Lara Loft and DoctorBenx now decide with the ES_COM team which ideas - four of them - they find best. If you are among the four winners, you will be invited to Munich. At ES_COM on 06 July 2019 you can work all day with a trainer from Roblox and your influencer on your personal game.
What are you waiting for? Submit your gameplay idea under this link:
We are looking forward to your ideas. We will see you in Munich or at the latest on August 15th at the cinema launch of "Toy Story 4".
For more trailers look here: