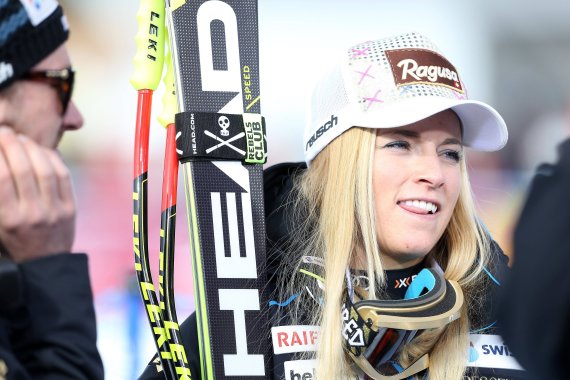 In Switzerland, Lara Gut-Berahmi is in the spotlight not only as an athlete, but also as the female half of perhaps the country's most famous sports couple. In 2018, Lara Gut married the national soccer player Valon Behrami, who is currently playing in Italy.
Accordingly, there was a great deal of coverage in the run-up to the 2020/21 Alpine skiing season when the footballer tested positive for the coronavirus. Lara Gut-Behrami would have been threatened with missing the start of the season if she had been infected, but the all-clear followed.
In the 2020/21 season, Gut-Behrami could confirm her upward trend: Because after the 2018/19 season was the weakest season since her premiere in 2008 (only 21st place in the overall World Cup), things went better again in the winter of 2019/20 with two World Cup victories and seventh place in the overall ranking.
Only during this season she had to miss three weeks due to Covid-19but was fit again in time for the 2022 Olympic Games. In Beijing, she took bronze in the giant slalom and crowned herself gold in the super G.
Successes:
At the 2014 Olympics in Sochi, Gut-Behrami won bronze in the downhill. This was followed in Beijing by Olympic bronze in the giant slalom and gold in the Super G. She won the overall World Cup in the 2015/2016 season, and Gut-Behrami won the small crystal globe for winning the Super G World Cup twice. In addition, she has won eight medals at Alpine Skiing World Championships.
Social:
Instagram: Profile deleted
Facebook: 625,400 followers
Lara Gut-Behrami was also Everybody's Darling on social media. On Instagram alone, over 300,000 fans followed her in 2018. But then Gut-Behrami pulled the plug: In October 2018 - shortly after her wedding to Valon Behrami - the ski racer deleted her Instagram account to focus more on sports and her family.
Nevertheless, Gut-Behrami still has a Facebook account. Almost 625,400 people have subscribed to it. News in the form of posts is usually posted there every few weeks.
Equipment suppliers/sponsors:
Head (ski), Ragusa, Rolex, Leki, Reusch
Earnings:
With around 120,000 euros in prize money, the 2019/2020 season went decently for Lara Gut-Behrami, but far from her best years. Before her serious injury, in the 2016/17 season, for example, she raced to three times as much.
Lara Gut-Behrami has already tried her hand at acting. The feature film "Tutti giù - In Free Fall" is about three teenagers. Gut-Behrami plays the ambitious ski racer Chiara Merz.
Original footage of the 2008 downhill race in St. Moritz was used for the film. Lara Gut-Behrami finished third at the time.
After her long injury, Lara Gut-Behrami also spoke for the first time about the difficult relationship with her father Pauli, who is also her coach. "I lost him and now I've found him again," she said. What she meant by that: that it was good to move out at home. "It's true that my father was almost always by my side as a coach. But just as a coach. I almost lost him as a father." Now that she had spent most of her time as an athlete since the injury with her physical therapists, that changed, she said. "My dad was suddenly just my dad again. I feel even closer to my family than before."