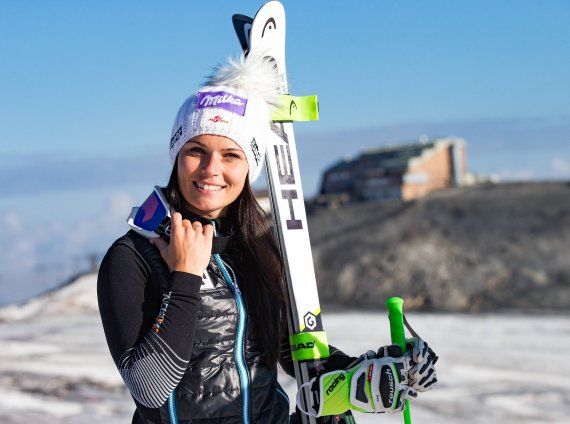 Trouble, crashes, and injuries – Anna Veith has had a tough few years since her sensational 2014 Olympic Games in Sochi. First of all, Veith argued with the Austrian Ski Federation about sponsors and coaches, and even threatened to appear for another national ski federation.
Tempers were calmed after summer 2015 with an agreement between both sides, but soon after followed the next bit of bad news: In October 2015, Veith suffered a cruciate and medial collateral ligament tear and missed the entire season. The comeback in December 2016 was hardly thrilling: Veith could not reach the highs she had before her knee injuries. No surprise: Only a few months after her comeback, she had to undergo another surgery due to a chronically inflamed patella tendon in her left knee.
The 2017/18 season will, therefore, be a fight for Veith: "I'm maybe at 70 percent right now, if that," said Veith two weeks before the start of the season in late October in Sölden. She will only return to the World Cup in December. And so the fight to compete at the Pyeongchang Games will be the most important race of the season for the Sochi Super-G champion.
The all-rounder dominated in previous years: two titles in the overall World Cup, and three small crystal globes. Apart from the slalom, Veith was a mainstay within the world elite of all alpine disciplines.
Achievements:
2014 was Veith's most successful year to date: Olympic gold in the Super-G, silver in the giant slalom. In the same year, Veith also won the overall World Cup and topped the giant slalom leader board. She was also honored as Austrian Sportswoman of the Year.
Veith also won the overall World Cup in the 2014/15 season. To date (before the start of the 2017/18 season), Veith has won fourteen World Cup races.
In alpine skiing world championships Veith won has won three golds, two silvers, and one bronze up to now.
Social:
Instagram: 278,000 followers
Facebook: 648,000 followers
Online, Anna Veith is there for sponsors and fans alike, whether fitness videos for a sponsor or injury updates for the fans.
Veith utilizes her social channels – and also takes part in photoshoots in scenes, like in this post with a cheetah.
lookback to one of my most intense experience - looking for wildlife 🐯 Cheetah Conservation Fund (CCF) #savethecheetah #bewild #beyou

Posted by Anna Veith on Monday, September 11, 2017
Outfitters/sponsors:
Head (skis), Milka, Rauch, Tempur, Audi, Jacques Lemans, Pepe Jeans, TechnoGym, Bolle, Euroweb Group, arx
Income:
Veith was injured for most of last season, yet her yearly income still amounted to 2 million euros thanks to lucrative sponsorship deals.
Athletic achievements plus top image equals Austrian skiing's biggest female earner. Anna Veith is THE advertising figurehead in Austria with multiple sponsors.
In demand online:
She comes from the Austrian mountains but loves the expanse of Africa. Anna Veith feels most comfortable on the continent with its unique flora and fauna.
The alpine star supports the non-profit organization Cheetah Conservation Fund (CCF), which works to preserve the habitat of cheetahs in Africa threatened with extinction. Therefore, she also wears a ski helmet with a cheetah pattern.