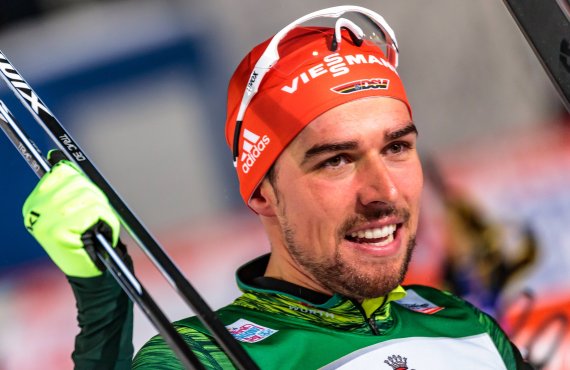 When Nordic combined skiers win Germany's Sports Personality of the Year, something special must have happened. In December 2017, sports journalists elected Johannes Rydzek winner of the prestigious award as a result of sweeping up four world championship titles in four disciplines with incredible competitive spirit at the Nordic Ski World Championships last winter in Lahti, Finland.
The only other people to have won this award as combined skiers are the current co-coach of the national team, Ronny Ackermann, after two titles at the world championships in Oberstdorf, Germany (2005), and Franz Keller (1968) and Georg Thoma (1960), who both won it in the same year as their victories at the Olympics. Which brings us to the Olympics: Johannes Rydzek's big objective is to win at least one Olympic gold medal in South Korea in February.
Rydzek still has unfinished business at the Olympics. In Sochi in 2014, he appeared to be on his way to gold before colliding with teammate Fabian Rießle on the final stretch and ending up leaving empty-handed. "I think everybody in the team has become cleverer since then," says head coach, Hermann Weinbuch. "For Johannes, the important thing is to find the right balance between performance and looseness. I hope he's made progress — he certainly looked like he had at the world championships."
And this winter, Rydzek, the most successful world championship combined skier of all time with six titles, has already won a World Cup.
His secret to success in the difficult combination of ski jumping and cross-country skiing? The lucky charm is a superman T-shirt: in 2015, he won two world championships with this T-shirt under his ski suit. In Lahti, a modified shirt resulted in four world championship titles. "The kids from my ski club thought of something a while back," he says. "The S for Superman was turned into an R for 'Super Rydschi'."
Other factors underlying his success are talent and incredible ambition. "He's learned to forget setbacks. It used to take weeks. Now he doesn't get bogged down in it anymore," says Weinbuch. There's also the security of those close to him. His girlfriend, Lisa, (Rydzek: "I'm taken") and his family, who support him at the world championships, are very important anchors in his life.
Sports have always played a big role for the Rydzek family. Michael, the father of the family, used to play ice hockey. Rydzek's brother, Simon, who is three years younger than him, also used to be a combined skier, and little sister Coletta is a highly-talented cross-country skier. In January, she won bronze in the sprint at the Junior World Ski Championships.
Achievements:
Johannes Rydzek is yet to win an overall World Cup. To date, he has come second twice and third once. He has had a lot more success at Nordic skiing world championships: four golds at Lahti 2017, two golds at Falun 2015. That does not include his five other world championship medals. At the Olympic Games, Rydzek hasn't yet won any individual medals. He won bronze at Vancouver 2010 and silver at Sochi 2014 with the German team.
Social:
Instagram: over 12,000 followers
Facebook: ca. 24,000 likes
Rydzek, who is very attached to his home, loves action even in his leisure time. A fan of Scandinavia, he loves lifting off in a paraglider, and hiking is also a major hobby. Tour skiing is likewise a big passion, and he keeps his growing fan community up-to-date
about it via social media.
Rydzek cannot compete with national and international Alpine ski and biathlon stars when it comes to the number of followers, but among combined skiers, he ranks near the very top. And with his Sports Personality of the Year award, his fame will now likely increase even further.
Outfitters / Sponsors:
The principal sponsor is Viessmann. Other partners include The Axelent Group, alcohol-free Zötler beer, Walser-Privatbank, Paedi Protect and the tourism region of Allgäu, the area of Germany where he was born. The most important outfitter is the ski company Fischer.
Income:
Of course, the successes also bring financial benefits — alongside Eric Frenzel, he is the biggest earner among combined skiing athletes. However, Rydzek does not earn as much as ski jumpers such as Andreas Wellinger, Richard Freitag, and Kamil Stoch , who are all well-known in the media. Last winter, he collected over 120,000 Swiss francs in prize money for his FIS (International Ski Federation) World Cup successes. With additional performance bonuses from his sponsors and the German Ski Association (DSV), Rydzek probably managed to earn an estimated 300,000 euros. The money represents important starting capital for the period following his athletic career — and Rydzek is already preparing for that time with his industrial engineering studies in Kempten, Bavaria.
Fun fact:
The athlete, who describes himself as an "ambitious and fun-loving mountain junky from the Allgäu" once climbed eleven four-thousand-meter mountains in a year. Rydzek dreams of an expedition in the Himalayas.