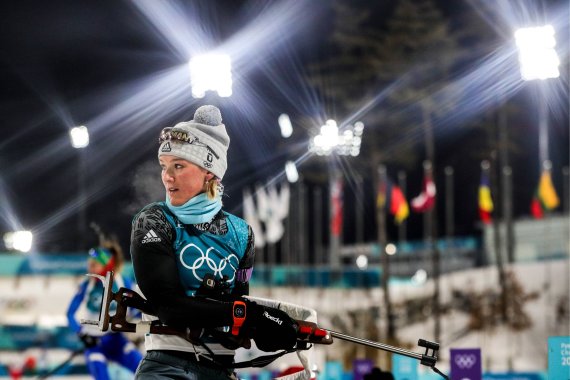 Spectacularly fast - from the first shot after the start of her new career to the first World Cup victory in biathlon it took Denise Herrmann just 18 months. An incredible success story.
"I've never had such a feeling. I've already dreamed of a victory, but it's unbelievable that the dream will come true," said Herrmann after her double World Cup victory at the beginning of December in Östersund, Sweden.
For a short time, the 29-year-old even led the overall classification.
But at the Olympic Games in Pyeongchang the start was slow. A disappointing 21st place in the sprint and sixth place in the pursuit were not yet the results that Herrmann had hoped for. In the mass start on 17 February she has her last chance to fulfil her dream of a biathlon individual medal at the Olympic Games in Pyeongchang.
Markant: In seven years after the cross-country skiing World Cup Herrmann had been denied this feeling. The blonde from Saxony made it to the podium five times in the sprint and team sprint and took second place in the overall sprint world cup in 2014.
But it was never enough to win against the best cross-country skiing specialists in the world. Herrmann's greatest success was relay bronze at the 2014 Olympic Games in Sochi - after all.
One year before Herrmann had already been to a biathlon trial training - but she lacked the courage. At the end of April 2016, Herrmann announced her transfer to the biathletes' camp.
A big risk: "But I had to do that. Otherwise, I would have accused myself later of not having at least tried it." It is already clear that the change was worth it.
Already this winter she has reached the top of the world. She managed the shooting sensationally fast, "because I always had an affinity for it," she explained.
Because of her extra class in the cross-country ski run - Herrmann is often the fastest in the field - she is always one of the contenders for victory when it comes to shooting. So she is also a real competitor for team leader Laura Dahlmeier who, after winning five world championship titles last winter, have now become German Sportswoman of the Year of the year.
"We drive each other. But I still lack worlds for Laura's consistency and class," says Herrmann, who was already a cross-country sprinter specialist in the fight between women.
At the latest since their World Cup victories, Herrmann's popularity curve has also been showing a steep upward trend among fans.
On the social media channels - instagram (more than 22,500 followers) and Facebook (more than 26.000 Likes) - she makes her followers happy with private insights, like here with cat Luna.
The switch to biathlon also pays off financially. For her two World Cup victories in Sweden alone, Herrmann collected 26,000 euros in prize money from the International Biathlon Union. Besides head sponsor Viesmann, Herrmann Nudossi, E.Infra, Bioteaque and Joka are among her partners.
Just like Laura Dahlmeier, Fischer supplies the rocket-quick skis and is thus the most important of numerous suppliers. From the annual revenues of stars like Dahlmeier, Martin Fourcade or Ole Einar Björndalen Herrmann can only dream of an estimated six-figure figure at least - but that could change quickly with Olympic gold.
Fun fact:
Denise Herrmann comes from a sporty family: Her dad Lutz played handball in the GDR upper league. Her little sister Nadine is a cross-country skier and dreams of going to the Olympics with Denise.