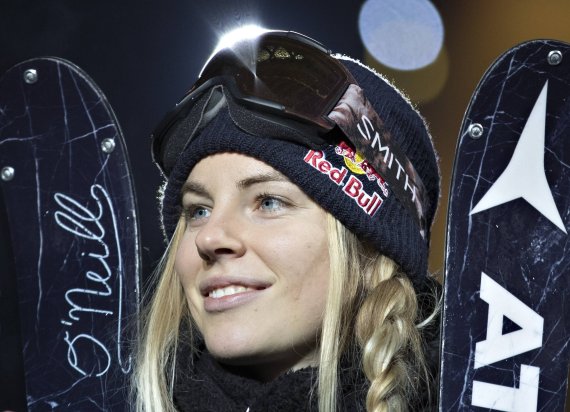 Slopestyle world champion Lisa Zimmermann knows how to sell herself. Even if she has just been injured and can't shine with spectacular jumps at the 2018 Olympics in Pyeongchang.
At the beginning of 2017 she suffered a rupture of the cross and the inner ligament, the rehabilitation lasted too long, in the end the 21-year-old from Nuremberg had to cancel for the Winter Games. As world champion she would probably have been nominated for the German team even without fulfilling the Olympic standard.
So she inspires her fans at the moment exclusively with erotic post-photographs, for example Instagram with her rear view on the slackline - or also a little bit more in the February issue of Playboy. Right on time for Olympia 2018.
Originally she had only advertised a sunscreen in her piquant instagram text from last summer - actually. Only later did she explain the spectacular action to her fans.
"I didn't expect the mail to attract so much attention. But it was cool, I want to present myself authentically and have won many new followers", Zimmermann explained after the "tz".
She has been the undisputed social media queen of freeskiing in Germany since the nude post, at the latest:
Instagram: over 62.000 followers
and Facebook:(over 49,000 Likes).
"I just thought the idea of the hotel was cool. You could walk across the cold pool after a sauna infusion on the slackline," she said, "Others did the same thing, but they didn't take a picture of it and put it online.
She dares to do what others only dream of - exactly this assessment fits perfectly to Zimmermann, who starts for a club from Fürth.
Once she had started as a figure skater, but on a trip to a ski fun park with her brother she discovered her love for freestyle skiing. There she can of course benefit from her training as a figure skater while jumping.
She became famous in the scene when she was the first woman in the world to stand a Doublecork 1260 with double overhead rotation and three and a half screws. Sprungwunder Zimmermann was the first German to win a Slopestyle World Cup in January 2014.
In this spectacular competition, a course with various obstacles with ski jumps (kickers) and railings (rails) must be mastered with the most difficult jumps and tricks possible. At the 2014 Olympic Games in Sochi, the then 17-year-old suddenly belonged to the gold favourites, but she disappointed with 14th place. "The main thing was that I had a good time there," she said cool afterwards.
And then she hurried from success to success: In 2014 she won the overall World Cup, in 2015 she became World Champion in Slopestyle. At the Winter X Games 2017 in Aspen she was the first German ever to win a gold medal. And that in Big Air, the discipline for the highest and most spectacular jumps. But then the setback: the rupture of the cruciate ligament in her knee threw her back.
Since that, she's been working on her comeback. Even without a start at Olympia 2018, Zimmermann, who is a mixture of top freestyler, social media star and advertising icon, earns her money with courageous posts for her sponsors.
Whether it's SportScheck and its top sponsor Red Bull or other sponsors like Pistenbully or Swox (the naked sun cream) - Zimmermann earns good money with her sport and her image as a freethinker. A skiing day with friends prefers her to permanent organized training.
Consequently, Olympia is not the most important thing for her in life: "If it doesn't end with the knee, then it's not the end of the world", said the athlete even before her cancellation for the Winter Games. "I can also deal with things differently in my life and plan a film project with sponsors, for example, for which I would prepare myself with more time.
As an advertising medium, she may not earn as much as the Alpine stars. Felix Neureuther, Marcel Hirscher or Lindsey Vonn - but I guess she has more fun in life. Naked or on skis.
fun fact
The perfect summer preparation for Zimmermann is surfing. During training or competition she always needs her headphones with music on her ears - so she can chill perfectly.