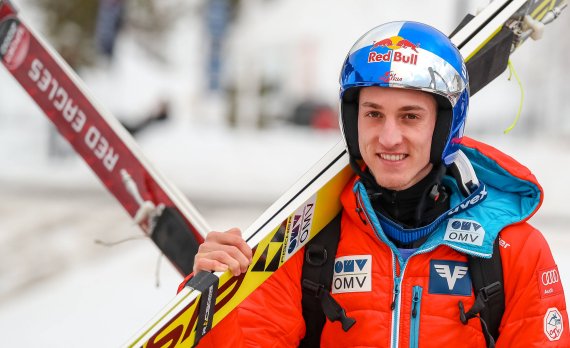 At the tender age of 16, Gregor Schlierenzauer celebrated his first individual World Cup victory in Lillehammer on 3 December 2006. Eight years later, on December 6, 2014, his 53rd and to date last. This makes the Austria Eagle the eternal record holder, at least for men. In addition, there are two victories in the Four Hills Tournament and the Overall World Cup, Olympic gold in the team in 2010 and a total of ten World Champion titles in ski jumping and ski flying.
After eight incredibly successful years, however, the high-flyer left the track, first lost the desire to fly and then injured himself several times (cruciate ligament rupture and finally collateral ligament rupture in the knee).
After a training camp in Lillehammer, his place of fate, Schlierenzauer started a comeback at the beginning of the Olympic winter. But so far the season has been more than disappointing, even in the Austrian team the record jumper is no longer uncontroversial. At the last jumping events before the Olympics Schlierenzauer was between 30th and 40th place.
At the beginning of the season, coach Heinz Kuttin trusted his former predecessor, who is deaf in one ear, to do everything: "Anyone who has ever won a series can win again. In any case, his training values are as good as at his best times. He also enjoys ski jumping again and knows what he wants more than ever before."
Successes:
Schlierenzauer collected 53 individual World Cup victories, two overall World Cup victories, two overall victories in the Four Hills Tournament and a total of six World Championship gold medals. At the Olympic Games Schlierenzauer still waits for single gold, won bronze "only" twice. After all, he already won Olympic gold with the team.
Social:
Instagram: over 74,000 followers
Facebook: over 235.000 Likes
In Austria, Schlierenzauer is one of the country's absolute superstars - just like ski jumping fans worldwide. On the social media channels he let his followers also participate in his difficult times. As for example here at home with the golden eagle for the tour victory in the background. Schlierenzauer is also an absolute professional when it comes to self-expression: he regularly spoils his fans with films and blogs.
Suppliers/Sponsors:
Schlierenzauer mentions his big head sponsor Red Bull on the website as well as his outfitters Fischer and Uvex and Audi as larger partners.
Income:
In his heyday Schlierenzauer with prize money and sponsorship income in total with millions of the big earners of the scene - and even now he is doing very well thanks to his reserves and main sponsor Red Bull. But even in his heyday he said in an interview with the press: "You're generally not allowed to do anything just for the sake of money. What about the fun, the personal satisfaction, your goals?"
He didn't have any prize money income in the end, but he recently presented a documentary entitled "Weitergehen". A real soul striptease - the star opens up and tells for example about meetings with psychologists.
Fun fact:
Schlierenzauer's uncle Markus Prock is multiple world champion, overall world cup winner and Olympic medal winner in luge. He is also the manager of the Super Eagle.