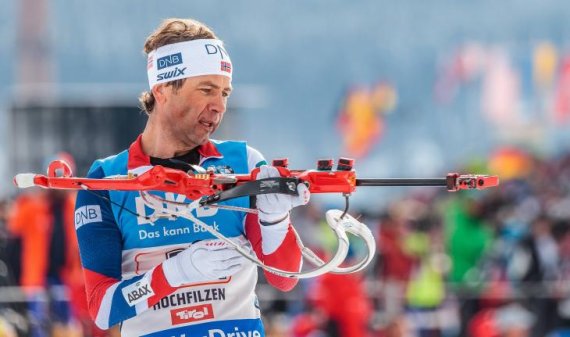 "I might be a little bit crazy. But even though I've been training hard for years now, I'm still enjoying it. So why should I hang up my boots?" 
A question by Ole Einar Björndalen – a man, who collects records like others collect stamps. Ole Einar Björndalen's first World Cup season was 25 years ago, and his first Olympic Games were in Nagano, almost 20 years ago.
When it comes to training, Björndalen is a perfectionist who slaves away like nobody else. Everything in Björndalen's life revolves around biathlon, even his private life. His first wife was biathlete Nathalie Santer, from South Tyrol. They divorced in 2015.
On July 16, 2016, he married his current wife, the top Belarusian biathlete Darja Domratschewa. The couple's daughter, Xenia, was born on October 1, 2016.
Only four months after the birth – on February 12, 2017 – both parents won a World Championship medal on the same day in Hochfilzen, Austria. Perfect for Björndalen, the King of Biathlon: "I can do everything I did before and still spend time with my family."
With the Olympic Games in Pyeongchang, his most-likely last appearance on the big stage is now looming.
Achievements: 
Even at his first Olympic Games in 1998 in Nagano, Björndalen won gold – the first of eight biathlon Olympic victories in total. He has won an incredible 20 titles and 45 medals at world championships in total.
Because of his incessant hunger for titles and his incredible ambition, he has earned the less-than-flattering nickname "Cannibal."
Social:
Instagram: over 78,000 followers
Facebook: over 218,000 likes
Due to training and family commitments, there's little time for social media. A snapshot with wife Darja now and then, a few pictures from training, commitments with youth talent – that has to do. The number of fans the King of Biathlon has, though, is enormous.
Sponsors also play a role, of course – Björndalen is a king of self-marketing.
Outfitters/sponsors:
Certina, Madshus (skis, sticks), Odlo (gloves), Casco (glasses)
Income:
Alongside considerable income from prize money – around 50,000 euros last winter – Björndalen is also said to bank at least ten million Norwegian krone via private advertisement revenues alone, with big sponsors such as Certina. That's a tidy one million euros. He is therefore on a level with other big earners in winter sports such as Felix Neureuther, Lindsey Vonn and Lara Gut.
Added to that are generous contracts with outfitters. The perfectionist obviously doesn't leave anything to chance here: "I used to write 95 percent of my contracts myself." Also good to know: Many of his sponsors want to continue working together, even after he retires.
In demand online:
The perfectionist is also a tightrope walker. As a child, he appeared on a Norwegian TV show and stripped down to his underwear to then proceed to get dressed again – all whilst balanced on a rope.
Björndalen also has a particularly quirky habit: "Vacuum cleaners are important to me." Everything should always be nice and clean for the "Cannibal"...
Portraits of other stars of the winter sports season: