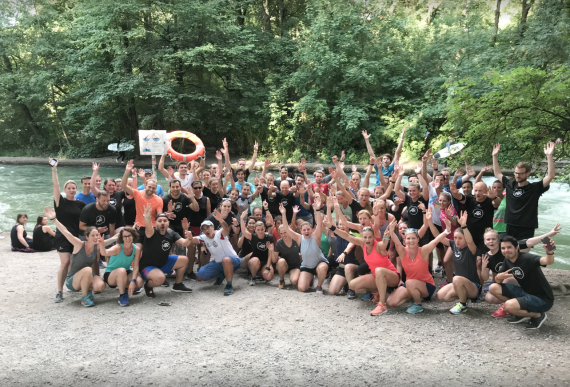 Running groups are nothing new. People have always arranged to do endurance sports together to motivate each other, achieve new goals and have fun together. In times of digital networking, running apps and Facebook groups, this has of course become easier. In recent years, hundreds of smaller and larger running communities have sprung up. Internationally, too, especially in emerging markets and fueled by the Corona crisis, running communities are becoming more popular and growing, for example in Namibia.
This is to the advantage of running brands, which are supporting the trend with their own measures. And also for the stationary sports retailers? ISPO.com, together with feedback from Adidas, Brooks Running, Saucony, Salming, Salomon, Icebug and La Sportiva, offers an overview of the multitude of different running communities and the opportunities for retailers.
There are many reasons for cooperating with local running groups. Jan Kratchovil, Head of Marketing at Salming, sees cooperation with running communities as an efficient approach to keeping the brand in the conversation, especially in larger cities: "There, such an individual sport partly develops into a team sport through running groups. Although the structures in such groups are much less binding, the internal processes, such as the exchange of opinions, identification, and sometimes even marketing, are similar to those of handball or volleyball teams."
Salming works with various running groups in Berlin, which ideally also include employees and cooperation partners of the brand itself. According to Kratchovil, this gives Salming first-hand information from the industry. At the same time, it creates trust and attachment to the brand among the community of runners.
A well-known Berlin running community that repeatedly cooperates with various running brands, e.g. CEP, Saysky, Adidas and Nike, is RunPack. In Hamburg, runners can join the Tide Runners or Run Fleet running groups, and in Cologne, the Cologne Running Crew sets the pace on the city's running trails.
One of the largest running communities is the Adidas Runners. In recent years, the Boost Running groups - already established in major cities - have been consistently developed further and multiplied internationally. Adidas Press Spokesman, Oliver Brüggen: "Running Communities give runners the opportunity to share their passion for sport with others and to discover cities in a new way. The Adidas Runners are an international network of enthusiastic runners."
Today, the Adidas Runners are present in more than 50 cities worldwide, cooperate with Runtastic, organize their own events (Run City Nights) and meet in their own local hubs, such as the Run Base in Berlin. There, it's not just about running, but also healthy eating, fitness, yoga and meditation are practiced.
Trail running is all about the experience of nature and seclusion - you might think. Popular trail running equipment manufacturers Salmon and Icebug see it quite differently. As part of their marketing campaigns, they bring runners together to go running in the woods, meadows, mountains and valleys. Salomon introduced its successful "How to Trail Run" workshops in 2017. According to Julia Schehl, Country Marketing Manager at Amer and former Brand Manager, "there were just under 3,000 participants in 2017. We are represented throughout Germany with 22 hotspots."
Icebug invested in its own women's trail running community, Forest Femmes, in 2018. Mathias Basedow, Country Manager Icebug Germany/Austria, emphasizes that this is primarily about encouraging women to do more sports in the great outdoors. "The Forest Femmes started in Gothenburg and are now a set, weekly event in four Swedish cities. In Munich, the Forest Femmes Lauftreff has been around since the beginning of 2018," says Basedow.
What sports brands do internationally or nationwide, the stationary sports retailer does directly and locally. Twice a week, for example, runners meet for the joint "Isar Run by Keller Sports".. The meeting point is the Keller Sports store, directly on the Isar River in Munich.
Sport Scheck has been hosting running events in German cities for many years. In 2018, the associated Germany-wide campaign is called Sport Scheck RUN, will take place in a total of 17 cities and is supported by clothing manufacturer Under Armour.
The Intersport Runclub is spread across many running communities throughout Germany. A running coach and a specially developed app support runners with expert knowledge and networking among themselves.
Offers specifically for women are also becoming increasingly popular.
And runners should not lack opportunities for alternative training with the weekly workouts at stationary The North Face (e.g. Never Stop Munich) or Lululemon stores (e.g. Luluemon Munich).
The logical consequence: sports brands and stationary retailers jointly support local communities or events, using the retailer's sales floor as an analog meeting point for brand and running group.
According to Jan Kratchovil, Salming is already helping interested retailers across Germany to support local running groups. "In addition to sales and brand loyalty, the goal should also be to strengthen the cohesion of the group with events and communication tools, to create win-win solutions," says Kratchovil.
Saucony also cooperates with training groups that are already in collaboration with Saucony retailers. Mika Froesch, Country Manager Germany/Austria: "As part of the Run your World Tour, Saucony offers various promotions and test events. Through these events, we want to give even more end consumers access to our brand. Be it as part of a running analysis with a specialist, during sales advice on the running floor at a sports retailer, during a test run in the city or when designing your own Gymbag."
Trail running specialist La Sportiva is focusing completely on the best retailers for the "Run in Shop" tour, a Europe-wide demo tour for the launch of the new mountain running collection: "On the Run in Shop tour, we give the community of our retailers the opportunity to test the new products live in a local competition organized for them. Our main goal here is to properly present our product to the community and strengthen their brand loyalty," says Michael Carli, Product Designer at La Sportiva.
Also for the first time in 2018, Brooks Running is offering select retail partners the opportunity to be "Official Partners" in their Run Happy Tour. The urban running event series will take place in 13 cities in Germany, Austria and Switzerland in 2022.
Lara Hasagic, Marketing Manager DACH at Brooks Running: "In collaboration with local running crews, Brooks puts together unusual running routes for the Run Happy Tour - whether parking garage, empty factories or along the most famous landmarks, runners get to know their city in a new way. The Run Happy Tour is a community event that is communicated almost exclusively via social networks. Over the run, it has developed into a movement that we plan to grow in the future."
Runners can test Brooks Running shoes on site and purchase them afterwards from the cooperating retail partner. According to Lara Hasagic, Brooks will add a "surprise" for all event participants who make a purchase afterwards.