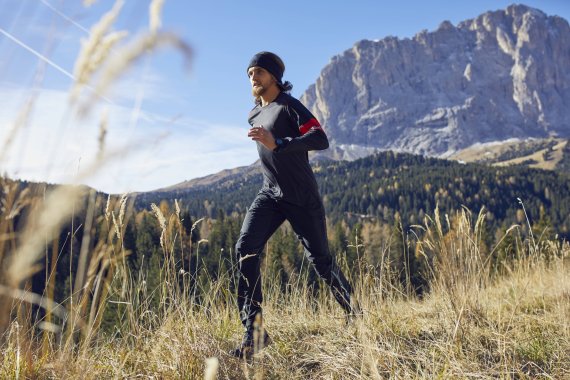 According to market reseach by manufacturer Salomon, 72% of all runners like to run in nature. The actual experience (in nature) is more important to them, than the result. That's why Salomon and a number of other brands from the running and outdoor industry have been betting on the trend discipline trail running for several years now.
ISPO.com has spoken with representatives from von Saucony, Adidas, La Sportiva, Salomon, On and Icebug to find out what trail runners can expect from them. (A full overview of our series about running trends can be found at the end of this text)
The definition of trail running has widened, especially in recent years, says Mika Froesch, Country Manager Germany / Austria at Saucony: "Today it doesn't only define the traditional mountain running. Even running through forests can be called trail running."
Just like other manufacturers, Saucony has adapted to this fact and worked on the collection: "We have expanded our range accordingly and offer models with different sole profiles for different terrains. Be it trails on asphalt or gravel, sessions on muddy, soft or icy ground – there is the perfect product for any condition," says Froesch.
Trail running can also be defined as hybrid discipline for ambitious long-distance runners who like to add some meters in altitude to their sessions and very dynamic hikers who are climbing summits in high speed. This is another reason why trail running is equally positioned in the running and in the outdoor industry. At the sporting goods giant Adidas, trail running is affiliated with the company's own outdoor brand "Adidas Terrex".
La Sportiva, the Italian mountain shoe manufacturer, also has trail running products it their range: "Where we are living mountain running was never a trend but rather humans adaptation to their natural habit. We are happy to see that globally the movement is expanding as a trend and will do our best to make sure its popularity will keep on growing," says Michael Carli, product designer at La Sportiva.
Salomon is one of the brands that has been investing in trail running right from the start. In 2018, Salomon will focus on their "How To Trail Run" campaign. Julia Schehl, Brand Manager Salomon: "Trail running is one of our brand roots. That's why we are continuously aiming to promote and develop the sport. We will expand the campaign, we launched in 2017: Trail running workshops including product testing, our own web series and the contest 'Play for More'."
On also coordinates own events, to promote the popularity of trail running. Martin Borgenheimer, Sales Manager Germany describes: "As a Swiss running shoe brand, we own plenty of expertise and passion about trail running. Overall, we are expanding our trail running collection this year. With this move, we want to offer products for all runners who are actively seeking for the experience in nature, off the beaten track. To push this even further, we have established a number of trail-adventure-weekends – 'The On Venture Days' – in Germany, Austria, Switzerland and the USA. In groups of 50 to 100 people, trail running beginners and experienced runners gather to conquer the most beautiful tracks in the region, enjoy panoramic views and also some culinary highlights."
Uniting people to experience trail running together: That's why Scandinavian brand Icebug founded the "Forest Femmes": We experienced that women often hesitate to go to the forest or trails all by themselves. They don't think they can do this sport or don't want to be out there alone. With the 'Forest Femmes Running Community' we wanted to give women who are interested in trail running the chance to try it out within a group of other females. That's why we started the initiative in Gothenburg and it has proven to be an absolute success. It's now a weekly event in four Swedish cities and also has been held in Munich since the beginning of 2018," says Mathias Basedow, Country Manager Icebug Germany / Austria.
Besides the female runners, Icebug has further target groups in mind: "Obstacle races are a great fit for our products, thanks to the good grip of the Icebug soles. That's another area we are focusing on. Additionally, we want to offer more lightweight, multifunctional shoes that can be used for a number of outdoor activities, like hiking or mountain biking, in the future," explains Basedow.
The tendency of using trail running shoes for easy to moderate hiking activities is attractive for the outdoor industry too. Salomon sees its trail running range as a door opener to motivate endurance athletes for other mountain sports: "Obviously trail running also affects our focus in hiking, cross-country skiing and ski touring (alpine). Many consumers know Salomon as a trail running brand. That's how they get in touch with our products for hiking, ski touring, etc. Additionally, cross-country skiing is a great alternative for trail runners in winter. In summary: The popularity of trail running has a very positive impact between the disciplines and for us as a brand in general," concludes Julia Schehl, Brand Manager Salomon.
The sporting goods industry and the topic Running 2018. These are the most important trends, topics and insights: