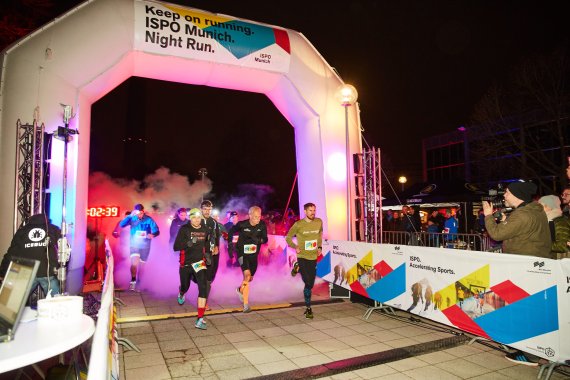 Sebastian Hallmann, seven-time German champion in middle and long-distance runs (i.e. over 10,000 meters), has now switched to long-distance, running marathons and trails. In May 2017, he won the German race for the Wings for Life World Run in Munich.
As a running coach, Sebastian Hallmann also offers personal training and competition prep – from beginners to ambitious, skilled hands. In a new interview series on ISPO.com, Sebastian Hallmann explains how to stay in shape through the winter – and the ideal preparation for the ISPO Munich Night Run on February 1.
ISPO.com: How do you change your own training volume when it gets cold and uncomfortable? And what do you as a running coach recommend for your runners?
Sebastian Hallmann: My volume gets higher, and to that end the tempo gets slower. The winter cold makes the muscles and connective tissue (tendons, ligaments, fasciae) less pliable, and your airways get more of a challenge from the cold air. That is why the cold season calls for more extensive training at a slower tempo. I also try to do as many units as possible, from flat to hilly countrysides.
Naturally, fast runs can take place in the winter, too. Trip games adapted to the weather, tempo-alternating jogs (1 km fast, 1 km casual in turns) or increased endurance runs are excellent preparation for faster runs in the summer. Variety in day-to-day training is also guaranteed with faster units.
How can runners get motivated when it's uncomfortable outside, when it's snowing and gets ice cold?
A goal! Set out to do something. A competition in the winter, or even a series of competitions. Articulate that goal to the family and friends that motivate and support you. A running date with a friend is even better. It's hard to call it off when the other person is already outside your door. One small, helpful trick: You can't ask if the other person feels like going for a run.
We have a running date together: You'll be there at the ISPO Munich Night Run on January 27 in Munich's Olympic Park.
Exactly – and I recommend it to the running community, too. Competitions are always a goal that you can pursue with motivation. The ISPO Munich Night Run is thus perfectly suited as a goal for all runners to stay motivated over the holidays and January to step outside and stay in shape.
The ISPO Munich Night Run is a trail run in the evening darkness of Olympic Park. Just how do I prepare myself for a trail run in the winter?
No different than you do in the summer. Test out the right footwear and run in distinctive areas often. Specially for competitions at night, you should test out and practice running in the countryside in the dark with a headlamp. The beam of light, reflections, and vibrations might be different than running on a yard-and-building course.
And how specifically do I prepare for a competition like this? What kind of training units do you recommend for the ISPO Munich Night Run?
That calls for distinctive countryside. You should preferably run regularly on a training course that has similar requirements to the competition course. If it goes up and down, over hedge and ditch, then look for a course in your environment that offers something similar.
In the next few parts of our interview series on the ISPO Munich Night Run, we'll go into three different periods of preparation: The Christmas and holiday season with all of their temptations, the start of the new year with some accumulated poundage, and the hot competition phase. How do I succeed in motivating myself during these phases that are so different?
The ISPO Munich Night Run goal will help us as a major motivation through all phases. In between, when your weaker self rebels, you can turn to the other motivational tricks. Tell your entire family what you have planned on Christmas, arrange a first run of the new year with your running friends, etc. 
Over the course of our interview series, we'll also go into the proper equipment you need to look out for when running in the winter. With a look to the Christmas wish list: What three things absolutely need to be part of a winter runner's gear?
Functional clothing including a beanie and gloves, reflectors and lighting, and good-fitting, well profiled footwear.
Tickets to the biggest sporting goods trade fair in the world, ISPO Munich, will also be raffled out among participants at the ISPO Munich Night Run. You'll also be making an appearance there and give talks on the Health & Fitness stage. What can the winners look forward to?
Thematically, my lecture and the interviews will be about the role of the fasciae in running. Naturally, practice won't get the short end of the stick either, and on the stage we'll show which exercises are best suited to tackle the running courses of this world as sleek as a leopard.
Set out to do something. A competition in the winter. Articulate your goal to the family and friends that motivate and support you. 
Sebastian Hallmann, running coach and winner of the German "Wings for Life World Run 2017," will start at the ISPO Munich Night Run