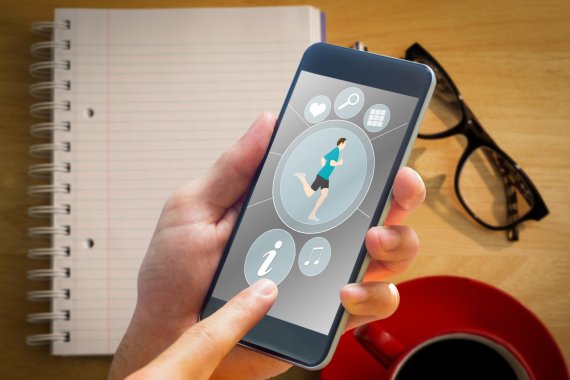 Es gibt viele gute Gründe, um Sport zu treiben und sich gesund zu ernähren. Die klassische Variante der körperlichen Ertüchtigung ist dabei noch immer das Joggen. Ob zur Steigerung der Fitness, zum Abnehmen oder einfach der Gesundheit zu Liebe - Joggen ist nicht nur höchst effektiv, sondern auch noch völlig kostenfrei. Um beim Training den Überblick zu behalten und den eigenen Fortschritt zu überwachen, können Fitness-Apps jedoch eine sinnvolle Hilfe sein. Unter dem Stichwort Tracking, also dem Dokumentieren von Ernährung, Regeneration und diversen Körperdaten, gibt es mittlerweile eine breite Auswahl an Apps für iPhone und Android. Vom Puls, über den Blutzuckergehalt bis hin zum Kalorienverbrauch zeichnen die kleinen Helfer alle für das Training relevanten Daten auf und sind somit besonders für Abnehmwillige eine echte Unterstützung. Hier gibt's einige Top-Jogging-Apps im Überblick.
Runtastic Pro
Eine der erfolgreichsten Apps in der Fitness- und Jogging-Szene ist derzeit "Runtastic Pro". Die App lässt sich ab 4,99 Euro für iPhone und Android herunterladen und verfügt über eine Vielzahl an Funktionen rund um die Aufzeichnung und Auswertung des Trainings. Neben Fitness-Aktivitäten wie Dauer, Distanz und Tempo lassen sich die Workouts per GPS in Echtzeit dokumentieren - der Trainingserfolg wird dadurch direkt messbar. Wem es in erster Linie auf eine Gewichtsreduktion ankommt, der kann mit Hilfe der personalisierten Dashboard-Konfiguration alle wichtigen Körperdaten wie Herzfrequenz, Pace und natürlich den Kalorienverbrauch überwachen. Für zusätzliche Motivation sorgt die Online-Community Runtastic, in der sich sämtliche Fortschritte teilen lassen.
Adidas Train and Run
Auch der Sportartikelhersteller "Adidas" ist mit "Adidas Train and Run" im App-Dschungel vertreten. Ob Trainingsplanung, -aufzeichnung oder -analyse - mit der App wird das Joggen zu einem durchstrukturierten Workout. Geschwindigkeit, Dauer und Distanz lassen sich dabei ebenso aufzeichnen wie die Anzahl der verbrannten Kalorien. In Verbindung mit verschiedenen Zusatz-Wearables kann man zudem die Herz- und Schrittfrequenz erfassen. Einziger Nachteil: Durch das fehlende Live-Tracking ist die App nicht unbedingt etwas für Fortgeschrittene, die sich auch mal in unbekanntes Terrain wagen. Für Einsteiger reicht die App aber allemal und ist sogar kostenlos für Android und iPhone verfügbar.
Endomondo - Laufen & Gehen
Ebenfalls kostenlos für IOS und Android erhältlich ist die App "Endomondo - Laufen & Gehen". Neben der Aufzeichnung beim Joggen, ist die App auf über 50 weitere Sportarten wie Yoga oder Krafttraining übertragbar. Von Distanz, Geschwindigkeit und Zeit bis hin zu Kalorienverbrauch, Herzfrequenz und dem Flüssigkeitshaushalt zeichnet "Endomondo" wirklich alle Daten auf, die für ein erfolgreiches Training erforderlich sind. Besonders groß geschrieben wird bei der App der Community-Aspekt. So kann man sich mit anderen fitnessbegeisterten Usern kurzschließen und gemeinsame wöchentliche Ziele setzen. Zudem können die Nutzer durch ein integriertes Newssystem kurze Nachrichten miteinander austauschen und sich dadurch zusätzlich pushen.
Runkeeper
Auch die Fitness-App "Runkeeper" ist hervorragend für die Aufzeichnung der wichtigsten Daten beim Joggen geeignet. Besonders praktisch: Mit Hilfe des sogenannten "Goal Coach" können Trainingsziele beim Joggen an die individuellen Bedürfnisse angepasst werden. Wer also beispielsweise trainiert, um ein bestimmtes Wunschgewicht zu bekommen, erhält vorrangig Daten zum Kalorienverbrauch, während bei der Vorbereitung auf einen Lauf Zeiten und Distanzen im Fokus der Auswertung stehen. Die Standard-Version der "Runkeeper"-App ist sowohl für Android, als auch für iPhone kostenlos erhältlich. Einsteigern dürfte diese Anwendung bereits genügen. Für zusätzliche Funktionen wie beispielsweise dem Live-Tracking gibt es die "Runkeeper"-Pro-Version ab einem Preis von monatlich 9,99 Euro.