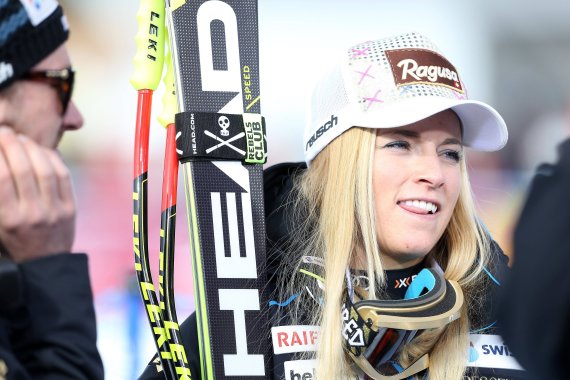 During the World Cup held in St. Moritz, Switzerland, at the beginning of 2017, a torn cruciate ligament put an end to Lara Gut's medal-winning dreams and the chance of taking the large crystal globe. For the second time already, a bad fall forced Gut to pull out of a major event. She had previously been forced to watch the proceedings at the Olympic Games in Vancouver from the sidelines due to injury.
These setbacks caused Gut to have a rethink. "I shall take the breaks I need. Not because of my knee but thanks to my knee," the all-rounder said before the start of the season: "The injury has taught me that I must take better care of myself and my body."
Consequently, the 26-year-old Swiss skier had intended to sit out the first event of the 2017/2018 season in Sölden and not start competing until a month later in Killington (November 25). But one day before the event in Sölden, she announced that she would take part after all, to everyone's surprise. However, Lara Gut retired after missing a gate during the first run and had to look on as Viktoria Rebensburg won the event.
"It is nice to be back on the starting line. I never expected to race in Sölden. I'm looking forward to it," said Lara Gut, due to race on HEAD skis.
She added that she would, however, skip races more often in future if her inner voice told her that participation would not do her any good.
So it seems that after her lightning career start – celebrating the first of her 23 world cup victories when she was only 17 – Gut, who has been trained by her father Pauli for many years, now intends to pace herself. But maybe that will actually help to make her even faster on the piste at Pyeongchang.
Achievements:
During the 2014 Olympic Games in Sochi, Gut won bronze in the downhill race. She won the overall World Cup in the 2015/2016 season and took the small crystal globe for winning the World Cup Super-G twice. Added to this are five medals during Alpine Ski World Cups.
Social media:
Instagram: 300,000 followers
Facebook: 613,000 followers
Lara Gut is everybody's darling in Switzerland on Instagram and Facebook and one of the social media stars of the alpine skiing scene globally. Where PR is concerned, Gut likes to rely more on direct contact with her supporters via social media and less on stressful meetings with the press – partly so that she has control over developing her own stories.
Gut decided to stream her first public appearance after her injury at the end of September via Facebook. 31,000 supporters watched her live.
Outfitters/sponsors:
Head (skis), Audi, Ragusa, Rolex, Visilab, Leki, Reusch, Shred, Slytecj
Income:
Despite her injury, Gut earned 310,418 Swiss franks in prize money during the 2016/2017 season. Estimates put her total annual income at some 1.5 million euros.
Lara Gut is one of Switzerland's high earners in the winter sport scene. In global terms, she is not far behind the top earners Marcel Hirscher and Lindsey Vonn in the alpine skiing scene.
In demand on the net:
Lara Gut has had a go at acting. The movie "Tutti giù – Everybody Sometimes Falls" is about three adolescents. Gut plays the ambitious ski racer Chiara Merz.
Original recordings from the 2008 downhill race in St. Moritz were used for the movie. Lara Gut came third at that event.
After the lengthy time off due to injury, Lara Gut also spoke about her difficult relationship with her father Pauli, who is also her trainer, for the first time. "I lost him and now I have found him again," she said. What she meant was this: it was good to move out of the family home. "Although my father was almost always at my side as a trainer, it was precisely in his role of trainer. I almost lost him as a dad." After having spent the time involved with her sport almost exclusively with her physiotherapists since her injury, things have changed. "Suddenly, my father was just my dad once again. I now feel even closer to my family than before."