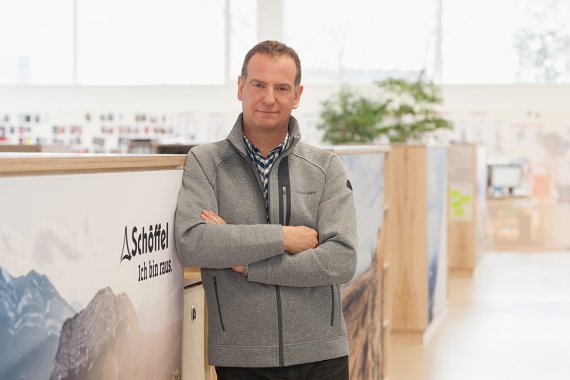 The European Outdoor Group (EOG) and ISPO have presented the concept for the OutDoor by ISPO in Munich. After 25 years in Friedrichshafen, the OutDoor will be held in Munich for the first time from June 30 to July 3 , 2019.
Günther Herrmann, Director of Sales and Marketing at Schöffel, praises the "expanded approach to the term outdoor" in the "Three Questions For" interview with ISPO.com.
ISPO.com: Mr. Herrman, what were the central aspects for your brand at the launch of OutDoor by ISPO? 
Günther Herrmann: "With its new concept, the trade fair is increasingly focusing on networking. Communication via the digital platform and various channels has a long reach, and extends the usual time limit of a trade fair to the entire year. Moreover, the event offers new, valuable synergies with its expanded approach to the term "outdoor": Outdoor customers don't just love the outdoors, above all they're athletically active. This allows them to move freely between different interests and activities. The fair is taking this development into account – and so are we.
Schöffel is taking a multifunctional and cross-activity approach in the interests of our customers. As valuable time-outs are increasingly taking place in urban environments, the term outdoor is currently undergoing a change and needs to be considered more broadly. The new location fits with this development perfectly and supports the new perspective, and thus further development. In this respect, we are looking forward to a successful trade fair."
How much has the term outdoor changed in recent years?
"With our Outleisure collection, we also want to outfit people who need a both fashionable and functional outfit with the perfect fit to get to work or travel in the best possible way. This concerns the commuter heading to the office by bike, but doesn't want to look as if they just came from the mountains. It also applies to the city traveler who needs a functional, comfortable outfit for their trip, for a lot of time in the fresh air. That's also an aspect of the new outdoor."
Where is Schöffel located in the broad outdoor spectrum?
"It's our ambition to offer our customers the best product for their individual "I'm out here" moment. Because this can look very different, we rely on a varied product range. These offers are divided into clearly defined clothing segments, which was designed to the point for clearly defined occasions of use. Function, wearing comfort, and fit are the main priorities at Schöffel, whether urban or alpine."