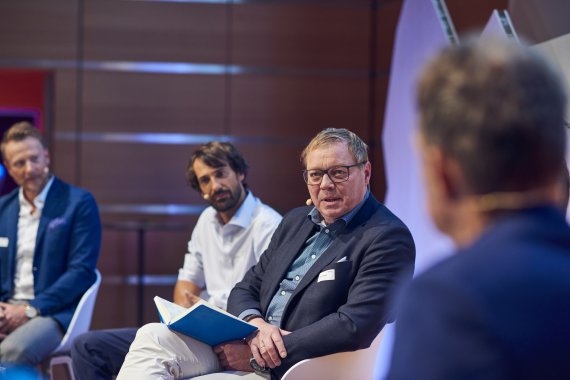 Before Reiner Gerstner switched to the tech company TQ as CMO, the brand expert was responsible for the successful brand relaunch of Salewa as Group Brand and Marketing Director of the Oberalp Group. He has a total of more than 30 years of professional experience in the outdoor industry. It's Gerstner's wish that OutDoor by ISPO become a platform that "inspires people to be outside." And he has a concrete idea of how end customers could be included.
Three questions for Reiner Gerstner.
ISPO.com: Mr. Gerstner, OutDoor by ISPO has the aspiration of being more than a multi-day trade fair. Will the concept work out?
Reiner Gerstner: I think the new concept is absolutely outstanding. A trade fair can't just last a few days, as might have been the case in the days of the order fairs. Now they have to have the strength to inspire people all year round. Offering a platform is the right way. The platform should inspire people to be outside. It's about experiencing something together, and sometimes about suffering together as well. This is a community-building subject that's good for everyone in the outdoor industry.
So what specifically should a platform like that achieve?
I think the topic of digital networking is a major opportunity for the OutDoor by ISPO concept. There should be a real paradigm shift. My idea would be, for example, offering the option online of combining outdoor activities with digital offerings. Then there could be bonus points through various activities like hiking, mountain climbing, or skiing. That way the end customer could be included. They could win things like prizes at the trade fair with their points. That would be a very spontaneous idea of mine.
At the same time, OutDoor by ISPO aspires to foster the x-industry approach. There's going to be an area with exhibitors from, among others, the tech industry. Two years ago, you yourself moved to a tech company after 30 years in the sports and outdoor sector. What overlaps are there between the industries?
I went from the mountain sports industry to TQ, not just to strengthen the brand of a technology company, but also to inspire. It has to work that way the other way around, too. Really, for all of us, it's about making life a little bit better every day. That's the common denominator, and we should all follow this motto together. Achieving more together – that should be the motto for OutDoor by ISPO as well.
Experts' assessments of OutDoor by ISPO:
From Andy Schimeck, Chairman of the Federal Association of the German Sport Goods Industry.
From Alex Koska, CEO of Fenix.