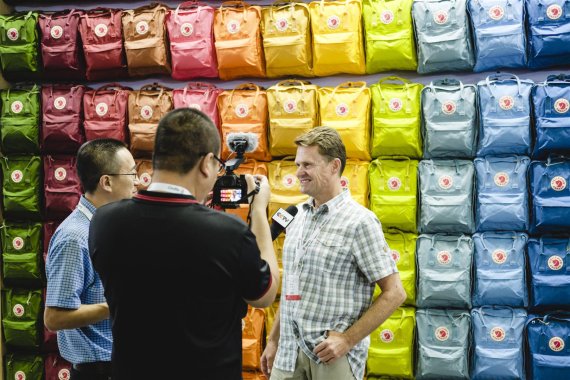 "We will be at the trade fair and the platform in a big way with all of our brands and forces – because it is important and we believe that the industry needs a platform like this," Koska said in an interview with ISPO.com.
Three questions for Fenix CEO Alex Koska, posed after the launch presentation of the OutDoor by ISPO (you can read the OutDoor by ISPO launch conference here in the ticker).
ISPO.com: Mr. Koska, you followed the launch of the OutDoor by ISPO on site in Munich. What do you hope to see from the new concept that ISPO has presented to the industry?
Alex Koska, CEO Fenix Group: We now have the chance to make the outdoor sector even bigger, to give it a broader definition, and thus inspire more people with it. I would have been much happier if the move from Friedrichshafen to Munich had happened two years ago – then we would be two steps ahead now.
I think in the past two years, we lost a lot of time there as a huge dynamic in the market – even back then, it could have sent us off on a whole other level. So it's that much more important that it is happening now and that we can tackle it in full force.
A 365-day platform – what do you think about this focus in the new OutDoor by ISPO concept?
The ISPO Group knows what they're doing. It was evident in the presentation that ISPO has a lot of contact with consumers, the relevant media, and other relevant industries. They already have a well-established network that the outdoor industry can now benefit from.
Industry, consumers, and other interest groups in the outdoor business will now have to step up – and the new OutDoor by ISPO will create a entity to achieve this. And this entity must define what is relevant, what our core target group is interested in, and how we can inspire new clients. Here, too, Messe München is very good in its role. For example, they describe themselves as follows: we no longer just let out exhibition halls, we are also a business partner who brings together the industry, retailers, and consumers.
What do you think are the most important things that should happen until the first OutDoor by ISPO 2019?
It's important to maintain a high level of interest from now until the first trade fair – for the industry and for retailers. That means that success stories have to appear every week or at least every month: who will be there, what other industries will be joining them, the halls need to be presented, and maybe even extended. I hope and am relying on one success story after another coming in. And, of course, the first trade fair will need to be the big success story.
The very first OutDoor by ISPO has to be an aha moment for the last doubters, where everyone who wasn't there says afterwards: I really missed something, next time I'll be there. My expectation is that the first show has to be so amazing that everyone is talking about it, not just in the industry but all over Europe.