The Health Megatrend: The New Health Consciousness
Health means more than not being sick. Health means not only physical well-being, but also mental well-being. Sport and exercise play a significant role in this, because sport is our balance to stressful work and everyday life and keeps us fit and healthy.
"A lot helps a lot" is not necessarily the motto of choice when it comes to health and fitness. After all, regeneration plays a crucial role for our performance and a healthy body and should therefore not be neglected. Our sleep is our partner in crime when it comes to regeneration. It ensures a strong immune system and is a prerequisite for steadily increasing athletic performance. A restful night is healthy and vital. The main topics for many brands are therefore regeneration and prevention - also and especially during sleep. Blackroll, the brand that has become known for its fascia rolls, distinguishes between active and passive regeneration. In the area of passive regeneration, Blackroll has brought various products onto the market that help the body achieve a restful night's sleep: A smart mattress that customers can customize to their sleep needs, an orthopedic neck support pillow, and a 4-season comforter that provides optimalwhich ensure optimal rest during the night.
Biohacking. This is the name of the trend toward physical self-optimization, which will become even more extreme in the future. This is because awareness of physical and mental health is growing enormously in society. Biohacking includes a wide variety of measures to do something good for the body, both physically and mentally. It starts with small, simple things, such as an optimal supply of nutrients through nutrition, optimization of sleep or meditation. The whole thing can be taken to the extreme and cost a lot. Want an example? As a new morning routine, you can splurge in your own ice bath tub or treat yourself to infrared light baths designed to stimulate energy and hormone production.
For elite athletes, biohacking means "How do I get that last five percent out of my body?" That's why many sports professionals already swear by biohacking: for example, Norwegian striker and Manchester City goal scorer Erling Haaland uses special glasses in his free time that filter out blue light from cell phones or televisions, allowing him to sleep better and thus regenerate faster. When it comes to nutrition, Haaland relies on foods with healthy fats such as avocados, nuts or seeds.
And what does biohacking of the future look like? Will humans and machines merge, turning us into modern cyborgs? This is no longer a dream of the future, but may soon become reality, not only for professional athletes, but also for us.
Our tip: Have you been bitten by the biohacking bug? Here you'll find more hacks and tips that you can use to easily boost your well-being and performance. Experts Andreas Breitfeld and Max Gotzler gave exclusive biohacking tips at ISPO Munich 2022. Listen in:
The last few years have shown us how fundamental the topics of health and sport are for us humans. After more than two years of the Corona pandemic, it is clear that sports and health need to be heard more in society and politics! But when it comes to political decisions, sports have recently often been sitting on the sidelines: In Germany, almost every fourth hour of physical education at school is cancelled. Fitness studios, sports clubs or ski resorts had to close down for months despite elaborated hygiene concepts in Europe and struggled for their economic survival. "In Germany, the too-quiet outdoor sports lobby was a weak point in the Corona pandemic," criticized Prof. Dr. Manuel Sand of the Adventure Campus Treuchtlingen in an ISPO.com interview.
How do health and sport get the attention they deserve? Lobbying is the key word. Laura Santucci, former Chief of Staff of Political Operations in the Obama administration, knows how to do this successfully.Laura Santucci, former Chief of Staff of Political Operations in the Obama administration, knows how to do this successfully: "A basic rule for influencing politics is: Don't explain to legislators why your proposals are useful for your industry, but what they will do for society."
So for 2023, the name of the game is to be even louder and bring the issue of health and fitness to the forefront! That's the only way everyone will pull together and movement will get the political support it deserves. A first step has already been taken in Germany: The Federal Ministry of Health initiated the "Round Table on Physical Activity and Health". Together, the federal government, the states, leading municipal associations and health insurance companies, among others, are trying to find out how exercise and an active lifestyle can be promoted across sectors for all people.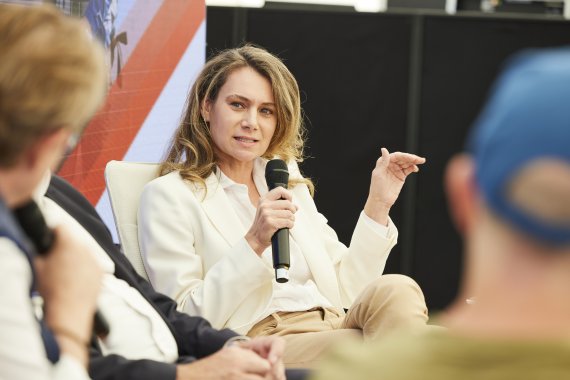 Going to the orthopedist is easy, but going to the psychologist is unfortunately much more difficult. In addition to physical training, top athletes also focus on mental training. Unfortunately, the focus on mental health is still a secondary concern. But more and more athletes are drawing attention to the great importance of a healthy psyche. Ski jumper Sven Hannawald, for example, has made his burnout syndrome public. Many other athletes are also speaking openly about the issue, including Simone Biles, Naomi Osaka and former Olympic champion Christian Schenk. Mental health has also become an important topic in popular sports and in the everyday lives of many amateur athletes, and it will continue to grow in importance.
Sport plays a decisive role in this. It not only prevents illness, but is now also used in the therapy of mental illnesses such as depression, anxiety disorders or schizophrenia. A Swiss study showed that for sports psychiatry and psychotherapy, endurance training of 40 to 60 minutes each 3 times a week for at least 10 weeks even proved to be as effective as pharmacotherapy or psychotherapy for mild to moderate depression. Perhaps in the future, when it comes to our mental health, we will also pay a visit to the physiotherapist or fitness coach.
Building a healthy and fit body and mind takes time and intensive care. Therefore, the topic of health no longer deserves a place only in our leisure time, but is integrated into all areas of life - in everyday life as well as at work.
After all, we spend most of our time - if we work at a desk - inevitably sitting down. A healthy and ergonomic workplace is therefore worth its weight in gold. A comfortable yet health-promoting chair is definitely a plus for the office and home office. But that's not enough. Movement during work promotes blood circulation and thus performance or productivity. That's why many companies support and even encourage their employees to exercise during work as well. Patagonia, for example, introduced flexible working as early as the 1980s and enabled its employees to exercise during working hours. The guiding principle: work should provide enough space for sporting activities that enrich life.
For those who just can't get away from their laptops, fitness equipment manufacturers now offer exercise for the office: with the Sprintbok Desk from manufacturer NOHrD, running and working at the same time is no longer a problem. The treadmill can be converted into a workstation with a pad. That's what makes working fun!