Whether by mountain bike, campervan or SUP: more and more people are finding their perfect balance to everyday life on adventure trips in nature. And there is no end in sight to the outdoor boom in the travel industry in 2023. But which outdoor activities and destinations are particularly in demand? Do German outdoor vacationers tick differently than their US counterparts? And above all: How can we prevent the run on nature leading to its ruin?
In an interview with ISPO.com, Prof. Dr Manuel Sand, professor at the University of Applied Sciences in the field of outdoor sports and adventure management, academic director at the Adventure Campus Treuchtlingen and co-developer and co-director of the new Outdoor Studies degree programme, provides answers.
Mr. Prof. Dr. Sand, what is the state of people's thirst for adventure? Is already foreseeable whether the great outdoor and van life boom of recent years also continues in 2023?
Prof. Dr. Manuel Sand: I would be very surprised if that were not the case. People continue to have a desire to be outside, to be on the road. Whether by van, mountain bike or SUP. I think that will be the case again this summer, even if the outdoors is no longer the only option for activities. In 2022, it has been noticed that outdoor fans are catching up on trips that were not possible in previous years. This will probably weaken slightly and attract more established outdoor fans out again.
What activities and travel formats are most in demand?
Stand up paddling continues to experience a mega boom, but I see it somewhat critically. Unfortunately, there are people who have bought a new board, but do not know how to deal with it in terms of conservation. Mountain biking will also become even bigger in view of the ever new public and legal trails in Germany. The sport has already arrived in the middle of society anyway. According to the Mountainbike Tourismusforum Deutschland e.V., there are even more active mountain bikers today than footballers.
In trend, although currently still with a fringe group, is wing foiling, a water sport with a board and a small sail. In the water action sector, there had been little news for a long time since kitesurfing became a trend. So now foiling is a novelty that many want to try this summer.
The campervan boom will also continue. You have everything with you, you can meet people, but you don't have to. At the moment, providers are still trying to order as many campervans as possible so that they can rent them out in the summer, although it is now problematic for rental companies to even get new vehicles.
Offers developed during the pandemic are also still in place. Some tour operators, for example, have developed "self-guided" tours, where you book an offer but travel without a guide. Instead, you have to find your way around yourself using the material provided.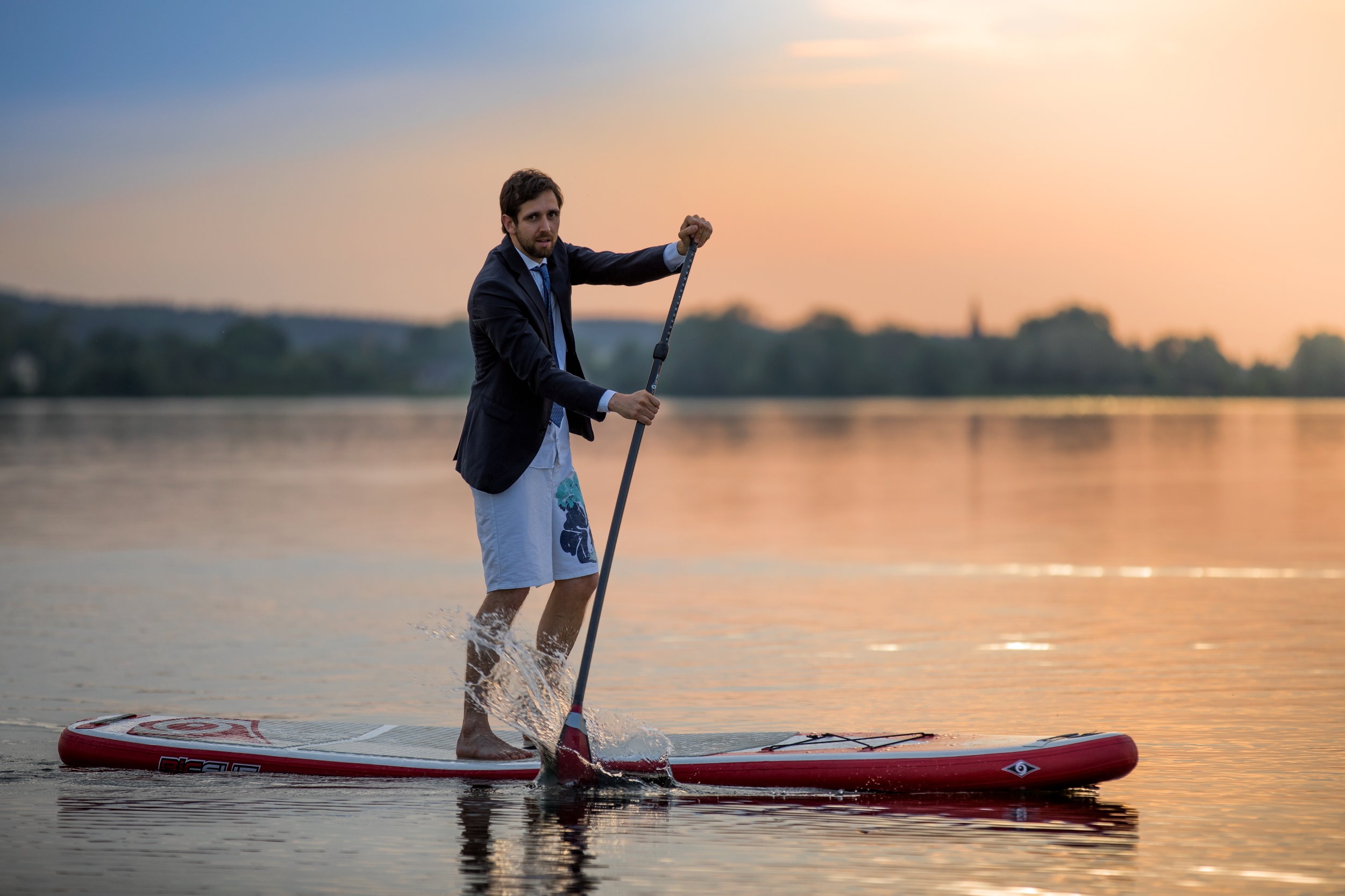 What makes adventure travellers tick in 2023?
With my colleague Prof. Dr. Sven Groß from the Harz University of Applied Sciences, I carried out a survey in which we wanted to know: Who is the German adventure traveller anyway? German adventure travellers mainly like to get to know themselves better. They seek adventure less out of an adrenaline addiction than to test their own limits and prove themselves in difficult situations. In addition, another motivator is the exchange with nature and of course the good feeling after outdoor sports.
Adventure travellers are often more extroverted than other people. What is exciting, however, is that according to our findings, German adventure travellers are not as open to trying out new things as one would assume. In contrast, American adventure travellers are more willing to embrace new situations and deviate from the familiar path. This fits the image of the classic German tourist and his travels according to the motto "Da weiß man was man hat" (being comfortable sticking to what's familiar). That surprised me myself, because I would have expected more of a "Let's just get on the SUP and see what happens" mentality.
Which regions are currently particularly on the rise with adventure offers?
For one thing, the trend of micro-adventures continues. People are realizing that there are great adventures not far from home. Many people will continue to do so in the future. This is also where the current increase in trekking places comes into play. These are overnight accommodations in the forest, where you can stay for a small fee between hikes. But of course, the desire to fly further away also comes back. There are no more restrictions to the extent as before and one is no longer bound to home and surroundings and nothing stands in the way of great adventures.
Our survey showed that among Germans, Canada, the United States, New Zealand, South Africa and Iceland are the dominant countries associated with adventure travel. Among German adventure travellers, safaris in Africa also rank relatively high on the list, ahead of South America. The latter, on the other hand, is the top adventure travel destination among US Americans.
And what are your insider tips for the outdoor adventures of the future?
Most still tend to associate adventure travel with Europe or North America, but I believe the Asian and African markets will become increasingly exciting. There are numerous countries there that offer less classic attractions or tourism infrastructure. Instead, they can address a target group looking for adventure offers.
In addition, many major tour operators are increasingly focusing on the unspoilt spots of south-eastern Europe, for example in Montenegro or Albania.
As positive as the outdoor boom is for the industry, it can be stressful for nature. How can the adventure travel industry reconcile rising tourist numbers with sustainability?
Sustainability is an important topic, which will also have an important status at the Adventure Travel Conference at OutDoor by ISPO. The industry has already made progress in this regard. Many suppliers apply CO2 offsets and drive sustainable projects locally in their respective regions. Be it with the construction of climate-neutral lodges or through the direct involvement of the local inhabitants. This also includes ensuring that the tourists' money benefits the region and preventing to create a situation similar to cruise tourism, where money is usually just spent on board of the ship. In this way, something is also given back to the holiday destination and the local people.
This is also what we are working on with the students in Outdoor Studies, which is experiencing a high rush. The next generation has a different awareness and perception of sustainability and a close connection to nature, and you can see that in the interest for a new degree programme.
And what about the love of nature among travellers?
The willingness among holidaymakers for sustainability is also quite high. Many say in our survey that sustainability is an important issue. But if you then ask whether they are willing to compensate CO2 or spend more money, it unfortunately often already looks a little different. The so-called attitude-behaviour gap unfortunately also became clear in our survey. I hope that a long-term rethink will take place here.
In what way can providers participate here?
Each activity of the industry on the subject of sustainability helps: the more the providers do in this direction, the more this is also accepted by travellers.
But more people in nature also means increasingly more people are outdoors who do not know how to behave. For example, anyone can create their own tours in apps, even off the designated hiking trails and through nature reserves. Here, the providers are asked to intervene in a curbing way.
At the same time, I am convinced that it is more sustainable in the long run to introduce people to nature and explain how to behave there – not with bans, but through education. If you know what you want to protect and how to protect it, you will act more sustainably in the long term.
What we have to prevent at all cost: That the same thing happens to nature that is happening in the cruise industry, where ships "raid" villages and tourists act like conquering Vikings, only spending a few hours there and leaving little money and a lot of rubbish.
It is no longer just about travelling in an environmentally friendly way, but about actively making a positive contribution to the place and to social aspects with one's travel. Tourism is more than a product and must not be seen purely as a supply chain, but as a large network, from suppliers to locals, and therefore tourism must be rethought to become regenerative.
Because today, people hardly talk about sustainability any more, regenerative tourism is moving into focus.
How important is it for the outdoor and adventure travel industry to be able to meet in person again at OutDoor by ISPO?
For the most part, people in our industry are outgoing. People with a similar mindset come together who like to meet and value the personal exchange very much. That's why I think a lot of people are happy to finally see each other again. Everyone has had enough of online conferences and meetings that don't work to the same extent as in presence.
What I find very exciting is the mix that will come together at OutDoor by ISPO: The scientific field is often rather among itself and not so close to the practice. It makes sense to link that and make contacts to put theory into practice, or to push research that directly helps suppliers. That happens to some extent, but that can still be better.
In addition, there are the sporting goods and sports equipment manufacturers who are at home at OutDoor by ISPO. There is a lot that can be tackled for the adventure travel industry, such as a cooperation between a tour provider and a tent manufacturer for test reports on the latest tent model. There are many points of contact, and it will be exciting to think outside the box and to network with areas in which one is not yet so represented.
I therefore hope that many participants of the Adventure Conference will take the opportunity to visit Outdoor by ISPO beforehand and that in return many participants of OutDoor by ISPO will visit the conference afterwards.