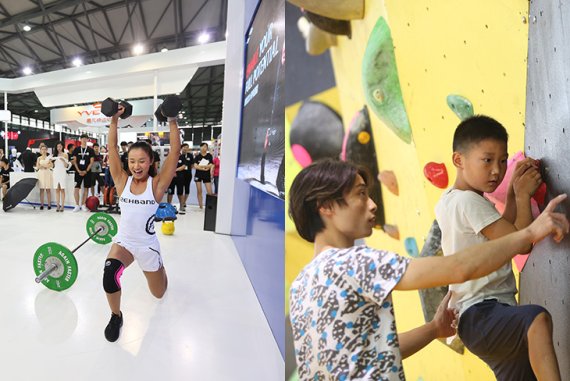 Did you know that women in China spend more on sportswear and equipment than men? Some international and domestic sports brands have already recognized the potential and are launching target group-specific campaigns and bringing products to market that appeal to Chinese women in a special way. This is especially true for the fastest growing sports, running and yoga. Anyone who wants to assert themselves on the Chinese market in the future cannot ignore the target group of women. We discuss how this can best be achieved with renowned experts in our supporting program. There is also a special "Women" area dedicated to this topic.
Where & When:
ISPO Shanghai Women Sports Summit 2018
Friday, July 6, 2018
Hall N1
Conference Schedule:
09:15–09:30
Registration
    
09:30–09:40
Welcome speech
    
09:40–10:15
The current development and trends of the women sporting goods market
10:15–10:35
Analysis of female's requirement
10:35–10:55
Analysis of female's strategy
10:55–11:55
Group siscussion: Female's leadership in sports industry
12:00–13:20
Lunch break
13:20–13:50
Design and research of women sports products
13:50–14:10
Female runners
14:10–14:30
Her - Another beauty in sports
14:45–15:45
Group discussion: The growth of female entrepreneurs
    
15:45–16:15
Group discussion: Difference between women sporting market at home and abroad
16:15–16:30
Taking photos
16:30
End
In 2014, the Chinese government launched the "Healthy China 2030" master plan to encourage more movement in the country. The aim is to develop a "Healthy China". The focus is on the younger generations in particular. According to the Global Burden of Disease Report, led by a team from the University of Washington in Seattle, China had 15 million obese children in 2015. Many Chinese parents are already responding to this alarming trend. According to a report by Euromonitor International, 90 percent of parents already spend around 300 euros per year on their children's sports. And these expenditures are likely to increase even further in the coming years. This is a topic that we want to discuss in more detail at the ISPO Shanghai with a special area. 
Where & When:
ISPO Shanghai Kids Forum 2018
Thursday, July 5, 2018
Hall N1 Booth N1.670
Conference Schedule:
09:30–10:30
Registration
10:30–10:35
Welcome speech
10:35–10:50
Tracks in your life: Baseball - it's your game!
Speaker: Xu Zheng, the former most valuable Pitcher of The China National Baseball Team/Chairman of Shenzhen Le Fang Culture & Sports Communication Co.,Ltd
10:50–11:05
Tracks in your life: Gymnastics - the origin of sports
Speaker: Yan Mingyong, the Winner of Men's Rings, World Gymnastics Championship/Co-Founder of Xiaohuoban's GYMs
11:05–11:20
Tracks in your life: Swimming - the most valuable lesson for teenagers
Speaker: Wang Wei, Founder of M Fitness Sports
11:20–11:45
The youth system of FC Schalke 04
Speaker: Peter Knäbel, Technical Director of FC Schalke 04
11:45–12:00
Tracks in your life - dialogue
Speaker: Wang Yihan, the Champion of Women's Single Badminton World Championship Tournament /Founder of Maoxiang Box
12:00–13:00
Lunch break
13:00–13:20
Welcome speech
Special Moderator: Wang Qiuyu, Co-Founder of Antai College of Economics and Management EE – Mofeng Sports Industry Advance Business & Management Courses
13:30–14:00
Enhance brand awareness by improving parent's consumer consciousness
Zhang Tao, President of Wanguo Fencing
14:00–14:30
How should sports training institutes use the dynamic that is encouraged by Chinas politics
Speaker: Li Xiaowei, Chief Editor of the sports section of China's education
Li Lingshu, Ph.D. of Somatic Science, China's East Normal University
14:30–15:00
How to come out victorious in strong training competitions
Dong Yu, CEO of Great Stone Gridiron
15:00–15:30
Promote your youth system projects
Speaker: Feng Chongchong, Head of Shiren Peer Advisory Board
Wang Wei, Founder of M Fitness Sports
Chen Xin, Founder of CFD Floorball Center
15:30–16:00
The perfect interconnection between sports education and Internet
16:00–16:30
Encourage future investment for the youth system
Speaker: Qu Hao, Founder of Jiahao Investment
The change brought about by digitalization is so comprehensive that no sports brand and business can ignore this complex of topics. At ISPO Shanghai 2018 a Digitize Forum will report on trends, solutions and best practice examples of how companies can create digital change. During the three days of the fair we will once again be presenting numerous innovative concepts, technologies and market potentials.
Where & When:
ISPO Digitize Forum
Thursday, July 5, 2018
Hall N2 Booth 2.696 at ISPO Academy stage
Conference Schedule:
10:50–11:00
Welcome Speech
11:00–11:20
Re-recognizing the challenges of sports market through platform data
Xue Tao, Director of Appreal & Accessories department, Tmall new-retail
11:20-–11:40
Social digital practice of international football clubs
Alexander Jobst, Marketing Director of Schalke 04
11:40–12:30
Panel discussion: Product innovation of sports brands in the new retail market
Cui Yaguang, PEAK, director of design and development
Bao Yonglin, CEO of TECNICA Group (China Company)
12:30–13:30
Lunch break
13:30–13:50
Opportunities and challenges of digital transformation in sports -
ISPO digital readiness check
Christoph Rapp, International Sales & Retail Manager, Messe München GmbH
13:50–14:20
Digitization in future purchase - How does digitization support efficiency and flexibility?
Louise Amélie Leuchtenberger, Founder, Marketing and PR Director of Foursource
14:20–15:30
Panel discussion: How can outdoor brands use digitalization to drive performance growth?
Moderator: Mark Held, Secretary General of European Outdoor Group (EOG)
Guests: Zeng Weigang, President of CORA
Cai Yingyuan, Vice President of group brand center of Toread
15:30–15:50
Digital technology reconstructs brand new retail digital capability model
15:50–16:30
Panel discussion: How to use digital technology to create new brand tension?
Moderator: Gangqiang Zhu
Guests: Duan Xu, Director of brand management center of Anta
Jacky Shi, IT director of Under Armour
General Manager of CAINIAO network