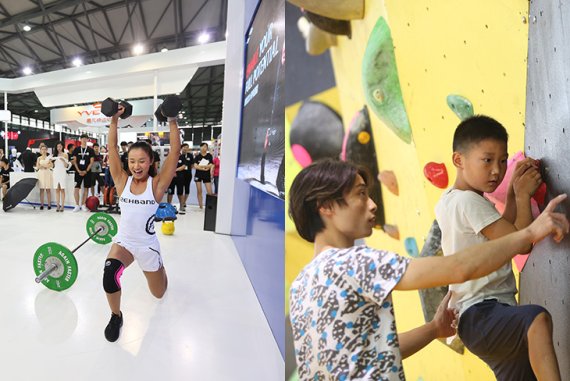 Did you know that women in China spend more on sportswear and equipment than men? Some international and domestic sports brands have already recognized the potential and are launching target group-specific campaigns and bringing products to market that appeal to Chinese women in a special way. This is especially true for the fastest growing sports, running and yoga. Anyone who wants to assert themselves on the Chinese market in the future cannot ignore the target group of women. We discuss how this can best be achieved with renowned experts in our supporting program. There is also a special "Women" area dedicated to this topic.
Where & When:
ISPO Shanghai Women Sports Summit 2018
Friday, July 6, 2018
Hall N1
Conference Schedule:
09:15–09:30
Registration
    
09:30–09:40
Welcome Speech
    
09:40–10:15
The Current Development and Trendency of Women Sporting Goods Market
10:15–10:35
Analysis of Female's Requirement
10:35–10:55
Analysis of Female's Operating Strategy
10:55–11:55
Group Discussion: Female's Leadership in Sports Industry
12:00–13:20
Lunch Break
13:20–13:50
Design and Research of Women Sports Products
13:50–14:10
Analysis of Female Runners
14:10–14:30
Her - Another Beauty in Sports
14:45–15:45
Group Discussion: The Growth of Female entrepreneurs
    
15:45–16:15
Group Discussion: Difference Between Women Sporting Market At Home and Abroad
16:15–16:30
Taking Photos
16:30
End
In 2014, the Chinese government launched the "Healthy China 2030" master plan to encourage more movement in the country. The aim is to develop a "Healthy China". The focus is on the younger generations in particular. According to the Global Burden of Disease Report, led by a team from the University of Washington in Seattle, China had 15 million obese children in 2015. Many Chinese parents are already responding to this alarming trend. According to a report by Euromonitor International, 90 percent of parents already spend around 300 euros per year on their children's sports. And these expenditures are likely to increase even further in the coming years. This is a topic that we want to discuss in more detail at the ISPO Shanghai with a special area. 
Where & When:
ISPO Shanghai Kids Forum 2018
Thursday, July 5, 2018
Hall N2
Conference Schedule:
10:00–10:30
Registration
10:30–10:40
Welcome Speech
10:40–11:10
Opportunities and challenges in sports training for young people
11:10–12:00
Group Discussion: Reference and inspiration from Internationale Youth Training
12:00–13:00
Lunch Break
13:00–15:00
Life Track: (Athletes Talking):Youth Sports
15:00–15:30
The future of Kids and Youth Sports :Customer First (Parents & Children)
15:30–16:30
Group Discussion: Inside and Outside of System - Kids and Youth Sports
16:30
End
The change brought about by digitalization is so comprehensive that no sports brand and business can ignore this complex of topics. At ISPO Shanghai 2018 a Digitize Forum will report on trends, solutions and best practice examples of how companies can create digital change. During the three days of the fair we will once again be presenting numerous innovative concepts, technologies and market potentials.
Where & When:
ISPO Digitize Forum
Thursday, July 5, 2018
Hall tba
Conference Schedule:
10:00–10:30
Registration
10:30–10:40
Welcome Speech
10:40–11:10
Sports Brand's Opportunities and Challenges in Chinese New Retail Market
11:10–11:40
Reconsideration of the Sports Market by Big Data on Platform
Director of Digitize and New Retail, Tmall
11:40–12:30
Group Discussion: How Digitize Helps Sports Brand in Products Innovation
12:30–13:30
Lunch Break 
13:30–14:00
Evolution from the Brand-Driven to Customer-Centric in the Digital Marketing
Director of Digital Marketing, Nike
14:00–14:45
Group Discussion: How to Rebuild the Integration of Ecological Forces from the Supply Chain to the Platform in Chinese Market
14:45–15:05
Digital Technology Reconstructs the New Retail Digital Capability Model
15:05–15:50
Group Discussion: How Digital Marketing Improves Outdoor Sports Brand's Performance
15:50–16:30
Group Discussion: How the Brands Benefit from Consumer-Side and Supply-Side Structure Reform